01 COVER: CALLUM HUDSON-ODOI
PHOTOGRAPHY: ALEX DE MORA / STYLING: CARLOTTA CONSTANT /
HAIR & MAKE UP: NICOLE BATTOLLA / WORDS: TOM KERSHAW.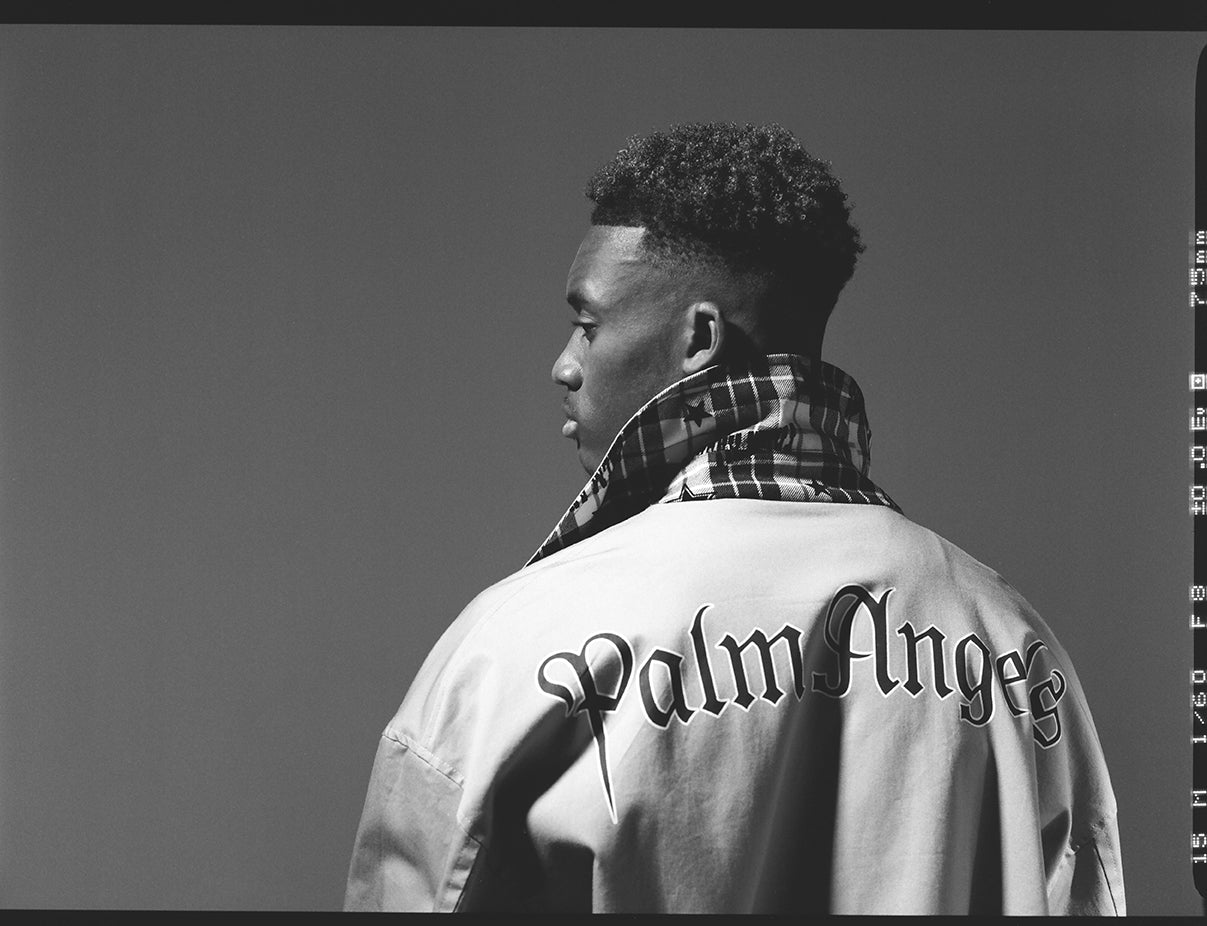 Jacket PALM ANGELS.
This article is an excerpt from the Callum Hudson-Odoi feature from Issue 01 of GAFFER: 'England's Finest'. Available from our online shop now.
Whether in Thessaloniki, Minsk or the Sóstó in western Hungary, Callum Hudson-Odoi can always pick one sound out from the crowd. A high-pitched multi-octave whistle which pierces through the crackling flares of the home fans before ricocheting around Europe's concrete arenas. It is an alarm bell from the 18-year-old's father, whether in a Europa League or youth game, urging him to always run harder, never to stop.
"My dad has that certain whistle," Hudson-Odoi said. "He's always there, no matter what. Every game, he always comes to watch. He used to shout, but now I just hear the whistle, I look around and I'm like 'alright, cool, let's go.'"
It's been that way ever since Hudson-Odoi joined Chelsea's academy at just seven-years-old. At Whitgift School in South Croydon, friends reminisce about his father, Bismark, a former professional himself who played for Accra's Heart of Oaks in the Ghanaian Premier League, effusing instruction from the touchline. Hudson-Odoi recalled: "Every time my dad talks to me and advises me I always listen because it helps me as well. Looking up to him is a big influence for me because he's done it all himself in Ghana. He knows what it takes to become a top player and it's helping me each day to get to hopefully get to the top."
His father's passion ingrained into his son. Even at school, Hudson-Odoi would attempt to run the fastest, tackle the hardest and, of course, score the best goals. "On the playground at school, I'd still run more and work harder than everyone else, always to try and be the best," he said. "It's influenced me to be who I am today and so I've always had the mentality to prove that I'm capable."
And after a decade graduating through Chelsea's youth systems, rushing from school to the training ground with homework and a tracksuit stuffed into a rucksack, Hudson-Odoi's academy career culminated in him becoming the most exciting prospect to emerge from those ranks in the Roman Abramovich era.
The Blues' coaching staff would whisper about the prolific winger who slalomed in off the left flank, runs arced like a strung bow, before hammering the ball into the eight yard bullseye. Having already spurred the U18s to FA Youth Cup glory, the slimline teenager always knew he was ready to break into the first team squad.
Before that moment could come, though, Hudson-Odoi was already being hurried towards Heathrow to join up with the England side that would travel to India for the U17s World Cup. At the greatest tournament of his career to date, he started every game en route to the Young Lions' historic victory and played a protagonist's role in the team's defiant comeback against Spain in the final.
There, for the first time though, his father's scaling whistle had been out of earshot, unable to make the trip to Kolkata, so, with his hands still warm from holding the trophy, Hudson-Odoi called his parents on the pitch. "I spoke to my mum and dad straight after we won. I called them from the pitch to tell them," he recalled. "They were screaming, I was screaming, I couldn't believe it. They were just buzzing for me.
"It was an amazing achievement for all of us. Going away for that long, playing in front of 60,000 people, winning a World Cup. Every time I went out onto the pitch and looked around I thought it was a dream really and it boosted my confidence to extreme levels. I enjoyed every moment of it.
Still giddy with emotion as he arrived home ready to celebrate with his friends and family, Hudson-Odoi was rewarded with his senior debut by Antonio Conte in the FA Cup, followed by a first Premier League appearance just 12 days later as aspirations swooshed like a vortex into reality.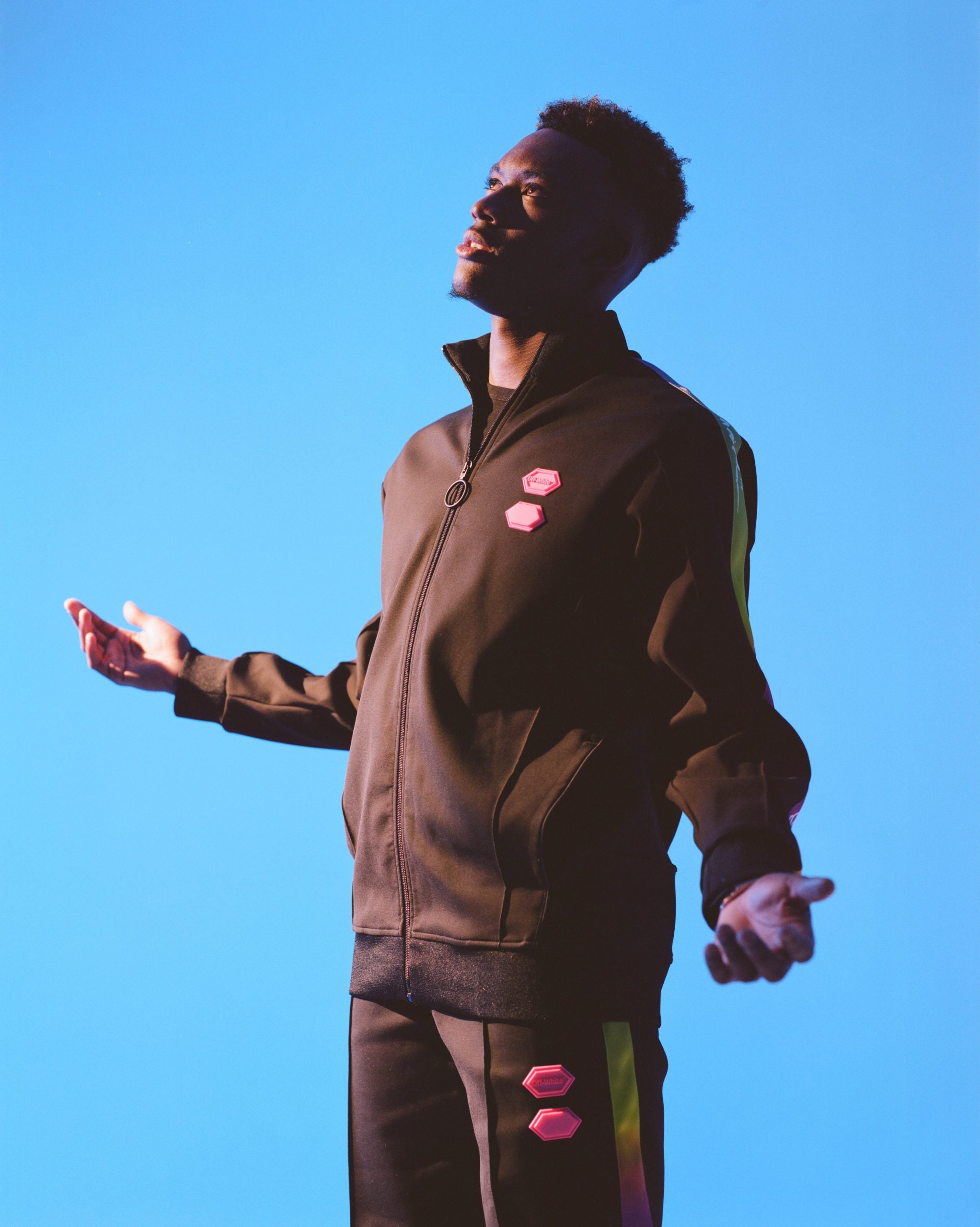 Track Top & Trackpants OFF WHITE.
In the space of just three months, a lifetime of hard work and whistles from the local park in Wandsworth to the cheering grandstands had completed a full concerto. "Playing for the first-team was always my dream since I was young," Hudson-Odoi reflected. "Just putting on the shirt for the first time in the changing room, before even coming on to the pitch, made me feel like I was part of something. And once I got the opportunity to come off the bench it was a dream come true."
Only one feat imaginable was capable of trumpeting that moment: the euphoria of scoring a first senior goal for his childhood club. A mantle which, for months, had remained elusive; a slow crescendo building each time the ball narrowly breezed by the wrong side of the bar. Eventually, eight months later, it came as he bundled the ball past Bate Borisov's flailing keeper.
"I just couldn't believe it. As soon as I saw the crowd screaming and jumping I didn't think it was a goal," he said. "I thought that I'd done something wrong and then I realised when everyone started coming round me that I'd actually done it, I'd actually scored my first goal for the club."
Barely 18 years old, Hudson-Odoi is now one of the most exciting and sought after prospects in Europe, if not the world. Yet still every day he imagines hearing his father's whistle. The melody in his mind reminding him to always work harder and stay grounded, to always be "nice, genuine and humble." The whistle which cuts through the whirling chatting of stardom and ensures that he, too, always remains himself happily and humbly unchanged.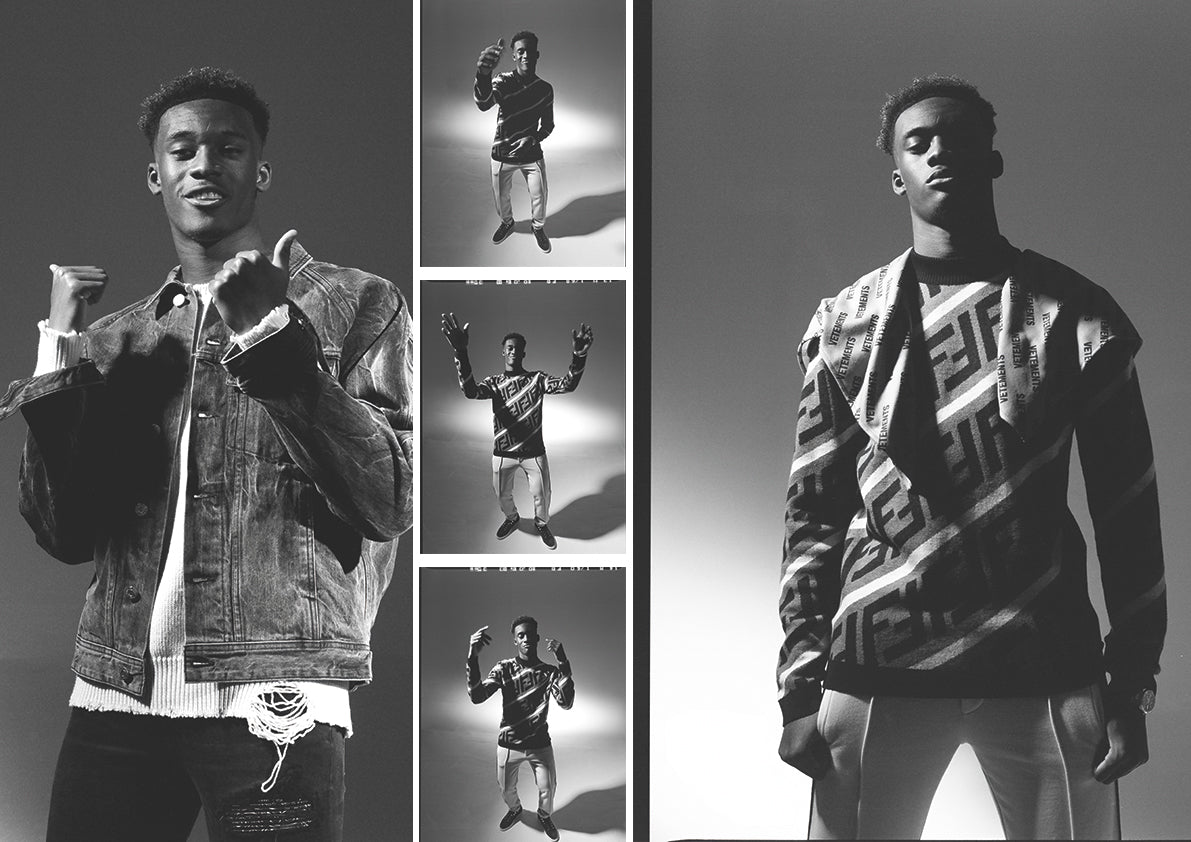 Jacket FEAR OF GOD / Jumper MAISON MARGIELA at MATCHES FASHION / Jeans AMIRI at MR PORTER / Trainers GUCCI. Jumper FENDI at HARVEY NICHOLS / Trousers FENDI at MATCHES FASHION / Shoes JIMMY CHOO.