01 COVER: SIOBHAN BELL
PHOTOGRAPHY: HAMISH STEPHENSON / STYLING: JAY HINES / SET DESIGN: LYNDON OGBOURNE / ART: LARS WOLTER / ROCKET GALLERY / MAKE UP: ZAINAB HASSAN /
HAIR: ZAINAB ILJADUNOLA / WORDS: CECILIA WINTER.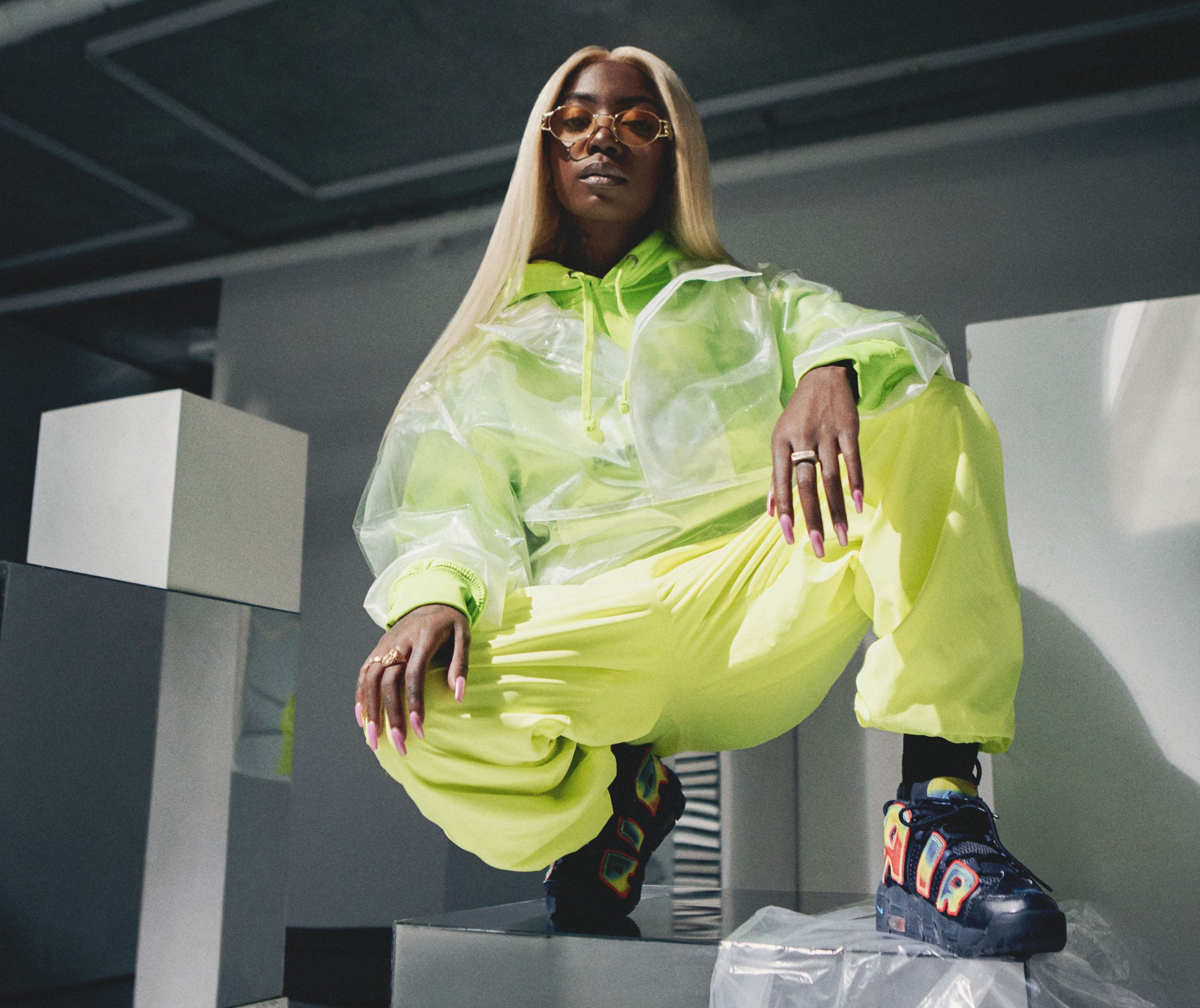 This article is an excerpt from the Siobhan Bell feature from Issue 01 of GAFFER: 'England's Finest'. Available from our online shop now.
Siobhan Bell was no stranger to the music industry when she first started DJing. "I was interning at Atlantic, assisting the A&R's," she says. "I started DJing on the side at places like Work It, which was an East London night with my friends. It was really just for fun and to earn some extra money. I DJ'd at Nike Town for six hours on a Sunday. I could never do that now!"
Since then, the London born and based DJ has been busy being fashion's newest and freshest face, hanging out with huge artists like Skepta and working on diverse projects that go from hair extensions to presenting at NTS radio, all while touring the world. She recalls a night called "Cherryade", in Dalston's Alibi "with real raw basement vibes." What started as a pop night and a way to listen to her favourite songs in a club has now become a platform for new DJs and artists.
And it's that support and willingness to inspire others that has made her a name in the music industry. She clearly realises the importance of staying grounded and she hasn't forgotten that, on that long road, solidarity and thankfulness are the key to success. "On the way up," she explains, "don't forget to give as well as take. Supporting can be as small as congratulating or saying thank you."
Especially for women working in a male-dominated industry like music is. The reality is that, overall, we have fewer occasions to hear women playing. In fact, according to a report published this year by the FemalePressure network, of all the festivals held in Europe between 2012 and 2017, 78% were performed by men. And, although the rate of these female acts have risen slightly over the years, it is still easy to highlight the lack of diversity in a sector that is often accompanied by economic discrimination and sexualization of DJ's.
LEFT: JACKET & GLOVES MAISON MARGIELA / JUMPER & BOTTOMS ASHLEY WILLIAMS / SHOES SUICOKE X CONCRETE OBJECTS RIGHT:TOP: Roll Neck SHUSHU TONG / Coat MARINE SERRE / Trousers GMBH at BROWNS FASHION.
But those weren't the only challenges the London based DJ faced when starting her career. She remembers the whole process being much more difficult and how it was necessary to really prove yourself in an era that was less digital, "DJs were burning CDs in preparation for their gigs or would be carrying records to and from them!"
Siobhan may have started out as a DJ, but now she does everything in between fashion and music production. She is part of a new generation of young creatives that aren't satisfied with the idea of having to choose only one path once they get older. "As the years went on I wanted to build myself as a brand and explore additional options to add to my career," she explains. "Fashion has been a fun journey! I feel that I have grown up and gained confidence going into fashion. I've been exploring music production the last few years, finding my sounds and direction via collaborations." And the truth is that, after all, everything is linked. As well as her music, her style has also evolved. She explains how a few years ago, she was only wearing streetwear. As her career was growing, she had the opportunity to learn to appreciate —and also afford — luxury designers. She admits that being more exposed to the public eye has made her more aware than ever of her appearance. "My style is definitely influenced by the music I play and the music industry in general. I have many references that I use to put my looks together. I love the reality of 2Pac attending a Versace runway show or someone like Lil' Kim inventing "Ghetto Fabulous", dripping designer clothes in all her music videos."
2019 comes full of dreams, promises and hard work for this young artist. She will be realising original productions and making her own music. "Looking to take some of my existing relationships within the brand space to the next level," as she puts it. "I would like to explore some collabs in the fashion space and just look to elevate all the work that was done in 2018".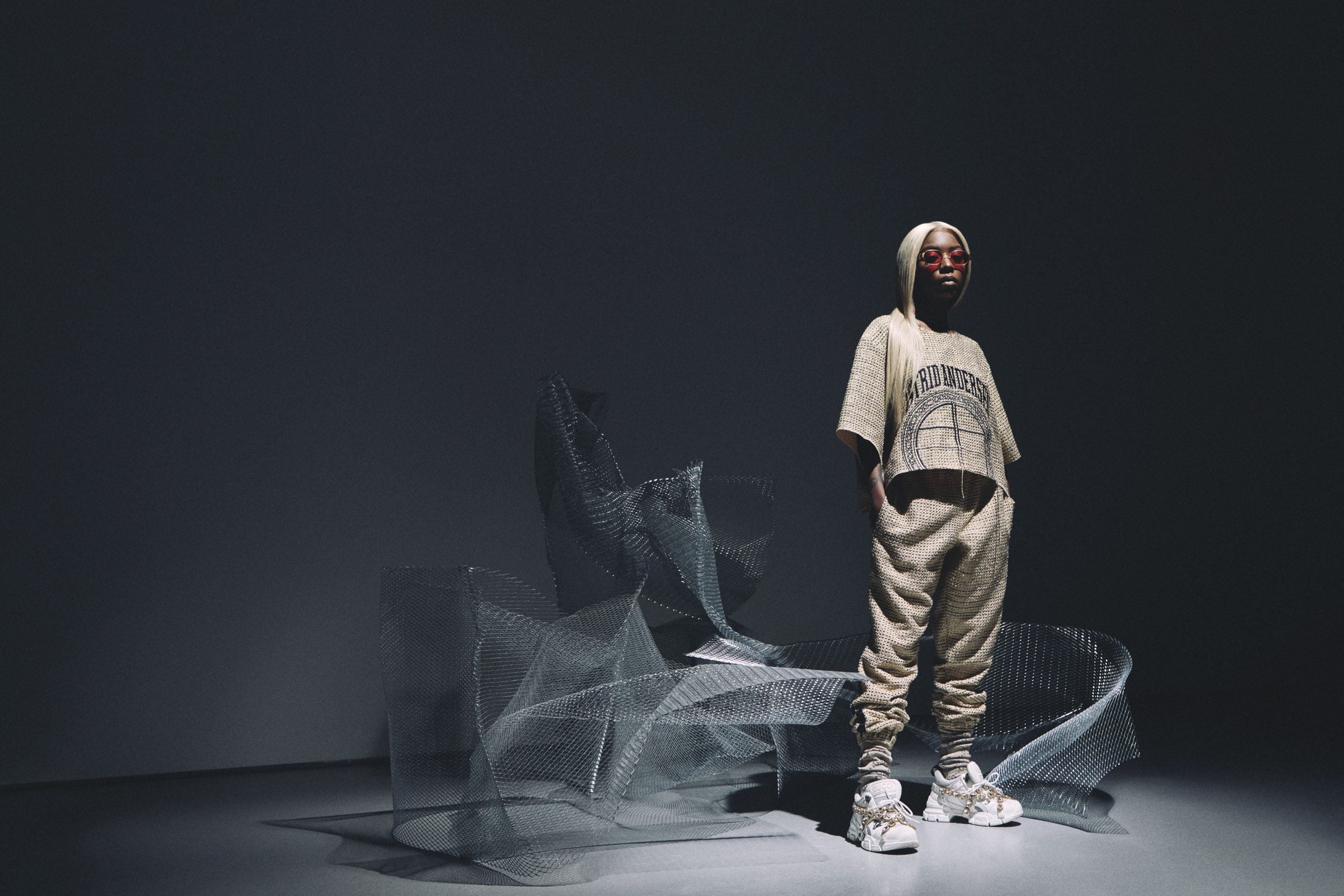 Jumper & Bottoms ASTRID ANDERSON / Shoes GUCCI / Sunglasses VINTAGE TRAP.