ADEKUNLE GOLD: CATCH HIM IF YOU CAN
PHOTOGRAPHY BY ELLIOT WILCOX / STYLING BY HOLLY WOOD / SET DESIGN BY JULIANA CAVIEDES TELLO / INTERVIEW & WORDS BY BUEZ HADGU
Adekunle Gold has improved year on year since he burst onto the scene back in 2015, the development of his artistry has been clear to see as he refines his talent with each project he releases, and 'Catch Me If You Can' is no different.
"I am naturally a thinker. My mind is super active, anything acts as exposure to me. Everything inspires me." He shares, "The smallest thing can just give me the craziest spark, so it's easy for me to be creative." Self-assessment and a desire to improve seem to go hand in hand for Adekunle, and it's clear to see how these traits have helped him garner global acclaim.
"I've been calling myself the greatest showman because that's what I am. But now I'm learning to actually BE the guy you know?" He explains, "Every and any, new, or little, trick that I can add to the performances to make me the best, I will."
While the trajectory of his career has seen nothing but upside, the journey for him has been far from easy, suffering from sickle cell while growing up in Nigeria. "There's a lot of awareness going on right now. I'm thankful for that. But I feel like more people need to understand the pain that sickle cell causes. The risks are not worth it, and our offspring do not deserve to suffer because of choices we make"
Using his latest release, '5 Star' and its remix featuring Rick Ross, to educate and inform the world, Adekunle shares his story about life with the disease, and all the hardships it caused him to face - while everything he has managed to achieve serves as a symbol of hope to all those that also suffer from the disease.
SUIT: HELEN ANTONY / EARRINGS: MUSEE ROO / BRACELET: MUSEE ROO / RINGS: STELIOS KARANTONAS / LARGER PEARL NECKLACE: STELIOS KARANTONAS / SMALLER PEARL NECKLACE: HATTON LABS / BROOCH: DOSISG6E / SHOES: DR MARTEN / SOCKS: STANCE
How have the last few months been for you?
I've been on tour since June. I've been performing back to back every night. I kicked the tour off in Boston, doing North America. Then I went to Australia, I did a bit of Africa in between and now I'm in Europe. Literally a World Tour.
The album has done incredibly well, what are your thoughts?
It's one of the best things that I've ever worked on in my career. When I first released it, I didn't know what to expect, now that I'm on tour it's going crazy. Songs I wouldn't think people even know the words to are getting sung back to me word for word, I can't describe the feeling.
There are some impressive features on there, how did they come about?
Collaborations for me are first to serve the music. I think to myself, do I need to do this song myself, or would it benefit if somebody came and told their story or lent their voice? I know for other people it's a gimmick, it's about the optics. I reached out to the artists that I knew would do well with the music. The only feature that I didn't plan for myself was the Ty Dolla $ign feature. Everyone I worked with made the process enjoyable and I'm grateful for the parts they played.
EARRING: HATTON LABS / RINGS: STELIOS KARANTONAS, HATTON LABS / JACKET: NICHOLAS DALEY / MOTO JACKET: EYTYS / TROUSERS: NICOMEDE / SHOES: UNDERGROUND
What was the creative process like behind the project?
I don't know if I would call myself a perfectionist, but I am a bit. If it doesn't sound the way I want, it's not making the album. I was heavily involved in the production. I was involved in sound engineering, I recorded all the songs on the album myself, and I was even involved in the mixing and mastering. I told everyone involved what I wanted to hear, almost a template of what I wanted it to sound like. I'm so happy that I have the ability to do all these things because it helps massively.
Where did all these skills that you hold come from?
So when I started making music, I didn't know how to record myself. But that changed when I met Simi, she's always been able to record herself, she had this USB mic that was like 20 quid. She would record herself, then mix it, and I was just always watching her. So after seeing her, I just bought my own and started to learn. I began creating presets for myself and just learning new skills. I think every artist should be able to engineer their own session.
When did you realise your love for music?
My parents were muslim, however, my dad was a liberal man, when we were growing up he allowed us to go to church. That's where I found my love for music. I started working in a songwriting team and went to different auditions for reality shows. I never made it through, because I wasn't good enough, but I've just always been the kid that never listened to no and always tried again to find a way. I knew from early on that I wanted to become a musician. I don't think there's only one way to do something, you just have to make sure you never give up and in the end you will win.
T SHIRT: NICOMEDE / TROUSERS: WALES BONNER / STONE BRACELET: STELIOS KARANTONAS / TENNIS BRACELETS: HATTON LABS / EARRINGS: STELIOS KARANTONAS & MUSEE ROO / BADGE BROOCHES: PK BIJOUX / BAG: GUCCI AT NET A PORTER / SHOES: UNDERGROUND
"Songs I wouldn't think people even knew the words to are getting sung back to me word for word, I can't describe the feeling."
At what point did you know you had a career in music?
I knew I wanted to become a visual artist. I went to school, studied graphic arts, and majored in graphics. So I did design, I still do all my album covers . When I left school, I worked with three major companies, where I was an editor and also a brand developer at some point. Eight months in, I got tired of the 9-5 life. I said to myself I love this music shit so much, let me give it one try with no distractions. I did the cover for One Direction's Story Of My Life. I released that song and literally two weeks later it blew up, I got signed and ever since then life has been upwards.
What was the message you wanted to send with 'Catch Me If You Can'?
I wanted to tell people you know, everything you think you knew of me? You don't. This is the fourth level of my adventure game. Like you think you've figured me out? There's so much more to me. My third album - Afropop - the one before my last, was about proving I could do this pop shit to people. But now I don't need to talk to anybody, I know I'm great. Catch me if you can.
Why do you think there's been so much talent coming out of Nigeria recently?
I think it's the hardship honestly. Yeah. It's a country that forces you to just hustle. I think we're naturally blessed, not just in music also, as a collective really.
What is one of the most important things you have learned on your journey so far?
That there's still so much to learn. Be teachable. It's so important to be teachable. If there were ideas that you thought were perfect before and as you grow, you start to see that's not the case, confront it. Be brave and change your mentality.
'5 Star' with Rick Ross told the world about your battle with Sickle Cell, tell me more about the impact it had on your story.
My A&R Dionte made that happen, so big up him. I've been sitting on that song for a long time. I say in the song, 'Sickle Cell showed me crisis', I was sick as a kid for 20 years, so sick. And after 20 years I stopped, I became strong. It's so rare for somebody that has sickle cell to do the things that I do, almost impossible. I honestly cannot tell you why or how. It must be God. There were so many things I couldn't do growing up, it was so tough, both physically and mentally.
Fashion is a big part of your personal brand, has this always been something you've thought strongly about?
To be honest there has never really been a thought process to my fashion. I feel like I'm the most free person, I'm willing to try, if I like it, I'm wearing it. I don't think fashion should be a pain, it should be super comfortable. If you like it, wear it, I don't think there are rules. People want to say what you can and can't do, I don't pay attention. Whatever I rock I wear it with grace, that is the secret, be confident and feel good.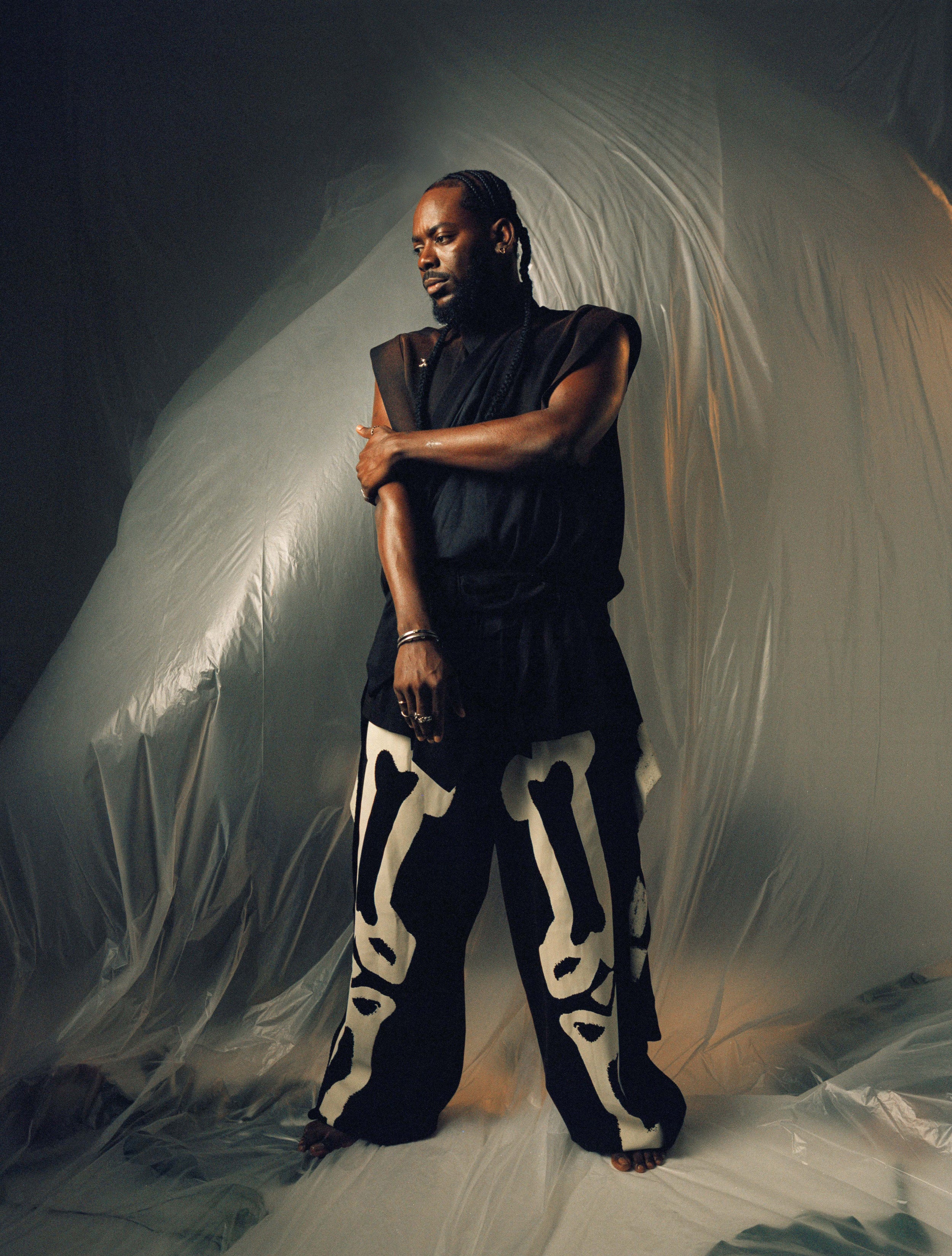 Outside of music what are you into?
Skincare. I think beauty is a necessity and skincare is crucial. Fashion has always been there. I'm working on my own line. I'm very excited, there's some pretty interesting things coming soon.
What can we expect from you going forward?
I don't know where my soundscape will go, whatever I'm feeling at that moment is what I will do. Everything I've done previously, I can defend, because nobody has told me to do it, so that will never change. The next project, I can start to do something entirely different and you will like it because I will make sure it is quality. We will wait to see what the future holds, but for now we're going to sign off the tour in style and rest before getting back to work!