AT HOME WITH... NONI MADUEKE
PHOTOGRAPHY: OLLIE PATTERSON / STYLING: KK OBI
VIDEOGRAPHY: RAHUL CHIKHLIWALA / INTERVIEW & WORDS: BUEZ HADGU
In our beautiful game, few things capture the imagination quite like the emergence of a young, electric talent, a player who possesses an innate artistry and flair that sets them apart from the rest.
However, the journey to stardom often requires a leap of faith, and Noni Madueke was not one to shy away from challenges. His decision to leave North London and embark on an adventure in the Dutch Eredivisie with PSV Eindhoven was a bold move. It was a journey that would take him far from the familiar comforts of home, but would ultimately mould him into the player he is today.
Madueke's journey reached a significant milestone when he made the move to Chelsea. This transition to one of England's football powerhouses is a testament to his relentless pursuit of excellence.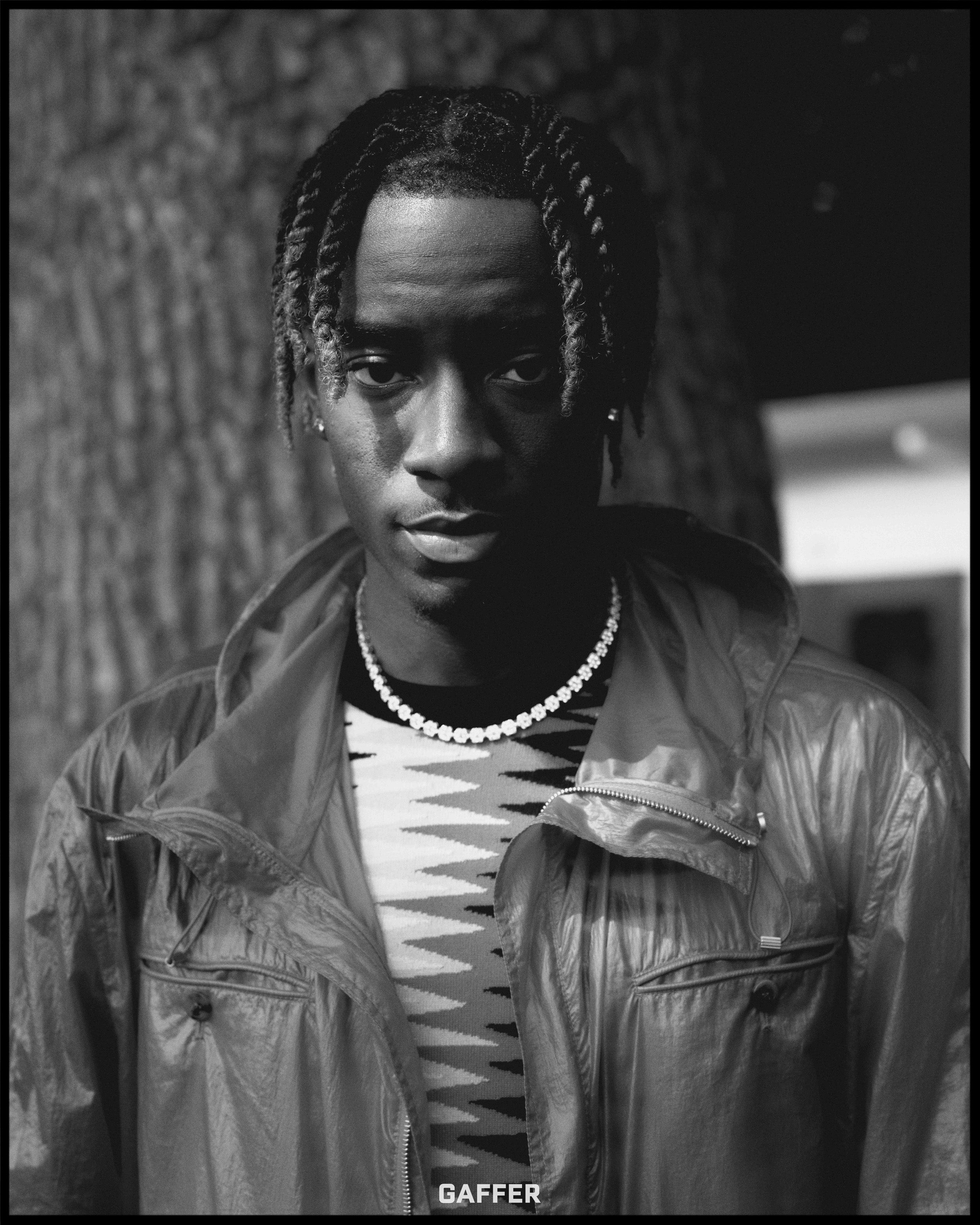 JACKET: FERRAGAMO / JUMPER: ARMAND BASI
At Chelsea, he finds himself surrounded by world-class talent, a setting that is poised to enhance his development even further. The faith that the club has shown in him reflects his burgeoning reputation and the promise he holds for a bright future in the world of football.
Following on from a strong finish to last season's campaign, Noni's endeavours with England during their triumphant U21 European Championships caught the eyes of many. His contributions were instrumental in the team's success. His performances on the international stage not only showcased his immense skill but also underlined his potential to become a key figure in the future of English football.
In a sport that often thrives on passion and connection, Madueke's remarkable combination of talent, character, and charisma make him a unique and promising figure, whose journey promises to be filled with even greater heights in the years to come.
What was it like leaving your comfort zone at such a young age in pursuit of your dreams?
Do you know what it is, when you're doing something you love and it's your job, at 16 years old, all you want to do is play football, right? It wasn't really like I left so many things. My mum and sister came out with me when I first went, so I was cool. As long as I could play football at the highest level - Champions League, Europa League - I was good!
Did you enjoy your time in Eindhoven? What did it teach you about yourself?
Okay, well, city-wise it's got nothing on London, I'll tell you that for free. However, it's got its own little quirks, its own little niche, you know? I feel like it was good to experience a change of scenery because, obviously, I've been a city boy all my life. Also, at that age, you're starting to get older, and distractions come in. Now you can go out, now you've got a little bit of a reputation, all of that stuff. So for me, just kind of being locked away while everyone else was back here allowed me to hone in on my craft and put me ahead.
How difficult is it adjusting to a team during the winter transfer window?
If I'm being honest, it wasn't ideal. If you'd asked me at the start of the season, 'Do you want to move in January or in the summer?' I would have said summer, but sometimes I feel that you just can't miss the train. I had a long-term injury, I came back, and I was really sharp. I thought these guys are putting faith in me for their new project, and I believe in myself, so of course, take the step.
You've worked with managers who were legends of the game, such as Ruud Van Nistelrooy and Frank Lampard. What were those experiences like?
There are managers that have fantastic tactical ideas and things like that, but some can't relate to the players because they didn't play at the highest level. With Lampard and Van Nistelrooy, they're legends of the game. When they say things to you, you know that their advice is very valuable because they had successful playing careers themselves. What I find really refreshing is that they're just normal people dedicated to helping you develop. I really felt that with Frank during his stint at the club, so I'm very grateful to both him and Ruud.
Now you'll be working with a very talented manager in Pochettino, who has coached some of the best players in history, such as Messi, Neymar, and Mbappe. Are you excited for this new chapter?
For sure, what he's done in the Premier League shouldn't be underestimated. He was amazing with Southampton, and he got Tottenham to a Champions League final, which is unprecedented. He's great with young, talented players, and we have a lot of that within our squad, so I'm definitely looking forward to working with him.
You're a very personable character, and many people often praise your mentality when speaking about you. Where do you think this comes from, and how much of an impact has your family and upbringing had on your journey so far?
I try to be myself, with my own personality. In this day and age, footballers should be encouraged not to have that robotic feel to them. Be yourself, and I'm sure that way people will warm to you. My family ensured every situation was really comfortable for me, even when I was starting to gain a bit of a reputation. They made sure I was shielded from a lot of things until I was ready to deal with them.
Talent clearly runs in the family; your brother Tranell makes music. What influence did having an older brother with very clear ambitions do for you growing up?
The truth is… I was first, init! I've been playing football since I was five, bro. I've been in a professional environment since nine, so I think it was the other way around. He's my older brother; he inspires me for a lot of things, but this career thing I think I've got.
Rumour has it you're not too bad in the booth yourself. Could we one day see you joining the likes of Rafael Leao and Memphis Depay in releasing music during your playing career?
I've been in the booth, bro, but that's a story for me to tell later on. It's definitely a possibility. I love the fact that football players are branching out into different spheres. Before, they used to be boxed into the fact that you play football on the Saturday, then you go home - you play football, that's it.
What Memphis and Rafa do is really, really refreshing, in my opinion. Footballers shouldn't be scared to venture out because football doesn't define you; you're a person, bro. Any other person in their job can do anything else they want to that makes them happy. Football is, of course, your priority, but it doesn't define you. It's even good to have a hobby outside that brings you joy as well.
Let's talk about your wardrobe. How would you describe your style right now?
I'd say because, obviously, I'm at the training ground every day, I do have a lot of cool, urban streetwear pieces. But I like to mix that with high-end fashion for the odd times that I do go out.
You're of Nigerian descent. Has your culture influenced any of your fashion choices?
I like to support designers from a similar descent as me - African descent. At the moment, I really like Jawara (Alleyne) and Labrum (London), who are emerging in the fashion world. If you look at the afrobeat stars right now, they're some of the guys killing the fashion game. The Rema's, Asake's, Zlatan Ibile's of this world. That's why this linkup with KK is great because I'd like to say I'm an emerging star in my field, and so is he in his. This collaboration with us both being Nigerian, I feel like it's a beautiful thing.
Do you have any plans to enter the fashion industry at some point in the future?
Yeah, it's something I've definitely given thought to, but first and foremost, football is my bread and butter. Of course, fashion has always been one of my passions, so if the opportunity arose for me to get into it a bit more, then for sure I'd take it. However, I've just come back to a massive institution in Chelsea. It would be crazy for me to say that I want to be a fashionista first and a football player second.
There's a lot of pressure within the football world. Do you tend to leave it at the door when you come back home, and how difficult is it?
That's such a good question. I'm happy you said that because I feel like that's so real. As soon as you walk in here and you're with your family or whoever you're with, I feel like it's important to just kind of zone out until the next morning when you're preparing yourself for training again or the game.
If you dwell on… I try not to ever get too high or too low, so if I'm doing really well I try not to get too high because I know that this football world is ups and downs, ups and downs. If you get too high, you won't really be able to deal with the lows, so I try to stay even keel. When I get back here, I just enjoy myself, I just try to be happy, you know, and not think about it too much.
When you're away with the boys on international duty, what's your go-to bonding activity?
The other day we were playing UNO, me, Anthony Gordon, and Curtis Jones, putting wagers on it. Those types of things bring you closer together and I think it's important. We've all got the same common goal, so being as close as we can off the pitch as friends, it's going to really help us in the long run on the pitch.
What is your biggest footballing dream that you hope to achieve in your career?
Long-term, I just want to be the best version of me that I can be, you know? I feel like I'm very talented, I have a good mentality, so it's just about taking everything to the next level. Every single year trying to take it that step further and I feel like I can be what I want to be in this career if I do that.