BELLAH: BORN TO SING
PHOTOGRAPHY: JOSH DAVID PAYNE / STYLING: AMY VERITY /
INTERVIEW & WORDS: BUEZ HADGU
Growing up in Enfield, London, Bellah lived and breathed music from the tender age of 10, having been introduced to the world of musical theatre at such an early age. It was around this time she had her first studio sessions, recording covers of popular songs by legendary musicians.
"I grew up in musical theatre, so I've always had a love for music, performing, and all that good stuff," she reflects, "I kind of knew that this is what I wanted to do from birth, It's just developed and taken different forms."
Since turning heads with her debut project in 2019, she has continued to display her artistic development, growth, and maturity with each release since.
CORSET:SANTA BRANDS / JACKET AND JEANS: MASION MIHARAYASUHIRO / HEELS: ALYX
Her latest EP 'Adultsville' is no exception to the rule, serving as an honest commentary on all the challenging yet important lessons Bellah has encountered in order to become the greatest version of herself.
"The past year and a half has been the most transformative, painful, incredible, eye-opening, beautiful, and shittiest time of my life." She explains, "So, I decided to encapsulate this weird time into seven beautiful songs for you and me. I hope this can be your life's soundtrack, it's been mine for a while."
Following a successful summer in 2022, which included debut performances at Wireless Festival, Strawberries and Cream, and Love Saves The Day, all on the main stages, Bellah announced a debut headline show, with pre-sale tickets selling out in just a matter of minutes.
R&B has had a very strange relationship with the UK music scene over the past few years – to say the least – with many artists often under-appreciated and flying under the radar. Bellah's recent success proves the genre is still very much alive, describing herself as "a reliable source for R&B in the UK". 
'Adultsville' sees her collaborate with some of the most gifted individuals in the industry, including the multi-talented Grammy Award winner Ari PenSmith, who executive produced the project. 
Bellah is positioned to become one of the most exciting artists in the UK because of her dedication to developing herself and honing her craft, we look forward to seeing what she has in store for us come 2023.
TOP: CIBERIA SHOP / BODY CORSET: LILLIAN KLARK / NECKLACE: CAPSULE ELEVEN / PANTS: CAYLEY COCHRANE / HEELS: ATTICO
"I hope this can be your life's soundtrack, it's been mine for a while."
What were your early experiences of music like?
Growing up, I was very much a theatre baby, but then I got into R&B, music, singing/songwriting, and I went through artist development. At 17 I started writing my own songs and stuff, my artistry looks very different across the seasons. This is the season I'm in front of the camera, my here she is vibe, very much go go go go!
Tell me the hardest part about transitioning from musical theatre to becoming an artist.
I had to learn to song-write from scratch. Whether it was for other people, or myself, I just had to learn how to song-write. When you are a performing artist, it's very different from being a recording artist and very different from being a songwriter. I was only a performing artist, I would get sheet music and they'll say learn the song and sing it, so I never really knew the mechanics behind making your own songs.
What were you like at school, you enjoyed education?
Poetry and English were my bag at school! English more so, I love English, I got great grades, A's and A*'s. And I was really good at poetry, but you know those weird talents that you have, that you think you're never gonna use. I never knew I was going to implement poetry in my life, looking back, it's so weird, it's almost like I was practising.
Have you always known you wanted to become an artist?
I knew I wanted to perform. I just didn't know that it would be my music that I was performing at the time. And even when I was thinking yeah, I'm gonna be an artist, the thought of songwriting was so daunting, it was like, flipping hell. I have to write the songs that people are gonna hear from scratch. How do you even put together a melody, how do you put together a sentence that sounds cool and not cheesy? I've got 101 terrible songs, but it's a process, eventually, 100 bad songs until you get that one good one and you're like, you know what, I can do this, I can do this again. But there's some archives boy… Not good!
At what point did you realise your true potential?
I think when I recorded my first ever single called 'Never Love', I thought to myself, I could put this out tomorrow without feeling shame or being mad about it. I could put it out and people will probably mess with me, so that was a lovely feeling. And the fact that I wasn't the only one that thought it, because when I played it to my managers and the people around me, they were like, oh my gosh, we love this song as well. I'd given myself the validation, but at least the people around me were also thinking what I was thinking, so I wasn't crazy.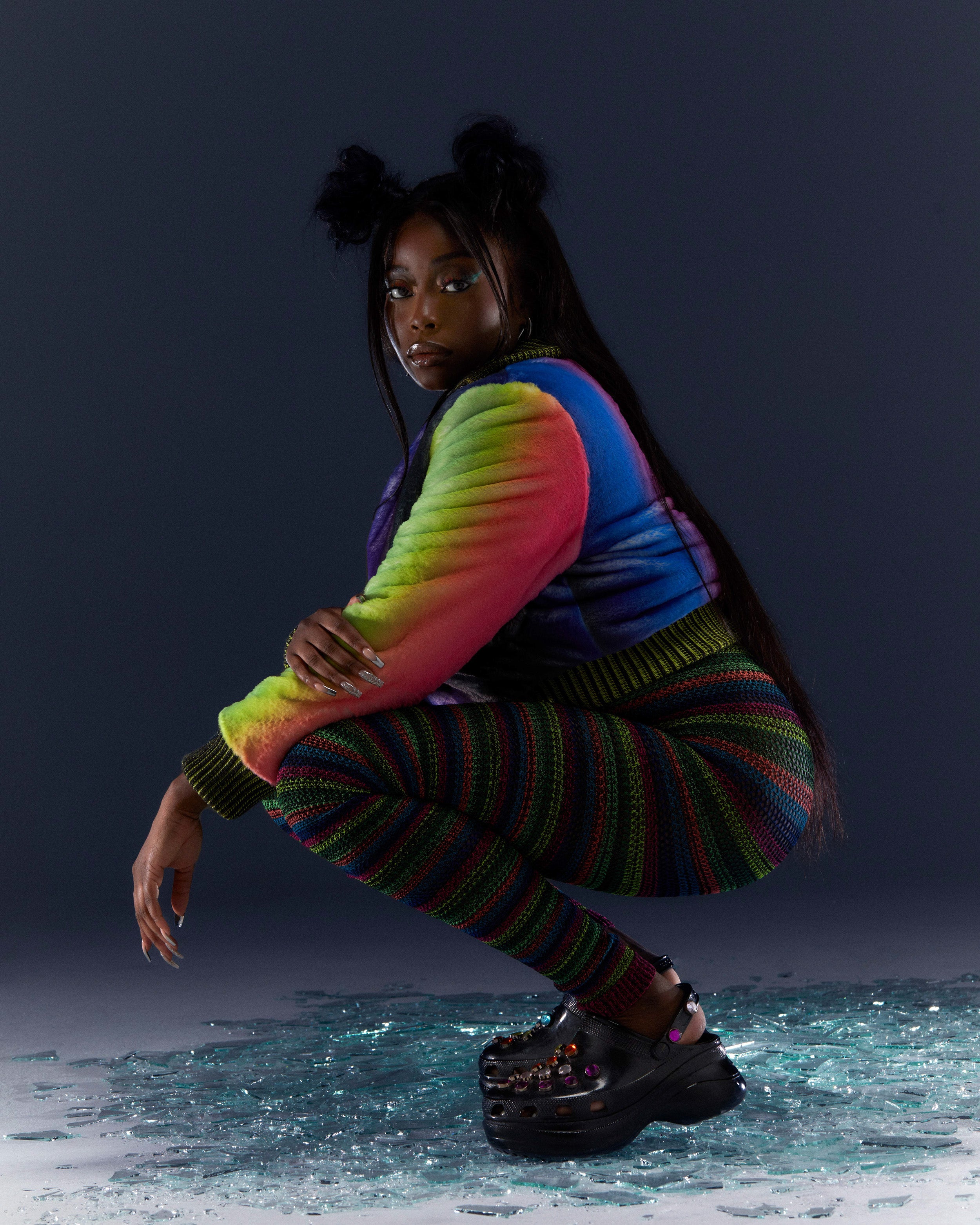 JACKET & LEGGINGS: AGR / SHOES: CROXS X KURT GEIGER / EAR RINGS: CAPSULEELEVEN
"Becoming is so painful and people don't talk about that, they romanticise becoming, it's not cute, it's actually really, really hard to do."
You've just dropped your third EP, how does this feeling compare to when you made your debut in 2019?
I even remember how I felt when I announced the first one. I posted the picture, and I threw my phone to the other side of the room. I didn't want to know. There was a lot of anticipation, I was excited. With this third EP, again there's a lot of anticipation, but this time because of how long it's been. I'm very anxious for people to hear the direction I want to go in, but of course, I'm excited because the music's good!
What is the one thing you want to achieve through this latest project?
I want it to be the soundtrack to people's lives. I know I couldn't be the only one going through what I did over the past year. Emotionally, the growth, the turmoil, manoeuvring mental health, manoeuvring adulthood, just becoming. Becoming is so painful and people don't talk about that, they romanticise becoming, it's not cute, it's actually really, really hard to do. And I wish someone told me that, you know the whole girl boss thing, you're going to be the highest version of yourself, it's going to be beautiful, you're going to be this and you're going to be that. They don't tell you how you're gonna cry, you're gonna lose friends, and people are gonna hate the higher version of you. You're gonna feel lonely or feel alone, you're going to question your faith, you're gonna go through a turbulent time trying to get to the other side. I hope people hear and feel that with this project.
Relatability is a common theme across your music, is this something you put thought into when songwriting? 
I talk to no one, I don't talk to anyone about my issues, but give me a beat and some serious production. I will write as I've never written before. You never really go through an experience by yourself. Whatever I'm going through, someone, somewhere in the world can relate to the situation as well. It's a shared experience and I think they hold more weight than trying to be profound. That's why we love Summer Walker, that's why we love SZA. It's flat out, this is the truth. Someone in the corner will be thinking, Oh my God, I did that too, it's a very natural process.
Which particular artists inspired you at the start of and throughout your journey?
I listened to ABBA, they've got hooks for centuries, Destiny's Child, Brandy, Luther Vandross, Daniel Cesar, HER, all the noughties R&B, obviously SZA & Summer, there are so many influences in my music. I love texture, I love tone. I had to learn how to use my tone and listening to those people gave me confidence just to sing.
How does it now feel to see your name in articles, nominations, and line-ups alongside some of the same people you grew up listening to and more?
It's weird. It's strange, but it's a very mad feeling to think something is unattainable and then attain it. But that's kind of life. I was talking to a friend, and he was like 15-year-old Bellah, if she saw you today, she would be like you made it, and I'm here going; I haven't even done anything. It's very mad. It's very crazy. I'm blessed. I thank God man. It just affirms that I'm on the right track, my dreams are becoming reality. Slowly but surely.
Talk to me about Wireless, surely that must have been you in your element?
It's so mad because at first, I was scared of the stage, and then I got on it and I was like I know this; I've been here numerous times before. It was my first ever Wireless Festival, I've never been, even just in the crowd. The fact that my first ever one was on the main stage is so crazy to me. 
SUNGLASSES: ATTICO / TSHIRT: GAFFER / LONG SLEEVE TOP UNDER: CIBERIA SHOP / PANTS: AREA / SHOES: NAKEDWOLFE
When did you realise music was the only profession you wanted to pursue?
I think I was 17. I went to a Beyonce concert. After I watched her, I was on the train home thinking to myself, wow, I'm really gonna go home and just live a normal life after what I've seen? She inspired greatness in me, it was so life-changing from then. Everything just seemed to fall into place. I needed that visual reminder. I don't know what about it felt attainable to me - and it's not that I can be Beyonce - but there was a level of greatness in that arena that I felt like I could touch. So yeah, when I was 17, I would say the light bulb went off.
How do you reflect on the past year personally?
It's been a very, very long year. People say that the year has sped past, but I just feel like, wow, it's only September? Crazy. I just think when you've been going through the motions and you've been working for so long in your life, It feels like centuries.
What advice would you give to people on the verge of entering adulthood?
I'm still always learning. I'm still figuring it out. I'd be lying if I said I know exactly what I've done correctly to be where I am today. All I can say is to try your hardest, and don't give up. Continue. Continue wanting to learn. I didn't plan any of this. I just showed up. I think that's the best advice I could ever give to anyone, just show up. You never know what's gonna happen when you show up. I didn't have to do half the things I did; I could have turned down so many opportunities without realising, showing up has helped me become who I am today.