BLXST: TAKING OFF
PHOTOGRAPHY BY FILMAWI / STYLING BY JAY HINES / SET DESIGN BY ALAN SCOTT / INTERVIEW & WORDS BY BUEZ HADGU
The South-Central LA hip-hop master of all trades, Blxst, is not only an incredibly gifted musician but a true creative, dabbling in visual art & design too. He's also a magnetic performer who radiates positivity and love through his presence on stage. His shows really bring to life his signature LA bounce and laid-back flow that weaves through his music so authentically. Paired with his 90s inspired soulful R&B melodies, the crowd can't help but hang on the end of every lyric, every bounce, every drum beat.
"The funnest part for me is travelling, performing. You know, that's what I feel like we do it all for. That's what everything leads up to, touring, engaging with the fans. So I like to separate the two and be intentional whenever I'm interacting with fans. That shit weighs a lot, you gotta do it properly."
vest: bottega venetta / top: cooba London / pant: amiri / glasses: casablanca / full look available at flannels
Blxst's musical capabilities stretch beyond just the surface. His production and songwriting have become a trademark LA sound with both skills on display in a powerhouse collab with Kehlani and Burna Boy for his latest album. Another huge moment was featuring on Kendrick Lamar's 'Die Hard' in a West Coast link up we all wanted to see.
"It's kind of weird. I don't know, it just kind of comes naturally. I can't even say where I got it from. I just like to look at myself like a channel, I think God is writing through me sometimes."
Blxst's music and message continues to transcend LA and inspire millions around the world, cementing him as one of the most promising artists of this generation. With his crazy talent, seasoned sound and good-hearted nature, Blxst is sure to surpass every expectation and be a star for many years to come.
"For me, being on stage, it's like that one moment where I can use my voice and use it in a good way. You know, because I feel like I bottle so much up on my regular days it's like, now that everybody's listening I can express myself. It's like a release."
Jacket: Valentino at Flannels / Jumper: Valentino at Flannels / Pants: Amiri at Flannels / Shoes: Rick Owens / Glasses: Casablanca at Flannels
You're not a stranger to London, but how are you finding this time round?
London's lit man, I feel like this is my second home now. I've been here three times in the span of one year so the love from the first time I came to now has grown x1000. Especially being from LA, it's like, I never would have thought my music would make its way to London, to the UK. You'll be surprised, in LA it's a bragging point to go to London and really connect with people. So it's such a big deal for me. Everything else is just the cherry on top.
It's obviously different to LA & Hollywood, what's it like on that side of the world?
LA is weird because just like you said, there's two parts of LA. There's LA and then there's Hollywood, even though it's all in the same radius. So like, being from LA - not Hollywood - you're close to the celebrities, you don't really care about the fame and stuff, but you're also kind of born with a natural pride that you're already the shit because your city has everything here. So it can hinder you, but it can also benefit you depending on how you utilise your surroundings. I love my city, I love that I have a foundation of pride, understand who I am and know my culture. I think it's my duty to also open my eyes to other parts of the world for my city, because a lot of the time, having all the resources there, we don't care to look anywhere else. Why would you leave, you know? So I just encourage people to just travel more and experience different things.
While music is what you do, you definitely seem to be into your fashion…
Slowly but surely, I'm trying to get my chops in. However, I'm a student before anything. I have a lot of respect for the craft, I just go off my eye right now, whatever appeals to me, if it's fly, then I'll rock it. But I gotta learn about the details, the fabrics, and all that type of cool stuff.
How has touring complimented or changed the taste that LA gave you?
It's more traditional in LA, we try to stick to our roots. Sometimes I be trying to grow from what the OGS laid, the blueprint, but, you know, it's all about experiment. You got to take from different cultures to create your own sauce. When it comes to fashion? Top tier over here. Especially France, Paris and London, that's who I feel sets the bar.
'Before You Go', your debut album has really made a strong impression…
I wouldn't even consider it as my debut album, this is like my first full-length project. I mean, it's blurred lines when you put out a project as far as calling it an album, mixtape, or EP. I feel like I owe it to myself to really sit down, be intentional with every song, and make sure everything is cohesive for me to call it a debut album, which wasn't the case with this project.
Well you're certainly going to have a lot to put in the album if these past few months are anything to go by.
That's the cool thing about touring, you gotta soak it in. I don't like making music while I'm experiencing life, no, I try to experience life, and then create the music. If I try to do both at the same time, then I won't be able to grasp the moment in a real way, I gotta pace myself.
"...whatever's on your mind is what's gonna come to reality...you gotta learn how to control your thoughts."
You have a strong creative background and you're very hands-on, where does that come from?
Absolutely. I produce, write, engineer, do graphic art, video edit, don't matter what it is.
I think it was more so out of necessity early on. I didn't have any resources, I didn't have any family members or friends that were in the industry to teach me. Also, around that time I moved with my dad, about an hour away from LA. So I didn't really go outside much. I was in the house being a nerd, on the computer studying; how to edit videos, how to make beats, being on YouTube, and the time landed in my favour where it didn't feel like I was working. It felt like it was fun, being creative, you know?
When did you know music was all you wanted to do?
As soon as I heard my voice over the mic, I knew exactly what I wanted to do, it was fully fledged. I fell in love instantly. I've never had a job, up until this point, it's been strictly music. But how I hustled was, I'd record other artists or make beats, make cover art, edit videos, because, you know, I learned how to do all this. So I was always in a good situation where I was always able to provide for myself and be independent.
Growing up, did you have a lot of musical influences?
I have an uncle that rapped, my mum played a lot of R&B, and my sister has good music taste. I remember like stealing all her CDs and listening to all kinds of R&B, Pretty Ricky, crazy, freaky shit like that. As far as my singing went, I was really insecure, but I don't know singing is just fun, you know? Hitting melodies, even if you don't know how to sing you still love to try, no matter how gangsta you are.
At what point did you begin to believe in your vocal abilities?
Puberty started to develop my voice and I just found my own pocket. I still don't even consider myself a SINGER, singer. But you know, I found the spaces where I can be comfortable and make good music.
Between making music and producing, did you have a preference with what you wanted to enter the scene doing?
There wasn't really a strategic plan. I was willing to go with whatever worked first, you know? At first I was producing locally. That's pretty much what my city knows me for, but once I linked up with my boy Bino Rideaux from LA, we put out a joint project and people were like, Oh, I didn't even know he made music. I just went with that fuel, I kept it going, I didn't give up, I kept my foot on the gas the entire time ever since that moment. That kind of took me away from producing for other artists, you know, just trying to water this seed right here, but I'm slowly getting back into it right now.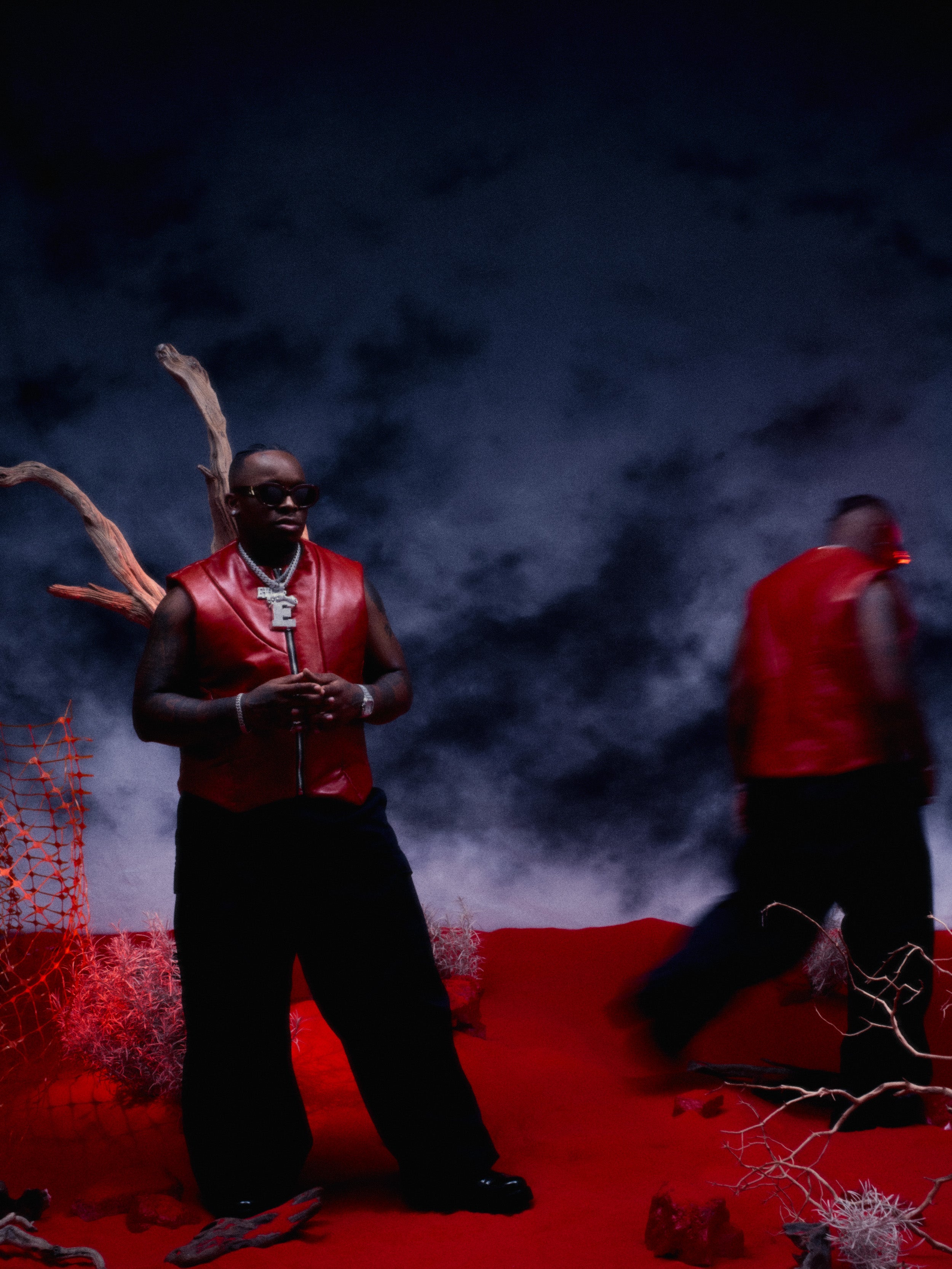 Top: Jacquemus at Flannels / Shorts: Prada at Flannels / Socks: Stylists Own / Shoes: Grenson / Glasses:Bonnie Clyde
Some of the artist's you've got features with are massive, how did they come about?
It's crazy and it's only been a short time too. The craziest thing about it, though, all my features are the artists reaching out to me, so that says a lot. I've seen these artists, I looked up to them growing up thinking hopefully I get on their radar, and now shit really be happening. I still feel like I'm living in a dream, I'm just waiting to wake up.
You're on the soundtracks for NBA and MADDEN, could we be hearing you on FIFA next?
Who knows man, hopefully one day. We've been on the tour bus having FIFA wars. Yeah, I'm getting nice man. I be playing with PSG, they say I've been cheating.
What's one thing this journey through music has taught you?
We manifest both subconsciously and consciously, no matter how you feel about it. It's like, whatever's on your mind is what's gonna come to reality, so you can use it to your advantage or disadvantage, but you gotta learn how to control your thoughts.
How do you see the future panning out for Blxst?
I feel like I still have so much more to prove, so I'm just gonna put it all into my next body of work. I need to get outside more, shake some more hands, interact with people because you know, I be to myself a lot. I think that's because I was so self-dependent as a kid and didn't really need to outsource. Now I see the benefits of collaborating, relationships, it's bigger than just me, like we can really change the world with unity. As corny as it sounds, it's real, so I'm just trying to play my part in the world.