DEANDRE YEDLIN & CRYSTAL ANN ROD ON SHARING CLOTHES, THE CULTURE AND BECOMING A CREATIVE POWER COUPLE
PHOTOGRAPHY: DEAN MARTINDALE / STYLING: JAY HINES /
INTERVIEW & WORDS: TOM EVEREST
DeAndre Yedlin – US football star, one of the fastest players in the world, deep-thinker, fashion killer, a man etched in so many sentimental tattoos – from the jump, controls the tempo of the conversation. He talks and moves with purpose, everything is delivered with a heavy dose of passion which you don't often get to enjoy or soak in from an athlete. Whether he's talking about fashion, football, food, music or even self-help, he offers more than just a commentary, he offers an insight, a perspective. So, naturally, on a day of shooting around DeAndre's home up in Newcastle which started with sunshine and ended in snow, the best subject to start with – when you're inundated with angles to explore – was the weather. Is he used to it yet? "This is Newcastle," he says with a smile. "Where I'm from in the US, Seattle, it's crazy weather but it's not like that. Newcastle can just switch in an instant." I interject, at least it gives you a chance to experiment with some jackets. "Of course, that's the most important thing! I love layering so in Newcastle I can go all out."
The interview is arranged primarily to explore a little more about DeAndre's relationship with long-term girlfriend Crystal Ann Rodd and also a little more about his love of the aforementioned jackets. But it is difficult to separate DeAndre the man from Yedlin the footballer or Yedlin the artistic, colourful personality and life partner to Crystal, who is one of the most enigmatic creative characters around. But when Crystal joins the conversation, DeAndre's control waivers a little. Not by the way of politeness or balance, it's just the way in which they work. Beyond the rails of clothes, the collaborative force of DeAndre's new brand, Roselle, and the fact that they are one of the most Instagrammable couples around, the biggest and best thing between the two of them, the binding force: is influence. These two not only make the world around them more colourful, eclectic and impactful through the way they dress but also the way they see the world. And that's their art. Their strength as a couple. Their common thread. Which helps explain how their relationship went from Crystal teasing DeAndre for wearing a Gucci headband to her moving to Newcastle just a few months later
For Valentine's Day 2020, we wanted to know a little bit more about DeAndre and Crystal the couple; from first dates to favourite songs, biggest lessons to bucket lists and why you'll find Ferrero Rocher hidden in their house.
DEANDRE: JACKET RHUDE, TOP FEAR OF GOD, TROUSERS & SHOES DANDRE'S OWN. CRYSTAL: CRYSTAL'S OWN CLOTHING
"She makes me take my outfits up a level. Just going to the grocery store, we'll have competitions to see who can look better."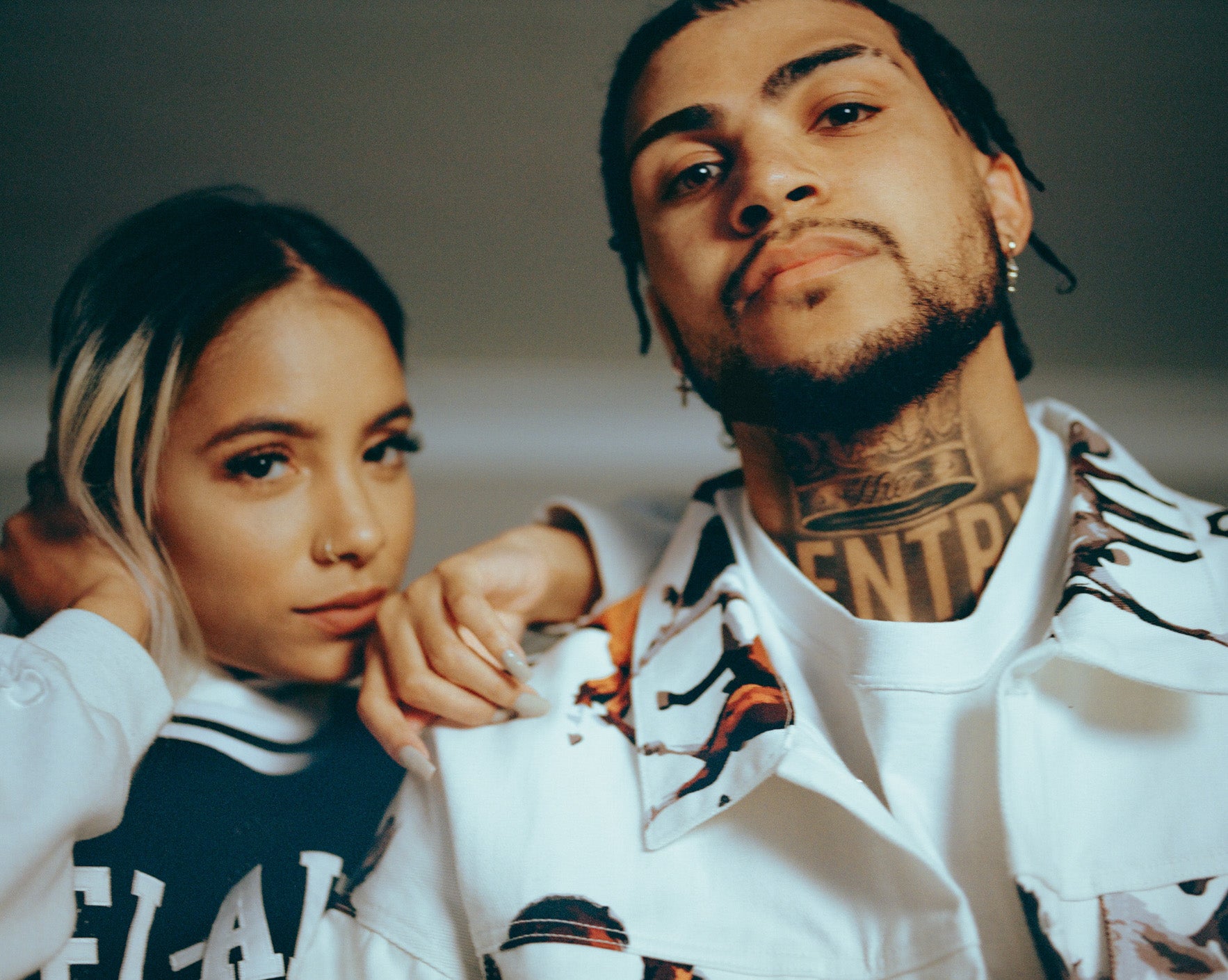 When and where did you guys first meet?
DeAndre: Basically, I was going on an international break in New York. We have a mutual friend – Clarity is his name on Instagram – and I didn't know Crystal at all but because we were all mutual friends I saw her on the discover page on Instagram. I really liked her style, that's what drew me in at first. Then I saw she was cute as well. So I hopped into the DMs. We just met up with all my friends and some of her friends and we just kept talking over a time of like 10-11 months. Then it got to a stage where I just said that I'm at a period in my life where I want to settle down and be with someone. So, I asked Crystal to move in with me here in Newcastle. Luckily she said yes because she's helped me a lot. I think it's given her a little bit of space, a chance to get away from New York and find her feet a little bit. I think it's turned out for the best.
Crystal: He forgot a whole part of us meeting!
DeAndre: Oh yeah, when we were in New York for the first time, Crystal used to do a lot of hosting there and the US national team had just played a friendly against Brazil. After, she had planned a whole party for us to go to at one of the clubs and I know she had her eye on me. Not that she was completely interested, but she was keeping an eye on me to see if I was talking to anyone else. She was looking to see how I was moving. Because, we had just met five days ago it wasn't anything crazy. I really liked her at that point, though. If it hadn't had worked out as a relationship then we definitely would have been friends because that's just how our personalities are.
What were your initial impressions of each other?
DeAndre: My initial impression was damn, this girl has mad energy. We went to a little lounge place and from the second I met her she was up dancing by herself. I'm talking about all the latest dances too so I could tell she was with the culture. I liked that. She brightened the place up.
Crystal: I just thought he was so boring (laughs). Because he was tired from travelling he was just sitting there and I kept telling him to loosen up. But, by the next time we met, he definitely changed that. He was a lot more energetic and even danced a little bit.
How would you describe each other in just three words?
DeAndre: Energetic – for sure. Happy – she has a great energy. And as corny as it is I'd say loving – especially when it comes to her family which is something I take a lot of pride in. I couldn't be with someone who doesn't have a devoted close family relationship. It's the most important thing. I've had my own troubles with my family but sometimes you have to look back and realise that they're your blood and no one else will be there for you like that.
Crystal: Inspiring. I look up to him a lot and everyone around him looks up to him. Driven (DeAndre nods) You see, he likes that! He's extremely driven, he doesn't like to settle. He's always looking for the next target, the next goal, the next dream. And Handsome – I mean have you seen him? (Laughs).
You say DeAndre is incredibly driven, but what's he like when he arrives home and Newcastle haven't won?
Crystal: He goes very quiet. On the drive home, I definitely get the silent treatment. We've learned how to deal with each other now. I know how to leave him alone and wait until he comes back to me…
DEANDRE: VEST KOZHA, TROUSERS FEAR OF GOD. CRYSTAL: JUMPER OFF WHITE, JACKET & TROUSERS CRYSTAL'S OWN
How much has your success been down to the love and support of Crystal?
First of all, she has an amazing creative mind. When it comes to clothing, it's nuts. Her style is insane. She can wear my clothes and I can wear hers. She wears a lot of oversized things and there will be times where I just put on her pants because they are oversized and fit me perfectly. Likewise, she'll always be taking stuff from my wardrobe. It works hand-in-hand. The plan for Roselle (DeAndre's brand) is to start with a men's collection and then a little bit further down the line have her takeover and launch the women's collection.
Before I met her, though, I was alone here. So, her coming here was massive. Having someone that you get along with so well has helped me loads. It's taken a lot of worries off my back, she's very organised – so she helps with all those aspects of my life. In terms of the creative side, she pushes me. Newcastle, it's not known for style in the same way London, New York or LA is and there will be sometimes where we're leaving to the shop to get groceries and she's got this outfit on. I just look at her and I'm like 'nah, you're always looking better than me!' She makes me take my outfits up a level. Just going to the grocery store, we'll have competitions to see who can look better. (laughs).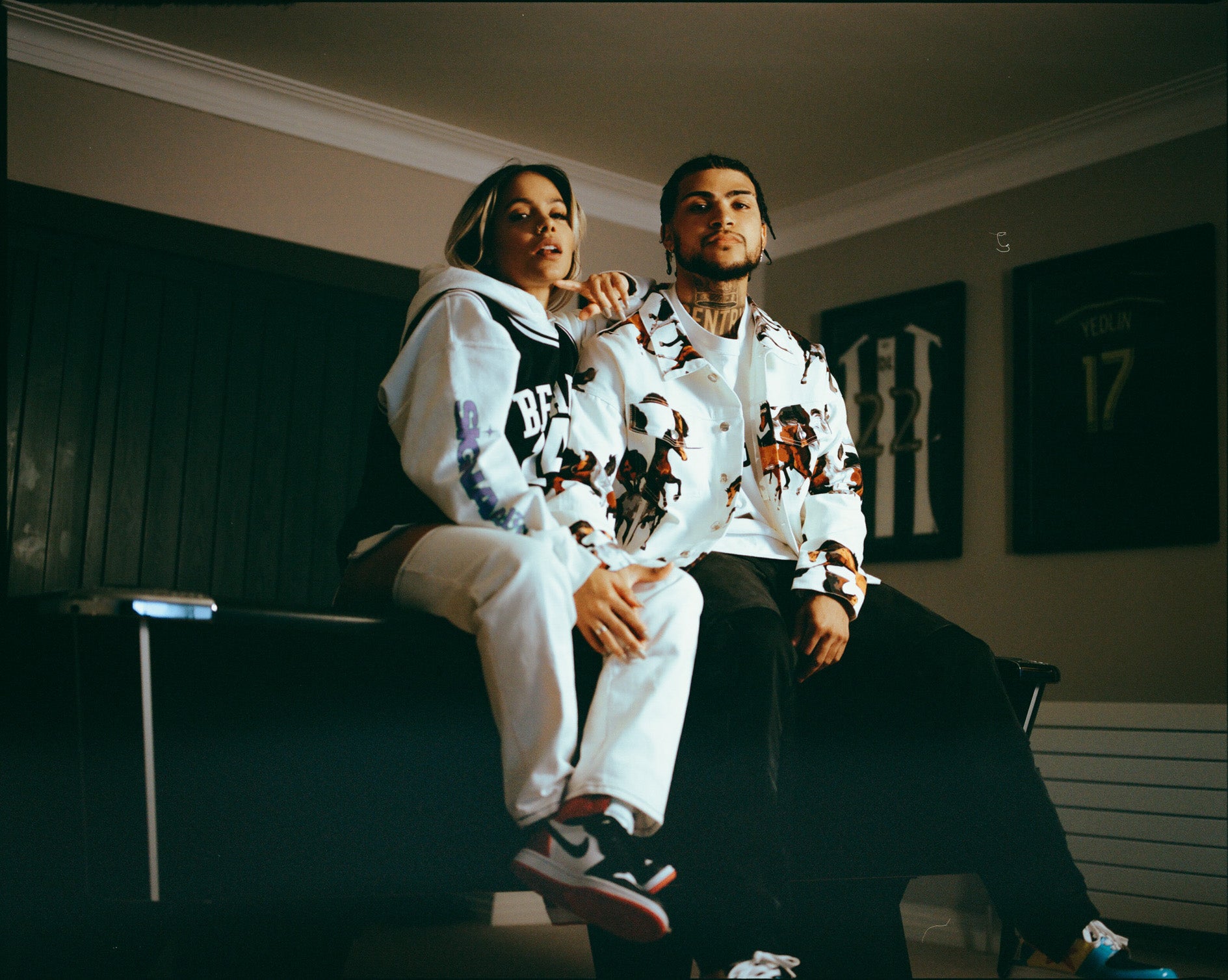 What's the greatest thing that you learned from each other?
DeAndre: I would say, in line fashion, it's the way she challenges me. That is one of the greatest things she has taught me. Not in the way that she's come in and told me to do this or that. It's more, in the way that she's so into and so good at it. I don't think she realises how good she is at it. I mean, she could literally have a mad career doing it if she wanted to. She drives and pushes me to be better. She pushes me to my limits creatively.
Crystal: There's a long list! One of the most amazing things is that we read a lot now. I didn't really start reading books until I met him. We now go through three books a month. It's making me smarter, a better person.
What books are on your shelf right now?
DeAndre: It's a mix. There's a lot of self-help, mental health books to help us keep our minds right. A lot about goal setting. It goes under the radar, especially when you talk about athletes. So much of the game is mental but we only train 100% physical. Which doesn't really make any sense. It's very important to have refreshers on self-happiness, there's so many things we go through as humans that it's important to be able to clear up your mind. It's a really good skill to have. I say skill because we've learned to beat ourselves up, talk ourselves down, when we don't need to. If you can re-learn the skills of positive thought then it can do wonders in life.
Crystal: Goal-setting is another big thing which DeAndre has taught me. I knew it was a thing before but he sat down with me and walked me through it. It's another amazing way which I've changed; mapping everything out has helped me grow as a person and achieve things.
As it's Valentine's Day, what is the greatest gift which you've received from one another?
DeAndre: Last year, during my birthday, it was pre-season and I had just left the US from summer break. I was a little down. I was like damn, 'I'm not going to see my family again for a while, I'll be alone on my birthday.' But Crystal actually flew out to surprise me on my birthday. It was dope. She did the same thing at Christmas. I think sometimes people don't realise how tough it can be. There's a lot of guys out here – young guys too – who have to be alone at Christmas and their birthdays, and they miss out on these memories. Everyone still wants to see their families during the holiday seasons. The fact that Crystal did that for me was amazing – it meant a lot to me.
Crystal: Am I allowed to say? (Laughs) For my birthday last year, DeAndre did the exact same thing. He had two days off and he popped up on my birthday in New York for a few hours. He came back and he was literally dead. Things like that mean so much more than material gifts. The fact that you showed up to my birthday in New York and took me out – and paid for it!
You both wear each other's clothes – but let's be honest here – in the time you two have known each other, what is the worst fashion mistake the other has made?
Crystal: The day I met him – the day I said he was really boring – he had this really big Gucci headband on. I'm not a huge fan of extremely in your face designer things but the fact that it was the beginning of September – it was literally the beginning of a heatwave – and the headband is for skiing. I was just like, 'why?' Does this guy want me to know he has money or something? (Laughs) He's never worn it again.
Where is it now?
Crystal: It's away – I've hidden it!
If I'm honest, there's not many – if any – fashion mistakes she's made. If there is ever anything, we have a relationship that we can tell each other straight up. One thing I hate though is too much make-up. I don't like the fake eyelashes and all that bullshit. There have been times where I've told her to go more natural. I think as a girl – this is going to sound corny – but she's naturally very beautiful.
"With football, especially I think in England, you can be put in a box and you're not always allowed to express yourself or do things that you would normally do. So, for me, fashion, is a way to get out of that box and to show people my creative side."
What is the one item of clothing that if it's missing, you know the other one has it?
DeAndre: We have a grey Fear of God Essentials sweatsuit and that's always the go-to when we don't know what to wear.
Crystal: We bought it with the aim for it being of both of us but we genuinely do fight over that Essentials sweatsuit.
What song reminds you of each other?
DeAndre: Cardi B reminds me of Crystal. One of the first times she came to England, we went out and Bodak Yellow came on and she knew every word; she was doing the routine. I was like 'woah.' It was that energy she had the first night I met her and I was just like 'wow.' Anytime we're in a club, a car or anywhere and that song comes on I now have to look away because I know she's going to be going crazy.
Crystal: Anything that is Roddy Rich or DaBaby. Immediately they remind me of DeAndre. I couldn't even sing a song because he literally knows the words to every single one!
When you're playing at home DeAndre, at St. James' Park, do you guys travel together? If so, who's controlling the music then?
DeAndre: We do travel together and literally the only reason we do is on the walk-in to the stadium, there are hundreds of match photographers and Crystal puts on her nice outfits and I'm pissed because I'm only allowed to wear the club tracksuits!
Crystal: I need their photos!
DeAndre: It's hard because as a player I don't want to be posting mad fashion pictures all the time on my Instagram. And, also, I hate taking pictures of Crystal because it's cringey to me. So, those walk-ins are the only times we can get candid pictures of us together, where Crystal can put some fits on.
What is the each other's biggest guilty pleasure?
Crystal: I can't stop eating Ferrero Rocher. I was keeping it under wraps but DeAndre saw them. Right now, we're both on our healthy eating Vegan regime but I cannot stop eating these chocolates. I hid them and DeAndre found them. I really thought I was going to be in trouble and DeAndre went and ate them himself.
DeAndre: I can't stay away from them, to be honest. That's our biggest guilty pleasure is that we can't admit to each other how much we like them. It's getting out of control.
What is the one thing on your shared bucket list?
DeAndre: To travel. Growing up in America there's loads of dope places but being here is so amazing because you can go anywhere. You can be in Spain in a couple hours Croatia in three; go to Greece, Turkey – whatever. Everything is in such close proximity and that's so new to us. So, to experience that many different cultures so close is special. We both love experiencing new things and new cultures.
Crystal: We both love adventures! Whether that's going on the tallest rollercoaster or the craziest journeys, that's what we love.
What's the one thing you've learned since being in Newcastle?
DeAndre: Being here has really made me realise how much I love my family and my home – how much I miss them and I need people around me. Before, I never would have thought I would need my family so much. But it made me realise how much of a family man I am. Which is great. Being here makes me realise and important family is.
Crystal: I love a lot of things about Newcastle. I love how fresh the food is compared to where I'm from. We're vegan so I cook fresh produce every day. Before I moved here, I didn't know anything about football. Not a thing. To see how passionate the Newcastle United fans are and to see how into the game they are is incredible. It's been fascinating to witness their love. I'm now a big fan.
Finally, how are you guys celebrating Valentine's Day?
Crystal: It's supposed to be a surprise, right?
DeAndre: You're tripping me up, man! Nah, I haven't got anything crazy planned. We'll go for a nice dinner date – there's some nice spots in Newcastle – but nothing crazy because I have a game on Sunday. We'll then come back and watch a movie. Just a low-key romantic evening with the Ferrero Rocher out of sight.