DIZZEE RASCAL: 20 YEARS OF BOY IN DA CORNER
PHOTOGRAPHY BY WILL BEACH / INTERVIEW & WORDS BY BUEZ HADGU
20 years on from the release of his iconic debut album 'Boy In Da Corner', Dizzee Rascal is deservedly recognised as a pioneer of grime and UK hip-hop, having paved the way for countless artists to follow in his footsteps.
"The music on my album sounded like nothing in the world at the time, I think that was the difference. It proper gave a voice and sound to that generation of UK music." He explains.
The success of the album earned Dizzee recognition in Britain and abroad, with many hailing it as a classic album that has had a lasting impact on our music scene. His career since then has seen him release 6 more albums, each building on his ever-expanding sound and further cementing his reputation as one of the most important voices in UK music.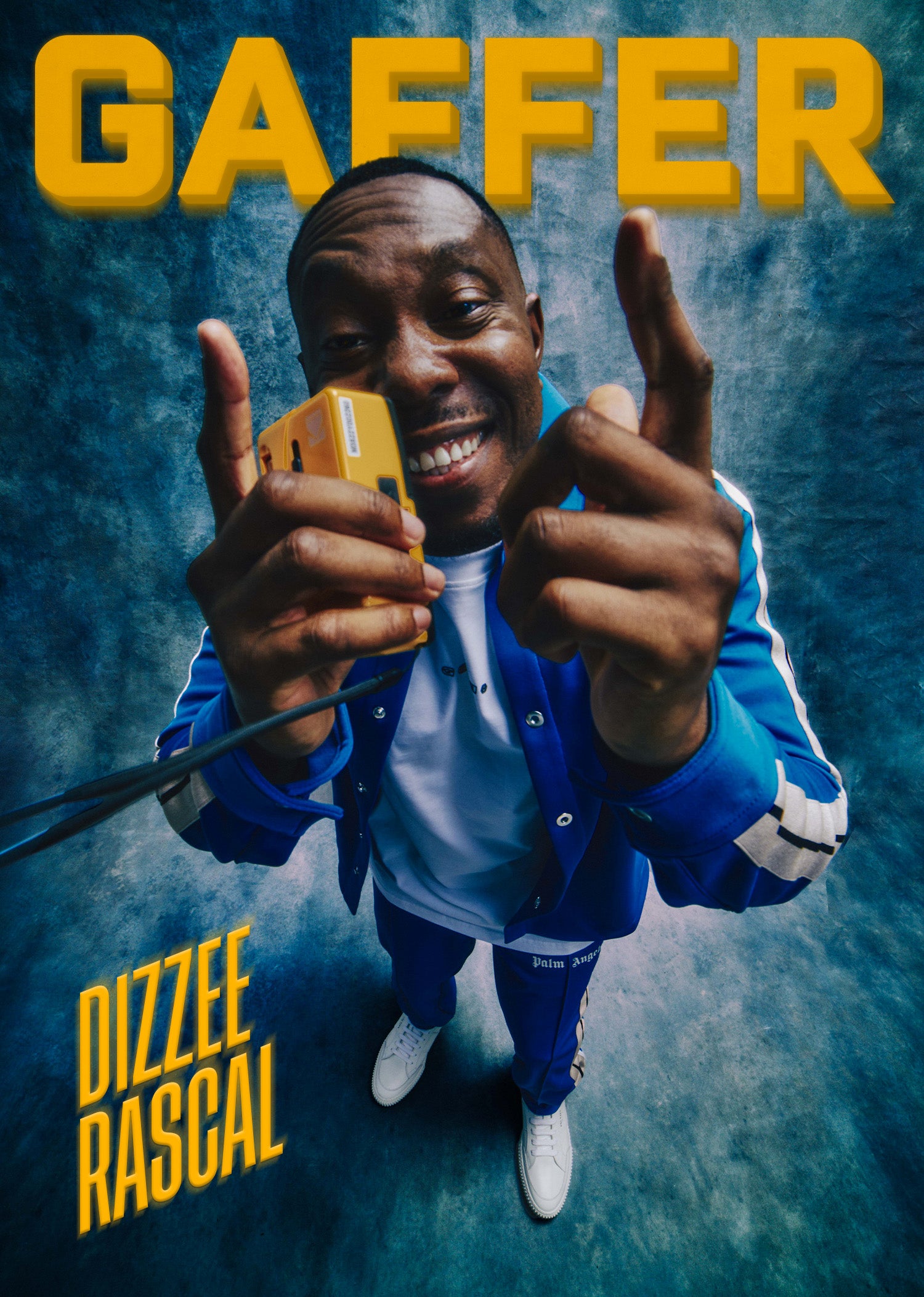 tracksuit: palm angels from flannels / t-shirt: gaffer / Shoes: prada
"I started off as a jungle DJ, and a jungle MC, a lot of us at that time were," he shares. "There was no actual Grime genre back then, it was born out of that jungle era and it ended up being what took us to that next level."
He continues to be respected worldwide for his skillful lyricism and ability to innovate, having carved out an impressive body of work over the years that still resonates with huge audiences today.
Ahead of his commemorative show at the O2 Arena, celebrating the longevity of the album, we sat down with Dizzee and spoke about where it all began and everything onwards.
We saw you pop out at Carnival with a little surprise set, talk to me about that?
Yeah, that was a little bit of fun, that was cool man. I didn't plan to do that either. I ain't even been for so long, and it's good because when nobody expects you to perform it's not like your fanbase is there right, so to still get that sort of response was mad.
It's been 20 years since 'Boy In Da Corner', what do you think is the biggest difference in music today?
It was so different back then, there's still nothing that sounds like music from those days, today - especially my first album. It seems like a lot of people that are doing shit now are almost playing it safe, they're all just jumping on the same thing but with a little twist.
While making it, did you know it would be a classic we still talk about 20 years on?
Nah, I didn't know it was gonna stay different for this long, but it was definitely different to what was going on then. It was just me doing exactly what I wanted to, experimenting in my head. I still did it with the intention of making a good album though, because I was into albums at the time.
Who would you have been taking in at the time?
Jay Z, Tupac, Busta Rhymes, Bone Thugs-N-Harmony, it was those people that made THE albums, it was that time you know? I mean I wanted to put out quick records but I didn't have a bunch of producers to go to, to jump on their beats, so I made my own and I enjoyed it.
Would you say it was those artists who also influenced you?
I was really influenced by Timberland, Neptunez, and DJ Paul for the Three 6 Mafia stuff. They were probably my main three influences, as well as Jungle and Drum & Bass, but no particular producers from that genre.
How did you get into producing?
In my second secondary school, I got introduced to Cubase and I just took to it. Before that, I used Music 2000 on the PlayStation, which was basically like a loop machine, but I could still make a track with it and I got really into that, I think I would have been 13 at the time?
Did you know from that young age that music was the career path for you?
I think so. I just genuinely didn't want to do anything else. At one point I was quite good at athletics, running and all that, when I was really young, but I never wanted anything else. I never thought about any other kind of job, this is literally all I've done my whole life pretty much.
"Bookings. We were doing bookings from young, we started on pirate radio paying £20 for a set."
You won a Mercury Prize with that album aged just 18! How did you even manage to put together such an iconic album at such a young age?
I don't know man, everything was aligned, it's one of those ones where I couldn't pinpoint and give you an answer even if my ego wanted to. I mean I'd love to say it's because of this and that, but for me, in a weird way, it's just some shit that happened, that's just part of my life. I don't know anything else. Even that in itself is crazy init.
What was the process like putting it all together?
A lot of people still don't necessarily know that I produce or that I was making the beats on my album. I'm still more known as an MC or for what I did as an MC. 80% of Boy In The Corner I literally made myself.
Despite social media not being as prevalent, all of you seemed so connected throughout the scene, how did you all manage it?
Bookings. We were doing bookings from young, we started on pirate radio paying £20 for a set. So like you said, I'll go to a station, and that would be how I meet Nasty Crew, but then I'll go to Tottenham because I'm following 'Rough Squad' and as I'm walking in, Frisco is walking out. I didn't know it at the time, but it allowed me to know the North dons. Okay, then I've gone to South London, a Brixton station, and I'm doing a set with RA and them man. Then we're doing raves and you might bump into some people because they're doing the set before you or after you, so Pirate Radio was our social media, it was a proper community.
You're fresh from your first acting gig, appearing in 'Jungle' on Amazon Prime, what was that like?
When Junior hit me up about it, I wasn't sure about it, but I really got on with him so I told him I'd do it. He showed me the scripts, and explained to me that it was going to look different, that's what I liked about it. I always try to do things that are cutting edge or new. It wasn't till I got on set that I realised how serious the production was.
Did you ever feel out of place or find it difficult during the process?
Even though I haven't done a lot of acting, I've done a lot of music videos over the years, so it's just like being on set, but with this you've just got to follow the direction and what you're saying and how you're saying it counts. I'd definitely love to do more, I like it, it's another outlet, another release.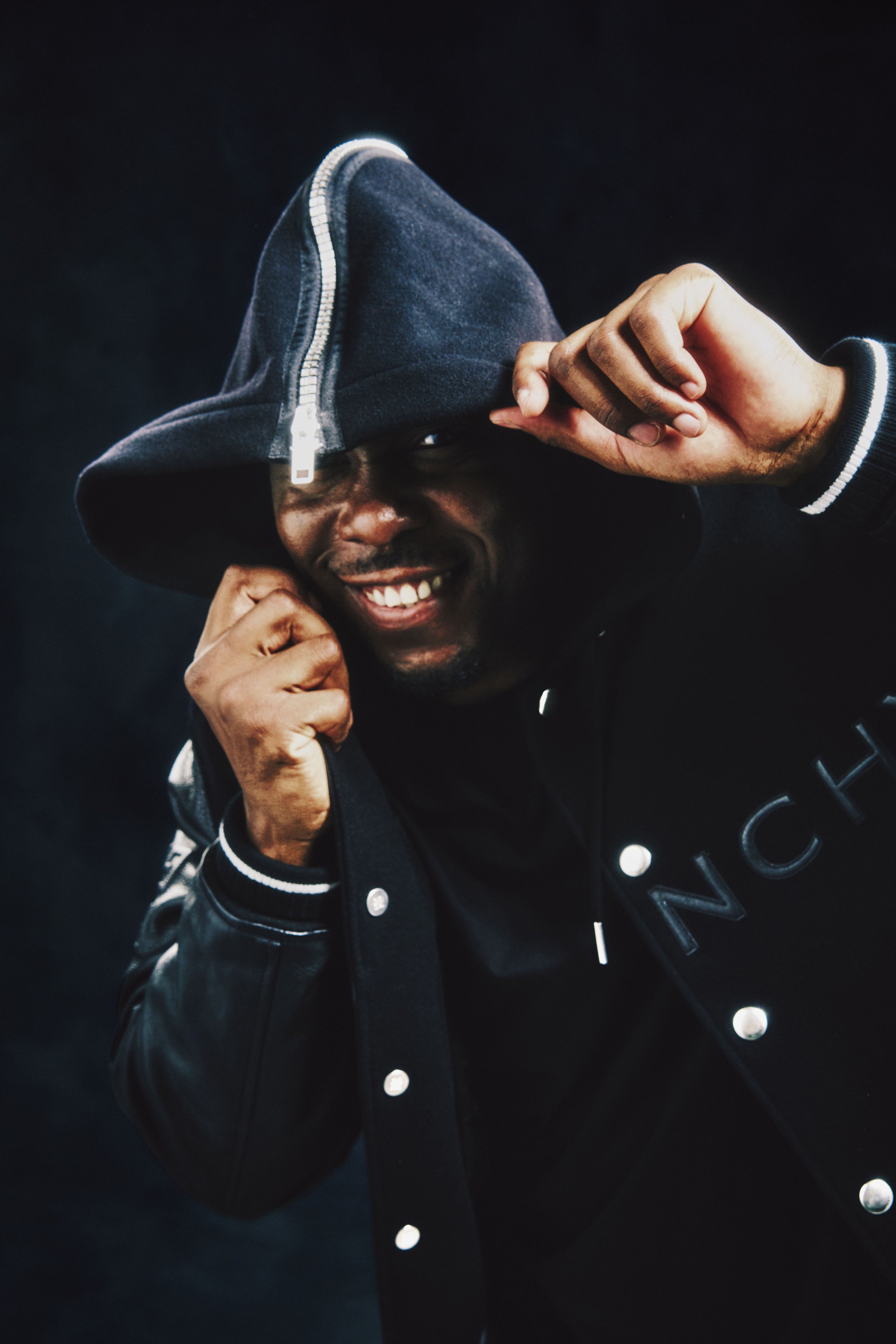 What was it like working with the younger generation of UK music?
I love that, it was proper working with them. I told OFB and M24 I'm a fan, I like what you lot are doing, keep doing your thing.
You dropped a verse on one of Kwengface's projects, how did that come about and will we see you collaborate with more of this generation of music?
Yeah man, that's my boy, Kweng's my g. You'd be surprised how many guys I actually jam with, and by that I mean we literally chill at each other's houses. We're just not publicly associated like that, but I'd love to work with all these people, even to just see what we come up with.
Talk to me about the upcoming show at The O2, how excited are you for that one?
I've put so much into the production, I can't wait to start rehearsing. I have to give the people a treat, that's what it's like for me, I'm a showman. My live reputation has kept me afloat for 20 years, I learnt early you have to give people a show man. With this one here, it's another excuse to take it to the next level, and you know me I'm always up for a challenge. We're going to bring it to life for people that were there from the beginning to the newer people connecting with it now and just blow them away.
shop the look