FLOHIO: THE ART OF AUTHENTICITY
PHOTOGRAPHY BY JOSEPH MARSHALL / STYLING BY LINDA HOUTSONEN /
INTERVIEW & WORDS: BUEZ HADGU
During our shoot with South London's talented lyricist, FLOHIO, we see the same character and energy that you envision when listening to her music. The heavy-hitting bars, undeniably catchy flows, and punch-like delivery are present in her personality as she vibes for hours on set.

Perhaps her excitement was in anticipation for what is to come, she is back after two years since her last project, with her highly anticipated debut album, 'Out of Heart'.

"It was made towards the end of the lockdown and it's all about my friends, relationships, and family things that I've been going through, that sort of stuff." She explains, "It came off the back of me trying to find clarity, transparent clarity because my mind was in a clouded state just battling myself and my thoughts."
TOP: BOILER ROOM / NECKLACE: FLOHIO'S OWN / RINGS: LUCKY LITTLE BLIGHTERS & MI MANERA / GRILLS: FLOHIO'S OWN
While FLOHIO is no stranger to creating music and has been doing so since her teenage days in Bermondsey, it was finding her own sound and delivering consistently in her own lane that has seen her rise to prominence over the past few years.

Since arriving in London from Nigeria at the age of eight, Flohio has used all her experiences growing up and the exposure to different cultures and experiences in South London to spark her artistry and inspire her creative process.

"It's all a learning process. I just like gaining knowledge and enjoying life really, so there's stuff to talk about. You can't be having verbal diarrhoea all the time because you'll run out of shit to say." She shares,
While through her music she paints the picture of a character who is bold, unfazed, and fiercely unapologetic, it's these characteristics she attributes to growing up in the environments she did, describing them as natural by-products of all she had seen and gone through.

"Only the strong survive, you know, what do they say?" She continues… "Tough times never last, only tough people do!"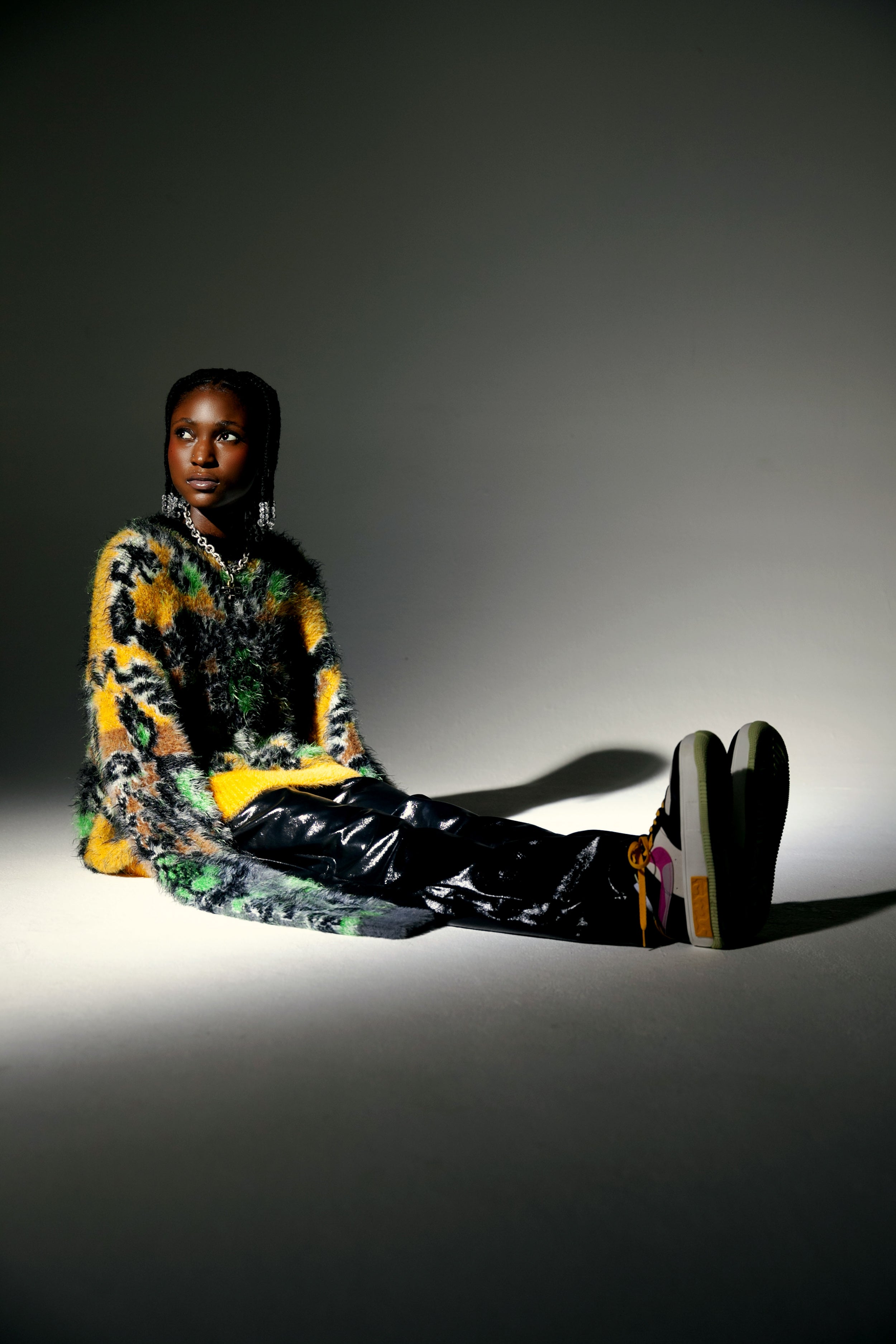 SWEATER: ARIES / TROUSERS: MONKI / SHOES: FLOHIO'S OWN / NECKLACE: FLOHIO'S OWN
HAT: GAFFER / TOP: N PALMER / TROUSERS: SUPPLIER / BELT: STYLIST'S OWN / RINGS: LUCKY LITTLE BLIGHTERS, MI MANERA, & FLOHIO'S OWN
What musical influences did you have growing up?

I remember when I was younger, I used to watch a lot of MTV, so I recall growing up on some of today's biggest names, I think my favourite inspiration would have to be Lil Wayne, I've just always recognised his talent, I think he's the goat.

Do you recall your first memories of making music?

Believe it or not, I remember we had a makeshift home studio, built in one of my friend's wardrobe. We all used to go round to his house as a group and just be creative, spit on beats, and make music. That's probably my first memory of making music, it was a really good time.
TOP: AMERICAN VINTAGE / GILET: MONKI / NECKLACE: FLOHIO'S OWN / RINGS: HEY HARPER / BRACELETS: STYLIST'S OWN
How has the past year treated you?

It's been rough, it's been hard, it hasn't been easy. I'm probably still trying to find my feet if I'm being honest, I just got lost in the album. The cloudiness coming from the lockdown period wasn't easy to navigate either.

What was the lockdown period like for you?

To be honest, it was needed. I have a studio in my house, so that helped me out massively and I also have a strong support network around me. But you know, we're still always in our heads, aren't we? There are little things about ourselves that we all need to look after, everything's so serious, serious, serious, you just need to relax sometimes, and that was tough to get my head around.
"Tough times never last, only tough people do!"
Which parts did you find the most difficult during this time?

As much as I love the whole process behind music, I couldn't tour and enjoy doing music the way I want to do music. Everything was on Zoom, but the biggest problem was whether it felt like the right time to drop music. The world was going through so much shit, I was going through shit, so it was just about battling different thoughts.

How do you now feel about returning to the 'normal' way of doing things?

I can't wait to actually start making new music, so much has changed you know? My brain, I can't sleep sometimes, legit. I'm in the car thinking I need to go straight to the studio. It gets to the point where my brain starts hurting because I haven't released, my brain be having blue balls and shit.
HOODIE: GAFFER / TROUSERS: ENDLESS JOY / RINGS: LUCKY LITTLE BLIGHTERS / SUNGLASSES: MONKI / SHOES: PRESENTED BY
You have an authentic style and unique sound, what would you put that down to?

One thing I can say with certainty is that I've always been myself, I never thought about fitting in or being popular, you know? My sound has come from my experiences, my influences, and the cultures I've been exposed to but with my own spin.

Why did you decide you wanted to record music?

We used to do little shows and perform our music growing up, it was like a cypher or showcase type of vibe. I never had any music recorded at the time, I just used to put a beat on then and then rap on the mic. I remember the first time I thought to record music was to help make that process easier. The first few tracks I made I just had on a USB and took with me to these events; I didn't even really upload them anywhere.
What sparked your musical career?

Growing up in South, there was a local youth club that we used to go to, it was one of the best in the area and I'm pretty sure it's still there today. They had a studio in one of the rooms, literally everything was brand new, and it had all the equipment we needed. Macs, microphones, headphones, and the software for all the beats, it was such a blessing for us to have access to a place like that, we spent so much of our youth in that room.

While there aren't any collaborations on your album, who could we see you feature in the future?

There are a lot of people I'd love to work with, collaborating is dope. For example, I'd love to do something with Kwengface, which might sound crazy to people but I think the boy's cold! M.I.A is another one, I heard she doesn't do features, but I've been saying her name for the longest. Watch me, one day you'll just see me and M.I.A pop out.
T-SHIRT: GAFFER / JACKET: IGOR DIERYCK / RINGS: HEY HARPER / NECKLACE: FLOHIO'S OWN
How would you describe FLOHIO to someone who has never met her?

I'm very family orientated, usually making me a homebody. I'd say I'm an introvert, but obviously, music makes me a bit ambivert, so I just always tend to find myself in my own little world really, I love it here.

Describe the sort of impact your family had on your musical career.

My family is super supportive, especially my parents. They wanted me to excel in my education, finish college, university, and stuff that made them really proud, but they never got in the way of my dreams. They were always happy for me to follow my passion and just told me to be the best in whatever it was I ended up choosing to do.

What advice would you give somebody at the start of their journey?

Never stop fine-tuning your craft. I don't want to give the cliché 'stay consistent' bullshit, or keep going, because that goes without saying. It's mandatory. Just don't get too comfortable and think you've mastered anything, there's always another level.