HONEY: LEADING FROM LA
PHOTOGRAPHY: PETER O'SULLIVAN / STYLING: MH'YA MCLEAN
HAIR AND MAKEUP: INDIA RAWLINGS
INTERVIEW & WORDS: BUEZ HADGU
Maintaining the positive energy she radiated during her shoot, Honey continues to showcase her bubbly nature as we talk about the past, the present, and the future of her journey.
From our opening exchanges, you can tell instantly why and how Honey has become so successful on a global scale. Her passion. As soon as the subject of music is mentioned, you can see her eyes light up as she enters a space in her mind full of experiences, memories, and sounds."
"I love, LOVE music" Honey begins, having grown up in Saudi Arabia and Dubai, her early interactions with music can only be described as unique. "I mainly grew up on Britney Spears and Christina Aguilera when I was a kid," she continues, "and then once I moved to Dubai, the DJ scene kinda started, so I was listening to Benny Benassi and David Guetta."
For the first eighteen years of her life, Honey had never experienced being behind the decks, it wasn't until she returned to the States that she began the chapter of her life which has brought her to the heights she is at today. "I went to college in LA and started DJ'ing for fun in my second or third year," she shares. Fast forward seven years and Honey has made monumental progress. "The last year has been epic! I got to open up for Drake, Justin Bieber, Bruno Mars, Anderson Paak, and Jack Harlow. Some really incredible people."
A huge factor in her development has been her strong self-belief and sheer determination. "If I have an idea, I'm going to do it, I'm going to make it happen" she explains, "there are not that many girls that have succeeded, and I still feel like I'm just getting started, the last seven years have just been training almost for what's about to come."
"I'm all about love and spreading positivity, putting my friends on, especially girls."
Female representation in the music industry, and more specifically the DJ scene, is on the rise – however, there's still a long way to go and Honey has been flying the flag for women over the years. "I want to start, you know, showing other females that you can do this shit!" she shares.
Having DJ'd at Paris Fashion Week, The Grammy Awards afterparties, countless headline shows, and club nights, there isn't much Honey hasn't done. "I don't know if other DJs are as excited as me about it, I hope that's the case in 20 years, I wanna have kids and still DJ!" Despite her countless experiences, her passion for DJ'ing remains at its peak level.
Going forward into the future, Honey has her sights set on producing her own music, a natural extension of herself and all the amazing things she's already achieved. "I wanna have a legacy, I wanna have something that when I'm 60 I can look back on it and say to myself I really did this shit!" During such an exciting time for the DJ and music industry, Honey has no aim of slowing down anytime soon, equipped with the drive and determination required to bring her visions to life.
We sat down with Honey to better understand what the future holds.
You spent a huge part of your life in Saudi Arabia and Dubai, how did this impact you musically?
Growing up in Saudi, there's not much to do. It's like, very close-minded. You know, you go to school, you go home, you play in the park, and you go to sleep, it's a cycle. Then once I moved to Dubai when I was 13 or 14, they were getting a bit more progressive, getting DJs, getting performers – Usher, Chris Brown, Sean Paul, Beyonce!
What is it really like living in Los Angeles?
Everything about LA, I kind of love. The first few years were obviously hard, like finding your friendship groups. You don't know what you want to do, because you just have all these opportunities thrown at you from every angle. You can kind of put your foot into anything you want to do. For me, I started going to music festivals and I was like, this is what I want to do. So, I just committed to it and loved it so much that I've just been rocking with it ever since.
How fun has it been to have the experience of being a DJ?
The one thing I still feel though is that there's not enough female representation within the music industry. But you know, I love what I do so much and I'm beyond grateful to wake up every day and be able to go DJ at a music festival or get on a plane to go DJ somewhere else, meet incredible people that all have a love for music, and all want to support, build, and grow.
What are some memorable events you remember early in your career?
Rip Virgil. Literally one of the most fucking incredible human beings, so influential, so inspiring! One of my first shows was in LA, at The Standard Hotel, there was a little club downstairs. One of my friends asked do you want to play at this party tonight. I got you to open up for Virgil, and I was like, what? This was after just eight months of DJing you know? I just said, okay, for sure. 100%!
Talk me through that night.
It was one of the most amazing nights, just being able to DJ next to him, to see how he had that energy that was able to control a crowd. And, not just through electronic music – because I feel I only knew DJs from electronic like Diplo and Skrillex – and that's what I thought DJing was. Then once I saw the way Virgil could move a crowd, through Dancehall, through hip hop through, you know, not like super DJ culture music, but he was able to create the sort of DJ culture through music that we listened to in our home.
You don't prepare your sets?
Yeah, you're right, I use USBs, so every week I constantly download music. Literally every week, I'm constantly downloading music. I'll do like May, April, and June, a must-play folder. I have certain songs that I know that month, make sure you play this in your set. I don't want to make it sound cocky, but I'm at that stage now where it's like put some respect on my name! I can fuck up any party, anywhere in the world. I just did Paris, 99 Ginger, and Babylon, from you know, one side of the world to the other.
How do you see the relationships developing between the UK and US scene?
I've been playing UK music forever – Skepta, Stormzy, Giggs, AJ Tracey, Central Cee, they're just the best – I love mixing ASAP Rocky because I love what he did with Skepta. How they formed this London and New York energy, people in LA love it. Yeah, anytime I'm playing unsafe on the block everyone knows it, people fuck with it.
What does the pressure of being expected to make an event memorable feel like?
You're a tastemaker you know? If you have good taste, you're gonna have good sets. It is a lot of pressure, it's fucking intense. Sometimes I ask, should I make this? And I go, Nah. It's part of the adrenaline, I love scrolling, and then when I see the right song, I'm like, oh my God, I got it. I'm doing the transition in my head, thinking, oh, this is gonna be perfect. I'm proper stoked, you can see it in my face. I can tell in the crowd, that they're waiting to hear, what the fuck is she about to do? It's fun. It's really fun.
Having visited so many different places and experienced different cultures, does that impact your music taste?
It's my favourite thing to do as a DJ, just to go travel and find new music. I'm in clubs till four in the morning and I just love to sit and listen, I don't care if it's one night of all House, one night of old records, one night of all Drum and Bass, one night of Dancehall, because I know that every night, I've taken home at least five cool songs. I have some new favourite songs. My iTunes library is almost like my life, it's all these memories, and each song has a specific moment. I think that's why it's so special when I play it in a set because I have a connection with every song that I've played.
How do you plan on improving female representation in the DJ scene?
I want to throw my own female party. I want to start booking girls from all over the world. I want to call it the Honey Trap, or Club Honey, I want to have a party that goes global. I'm planning to feature a DJ from each city. I'd have my two main girls that I take with me everywhere. And then in each city that we're in, we showcase whoever my favourite DJ from that city is.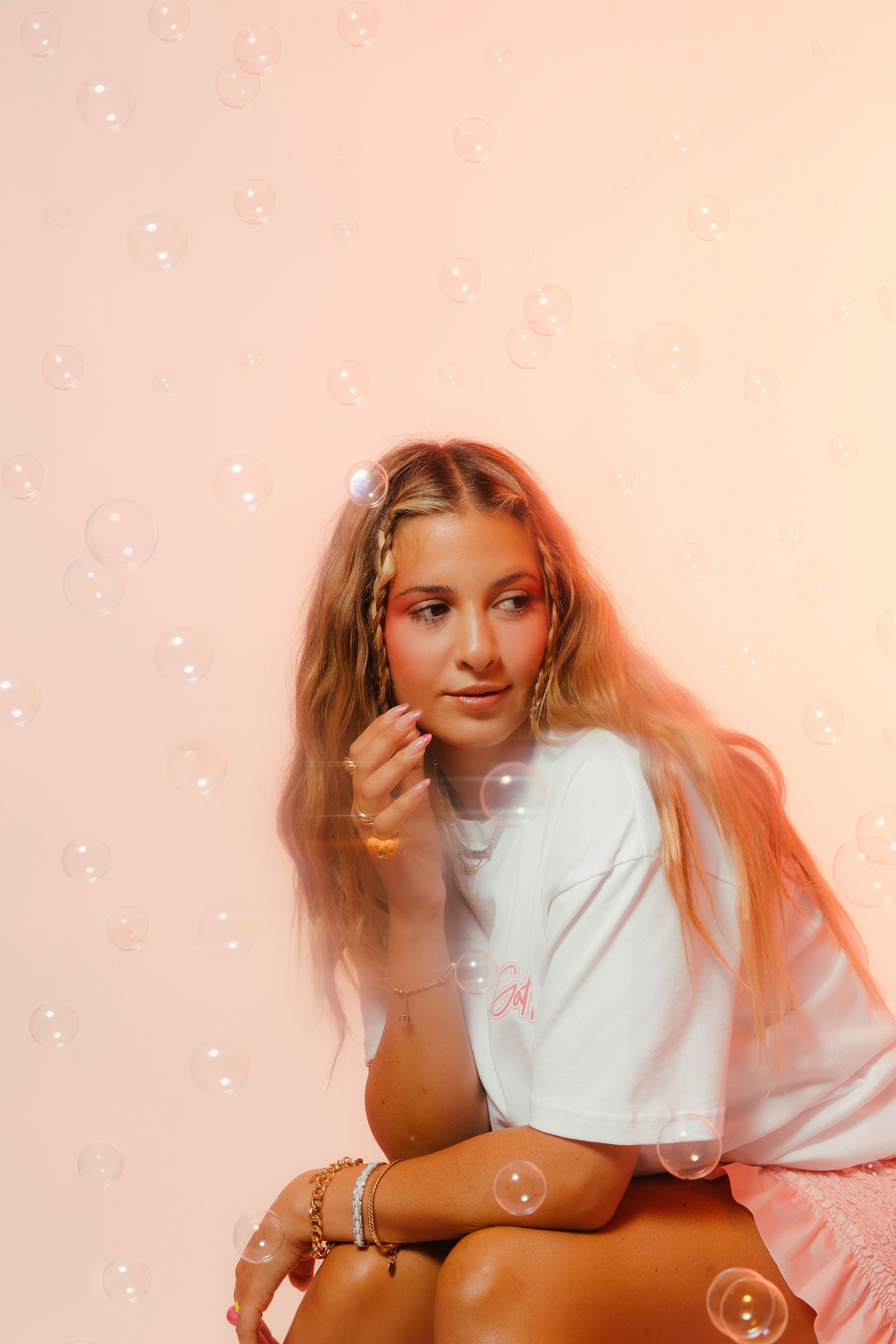 GAFFER WHITE & PINK SIGNATURE LOGO T-SHIRT
What gave you the inspiration for the idea?
As a DJ, we all have something in common. We all, you know, love to DJ, we all play music. We're all constantly listening to new music, we're constantly learning, we're constantly travelling. And I just wish there was like, I don't know, not a club, but a kind of movement. I wish there was a bigger movement for DJs.
Describe Honey's sound and what we can expect.
My sound is just gonna be the same up, intense energy. I want to make dance music. I want to make music that makes you feel good. I've done some remixes so I'm excited to play them. I want to make all the songs that I fucking love listening to at home but bring them to the clubs and bring them in a way that it's danceable. So that's the vision that I have for the album.
Were there any mistakes you made or things you wish you'd learned earlier in your career?
I think I was too humble. I wish I had been more aggressive in opportunities that were given to me. I used to just go DJ and then leave, instead of like asking them for their phone number, asking for their email, asking for this, you know, following up kind of. I would just be thinking, no, if they want to work with me again, they'll reach out, that type of shit. Now I know, no one's gonna make anything happen for you. You have to make it happen for you.
How do you think you've progressed over the last few years?
I'm definitely more secure with my mind, my body, and my vision. Having a vision is so important. The goal can change, you know? That shit happens on the journey, but you have to have a vision of why you're doing this. But yeah, that's me. That's Honey, in a nutshell.
shop the look