JESSE LINGARD - GOOD VIBRATIONS
PHOTOGRAPHY: ELLIOT WILCOX / STYLING: CARLOTTA CONSTANT /
INTERVIEW & WORDS: TOM EVEREST
"You've got to remind yourself every day that you're a good person, you're a winner and that you can conquer anything." The England and Manchester United star – the man who made the Premier League look like a playground after months away – goes deep on life beyond the game and growing into the person he knows he's supposed to be.
JACKET GUCCI
It takes great determination, courage and skill to shoulder the burden of a generation's mindset. Culturally, Jesse Lingard is that compass - a GPS - at a time when it seems both possible and impossible to push ahead with progressive, enlightened ideas about what it is to be male today and how that might evolve in the future. That alone is worthy of an MBE, a player of the season award or any accolade that sets the bar high. The fact that his recent stay at West Ham only lasted for five months is inconsequential. The ripples, the conversations, the smiles, the incentives, the example he set during his time in East London - when he could do no wrong - served as a reminder as to why we all follow football. As to why footballers are now the gatekeepers of culture. As to why they have more to say than ever before. As to why we should all listen.
"You just have to be yourself, man," Jesse says gently. "The beauty of you is how you wear who you are. And for me, right now, I'm feeling confident and when I'm confident and playing football, good things happen, I can change things. That mindset will never change now. I just have the hunger, determination and drive to do more."
The truth is it wasn't just last season that Jesse made the difference. He has always been that guy.
Yes, football has changed and it continues to change, but the voices of modern day players are louder because of Jesse Lingard. The flamboyance and the revelry of scoring is felt and appreciated across the realms of FIFA and Fortnite because of Jesse Lingard. The man who did the Milly Rock and then moonwalked at The Emirates before anyone else truly embraced the culture - honorary mention to Nigel Reo Coker's Laffy Taffy - on the biggest stage.
"It's all about the positivity factor, what you put out into the universe you're always going to get back."
He was one of the first players to truly embrace the trappings of social media without fear of the consequences. His example has led others to follow with a sense of freedom. Over the last few months, Jesse has spoken openly about his struggles as a top flight footballer. As one of the most recognisable names associated with the game, his words will, eventually, undoubtedly, inevitably, inspire the growth of those close to the game, those who are set to walk the same path and those who need to know that everything and anything can change. 

"It's all about the positivity factor, what you put out into the universe you're always going to get back," Jesse explains with care, consideration and a level of detail that we've become accustomed to hearing from him. "The biggest thing I've learned over the last few months is that anything is possible. Genuinely. You can achieve anything you put your mind to. It just requires focus, concentration, and a good team around you to push you. It requires people around you that believe in you, your ability and what kind of person you are."
He exhales, laughs, in a gentle, revealing way that seems to suggest he is slicing through the memories of the past to put into focus just how far he has come. "It takes a lot to get to where I am, especially with where I was. It takes a lot of graft, hard work and determination. What helped me the most is having those people around me. They made me realise that you can go wherever you want to in life no matter where you start."
"It felt like I had been released, the shackles had come off and I was free. It made me feel on top of the world, that I could do everything."
Jesse started again, officially, on January 29th 2021, when he reunited with former Manchester United boss David Moyes just before the close of the transfer window.
It was almost seven months on from his last Premier League goal, when he scored for United in the 98th minute against Leicester City. That goal was his only one of the entire campaign. However, the eyes of social media did not see that goal, and the obvious relief seen on the face of Jesse Lingard, as a potential renaissance. Instead, they remained fixed on the story of a number of people who had actually placed money on Lingard to not score or assist for the entire 2019/20 season.
What almost no one knew, bar those inside Manchester United, was the personal troubles Jesse was facing at this time. In an interview with Presenting… earlier this year, Lingard said: 'There were some days where I used to have a game at 8pm and we'd go to the hotel in the afternoon. I'd sleep from two until four, shut my curtains in the dark, and then wake up in the dark, and you don't get any sunlight. I didn't want to play because my mind wasn't there, I wasn't focused at all. I was thinking about other things and obviously bottling it all up; trying to play football, you can't do it.'
The truth about Lingard's personal issues was later released as part of the BBC #SoundOfSupport campaign, when he revealed his mother had been suffering with depression and he was taking care of his younger siblings, who were 12 and 15-years-old at the time, as well as his young daughter. The difficulties go beyond just the impact of his physical performance and onto the mental strength that it takes to steer your family through such times at the age of 27.
He is happy now. But the smile you see today, the smile you've always seen cuddled behind his fingers in the signature 'J Lingz' celebration, is a reminder of the value of using your voice when you're suffering. The positive impact of speaking, sharing and never giving up even when things are at their most difficult.
"The memories of the night before joining [West Ham], bloody hell," he smiles, as his voice cracks through the echoes of relief. "The deal was on, then off and then on, then off. When I was being told, me and my brother were crying in the cinema room. I knew I needed to go play football and for a point it looks like I wasn't going to.
"Eventually we got it over the line and that drive down to London was the moment. My brother just kept relaying 'trust me you'll smash it.' That small moment changed it all, it gave me that confidence and energy to do well."
On his debut on 3 February 2021, four days after signing, Jesse scored two goals against Aston Villa as West Ham won 3–1. He followed it up with a goal against Wolves where he carried the ball 52 metres, the furthest a player had travelled with the ball before scoring in the entire Premier League season. Proof of not only the length of Jesse's success but the joy in taking the road less travelled.
"It was a weird one, I'd been training behind closed doors for so long but I was always ready. I felt good in that first game. Scoring two goals in my debut, it felt like I had been released, the shackles had come off and I was free.
"I felt like I had overachieved almost, I swear. I've done so much to get there. I believed in myself and I was surrounded by such a great team that I felt on top of the world. I felt that I could do everything."
Jesse's West Ham loan spell will be a special bookmark in the 'streets will never forget' chapter of the Premier League. Not only for securing the club's long-awaited return to Europe, eventually scoring nine goals and assisting five more in 16 games, but for what it signified for him and so many others who have followed him for so long. He has provided a voice for a lot of silent souls who couldn't be heard before, or couldn't express how they felt. Oftentimes, footballers and football fans have been limited in offering success to others. Let alone footballers being open to share their innermost feelings. But, with the actions of Jesse that is starting to change.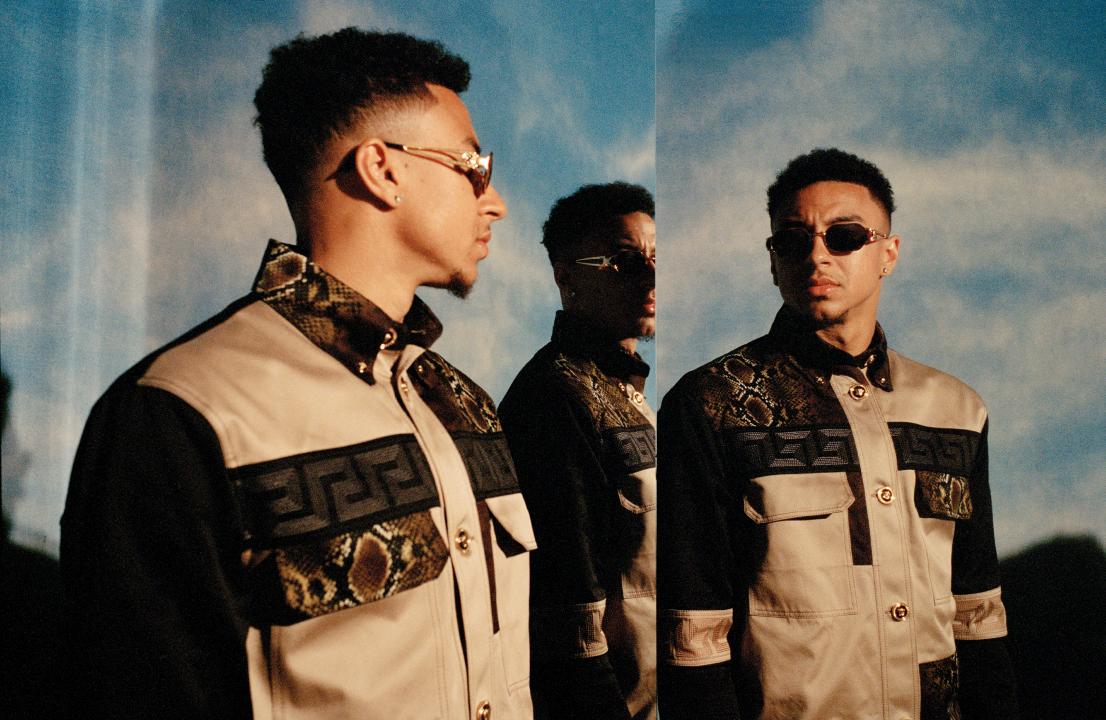 The football, the inspirational messages he posts on Instagram, the deliberately positive manner in which he goes about his days is addressed, in some ways, to the younger Jesse. Jesse who was struggling and felt like he'd never be saved. Well, he is here to save that guy now. He wants to talk to him. He wants to set an example. He wants to show him the way forward. It's why Jesse also reached out to help fellow professional and former England youth international Jordon Ibe who, since his move to Derby County last year, has not featured due to his personal battle with mental health and depression. Jesse got in touch with Jordon and sent a copy of his favourite book - Good Vibes, Good Life by Vex King - in hope that it may help.
"Reading has been massive for me," he explains. "I finished Good Vibes, Good Life and that changed my outlook. Today, I see the positive side of everything. It's all about the positivity factor, what you put out into the universe you're always going to get back. So, I've been working on my energy, passing it on to other people who may be going through difficult times or have difficult moments in their life.
"At the time of coming out of that dark place, a lot of people were contacting me about it. Jordon was also feeling the same and I wanted to help him. I sent him the book and I hope he's feeling what I felt, that positivity. That, no matter what, you can conquer all obstacles in your life if you want to."
"You've got to remind yourself every day that you're a good person, you're a winner, you can conquer anything."
There's something special about talking to Jesse. His views are so confident, so conclusive, so refreshingly positive, that he's always making perfect sense. It's like talking to an excitable, wide-eyed 16-year-old footballer and an older, wiser, all-knowing coach at the same time. The guy who loves football and the guy who loves everything around it. To understand the perfect paradox that Jesse moves in parallel with you have to look at one question; what is the biggest thing for him now?
"I like to make people happy. That's the most important thing. Whether that be football, family or friends, people who see me on social media, I want to put belief into those who think they can't make it," he empowers. Although Jesse has had spells like this in his career before - the goal against Crystal Palace in the 2016 FA Cup Final, the summer of 2018, the top bins against Panama - you now feel like he has the ability to use that ambition to influence all aspects of his world.
"I have the power to steer my life now. 100%," he says nodding. "There are many more chapters in my life that I want to hit, so having good people around me, with positivity and sharing good energy, is the secret to getting there. It's all a lesson in patience," he adds.
"Look, Sir Alex said 'he'll be a player when he's 23/24' and it happened. I knew it would, I believed him. Around that age I got into Van Gaal's team; I played in most games and obviously scored in the FA Cup Final. [Sir Alex] has got some sort of wizardry about him in the way he sees these things."
Today, Jesse can describe every step of his career with such clarity that suggests every step he takes from here on in will be one that he will enjoy. There is likely to be one thread of consistency, though. "The milly rock, the moonwalk, the flute with West Ham, the hercules against Watford, the woah in the Community Shield. The J.Lingz one, obviously. I've done so many celebrations and they've all felt so special," he begins to explain.
"I don't practice any of them, though, it's just that dancing has always been a part of my family for many years. When I score a goal, I'm going to dance. I'll always continue to dance no matter what, no one can tell me not to.
"You have to do things in the right place and at the right time. Maybe in the past I haven't done that but now, having all that in the past, I have matured to become more responsible. I can enjoy these moments"
So, the difference between past and future, between cause and effect, between memory and hope, between regret and intention is that there is no such difference. They are all equal steps in the same story. The story of Jesse Lingard.