JOAO FELIX: COMING OF AGE
In Partnership With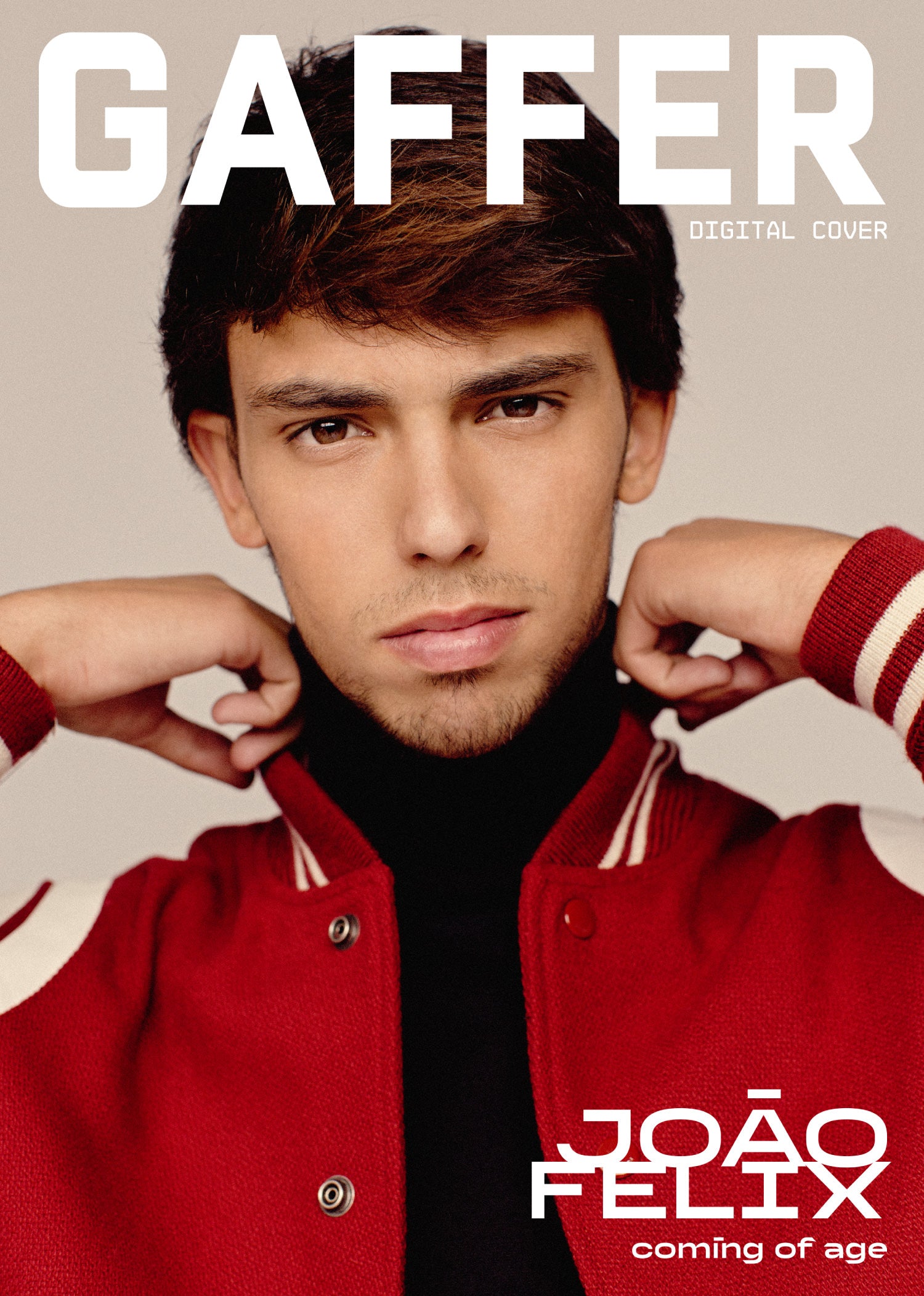 Joao Felix looks at everything as if he's already got a plan for it. It's not arrogant or uncomfortable to be around. But, it's undeniable from the moment you speak to him that Joao is always in control. Nothing fazes him. It never has. When you think and move faster than anyone else both on and off the pitch, then why would it?
A week after making his first team debut for Benfica at the age of 17, Joao scored his first Primeira Liga goal, becoming the youngest ever player to score in the Lisbon derby. It prompted the national press to spread headlines such as 'the new golden boy,' and 'a goal served by a genius.'He then went on to score 11 goals and notch eight assists in the last 19 games of the season to help his team clinch the Liga NOS title. The applause and admiration has spiralled following his €136m summer switch to Atletico Madrid. A transfer which was immediately set alight thanks to a thrilling sixty yard run from his own half on his La Liga debut against Getafe. Hurdling four different defenders attempts to take him out, Joao was finally fouled inside the penalty area, to roars from home fans. That's him on the pitch. But what about off of it?
"Sê igual a ti mesmo" - 'to equal yourself.' This Portuguese phrase, handwritten by Joao, represents one of the rules which he lives his life by. The traditional Portuguese phrase encourages you to always be yourself; to not let success or fame get to your head. You must always stay focussed and have the freedom to assert yourself.
"I always believe in myself, as everything depends on what I do. If I do it well, I will be rewarded, if not I won't be. I'm always working to try and improve things,"
As we sit down to talk, post-shoot in downtown Madrid, the smile on Joao's face widens. He knows he's about to talk about the game he loves. But, we're attempting to explore a bit more than just football. We want to look into all the individual layers which go into making Joao the man he is today. So, we begin with a simple question which we hope will break the ice and set the tone for the entire interview. We go for it. We ask, what is the one song that defines your childhood? A small, but not unpleasant silence stirs. He starts to sing. Not proper vocals but there's a little move up the octaves nonetheless. "These are the…, no, I am joking, what's the next question." As we hoped, it sets the tone for the entire interview.
It tells you a lot about Joao, who speaks in a soft and considered cadence, like an older brother teaching you how to ride a bike. There are few footballers who are as quick, bold and prodigious as Joao. Beneath the smile and the mop of hair which is fast becoming part of his trademark - as it waves, moves and bobs on the pitch - there's a steely determination. So, when he sings the opening line to the UEFA Champions League anthem, he's making a joke at his own expense. It's a poke at his own tunnel-visioned dedication to the game and not a flickering sign of arrogance. He can joke because he's built himself up for this very moment as the second most expensive teenager of all-time and one of the most talked-about footballers over the last 12 months.
He also knows the sacrifices which he has made to get here. Plus, he knows what that has done for him as a player and a person. "I always believe in myself, everything depends on what I do. If I do it well, I will be rewarded, if not I won't be, so I'm always working to try and improve things," he explains. "I don't care what other people have to say about me, I care more about the people that like me and so I always look to improve in order to make those people happy."
Although he's only just arrived in the Spanish capital Joao already seems to be completely at ease in his surroundings. "I am enjoying it, it's similar to Lisbon so I have already got used to it and I am feeling really good and incredibly happy to be here." He is now eating at football's top table having overcome the traditional teenage hardship. He only moved to Benfica because he was let go by F.C. Porto's academy at age 15. So, it's fair to say that he is familiar with all the usual questions about his journey to the top. He talks slow and with a confidence that is sometimes deterred by shyness. But, he takes it all in his stride.
"Maybe some people might think that I am arrogant because of the way I play or things that happened in the past, I don't know," he explains. "However, once they get to know me, they realise that I am actually not arrogant at all. I'm just a normal guy." The normality grows from his humble beginnings and the gratitude which he bestows upon his parents. They regularly drove him 130 miles from their home in Viseu to train at Benfica up until the age of 13. "The fact I had to leave home at a very young age and start living by myself and to be more responsible helped me a lot and it still helps me these days," he details. "My family members, especially my parents and my brother are so important to me. They always taught me to have a goal in life and to achieve them. I had to abdicate myself from a lot of things growing up but I have no doubts that it was worth it."
Joao recognises that a lot of young adults suffer from a lack of support and he knows what he owes to his paternal and adopted Benfica family for guiding him along that teenage tightrope. Whenever he steps out on the pitch those people are always close to him. On his first appearance for Atletico Madrid on the club's pre-season tour of America, Joao's socks unraveled to show his own personalised pair of shin pads which feature a smaller, skinnier Joao playing for Benfica. "I always have to wear them," he explains. "It means I have not forgotten where I come from, if it's there it's because it means a lot to me and it's going to be a big part of my life forever."
"The biggest lesson football has taught me is that nothing is given to you, you have to chase your goals and always work hard in order to achieve them. It's the same as everything, you have to find a passion in life. Be passionate about what you do, in this case football for me is that passion. To have passion and pleasure in what I do is what means the most to me."
Joao is different to a lot of other modern day footballers. Although you will find him playing Fortnite and you will find him more obsessed with his FIFA rating than he lets on, there's more to his life right now. Clothes are important to him too. He spent his first pay cheque on buying a huge box to store his shoes in. He even buys a few new pieces of clothing from the shoot. But he has a bigger calling. Not only is Joao looking to take the game to new heights on the pitch, but he's looking to inspire life off of it by keeping that child-like determination in everything he does. His overriding focus, the one thing that gives him the drive to succeed and make his family proud is football. So, no matter what else may go on around him you can rest assured that for him the focus will always be football, family and faith."I always strive to improve everyday," he empowers. "Be it on my good aspects or on my bad ones. It's part of a player and personal development to train everyday in order to improve. It's all I want to do."
The unseen years that forged a maturity and identity which can't be dictated by football, regardless of its importance, ensures that, whatever happens, however big he grows, and whatever heights he hits, you know that Joao will be alright. He'll always be the young boy from Viseu humming 'These are the Champions.'
"The biggest lesson football has taught me is that nothing is given to you. You have to chase your goals and always work hard in order to achieve them."