JOEBOY: LAGOS' LATEST STAR
PHOTOGRAPHY: DANIEL ADHAMI / STYLING: KAYLA GARNER-JONES /
INTERVIEW & WORDS: BUEZ HADGU
Born as the youngest of four children in Lagos, Nigeria, Joeboy has grown to become one of today's most exciting African artists.
Having kickstarted his career through performing covers and posting them on social media, Joeboy's rise to the top has been long forecasted by those around him in Lagos.
"I love music, I remember just being in front of the TV watching music videos, watching them on YouTube, 24/7. I was fascinated by the art of being a musician," he begins. Despite his obvious connection to artistry and music, Joeboy never envisioned himself actually becoming an artist, "I didn't think I could be a musician. Step by step, I kind of like stumbled into everything," he explains.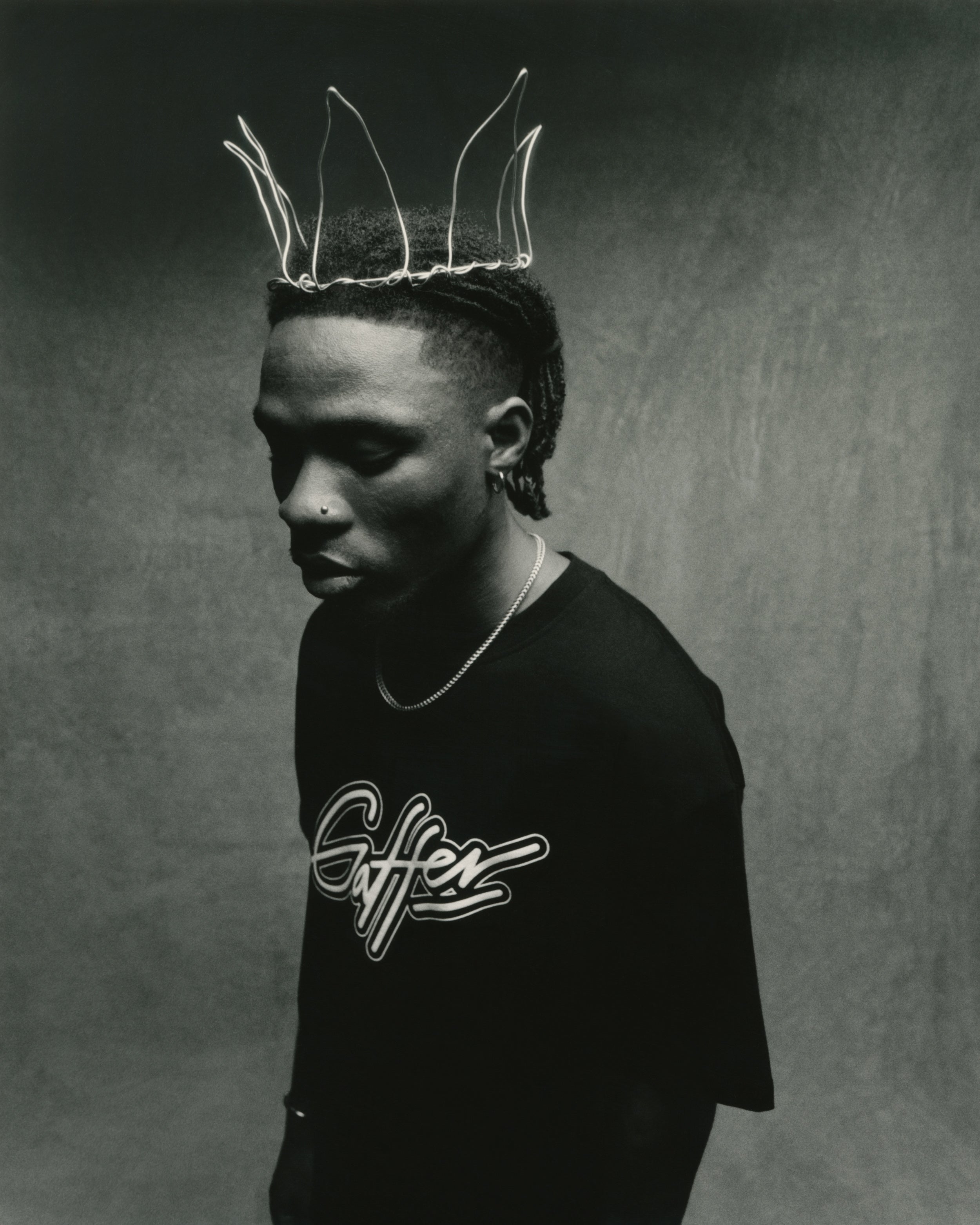 T-SHIRT: GAFFER
Joeboy went from writing songs in his dorm room to topping charts all over Africa in less than a year. "It started as a hobby, to be honest, it wasn't about the output," he continues, "I wasn't even doing anything at that point because I just finished Lexicon school."
It was when one of his viral covers was recognised by Mr. Eazi that his life began to change forever, and he realised his full potential, "I remember I saw his Instagram comments and thought to myself, shit is getting real!" he shares.
Here in London, the energy he radiates during the shoot with his character and behaviours show someone who is naturally comfortable with being a star. His relaxed nature gives off a vibe that compliments his artistry and the two go together in showcasing Joeboy as a mature talent, despite his relatively young age.
Through some of his biggest hits such as 'Baby', 'Sip (Alcohol)', and 'Door", Joeboy has managed to achieve global popularity, amassing over a billion streams. Thanks to his charm and broad appeal as Nigeria's top lover boy, he is surely showing the world the talent coming from the next generation, ready to share the crown with some of the world's biggest names.
His latest single 'Contour' is just a glimpse of what Joeboy has in store for his followers. The track is set to feature on his upcoming, eagerly awaited sophomore album, which is scheduled for release later this year.
"I was fascinated by the art of being a musician."
"Give me a year and watch, I'll be performing the guitar on stage, watch me."
Has music played a big part in your life from a young age?
My older brother is involved in music, I think I learned the basics of music growing up from him. I was that younger brother that went everywhere with my older brother because I couldn't go anywhere myself. He used to play the guitar and the keyboard, so, studio, choir practices, I was everywhere.
Do you play any musical instruments?
I just started learning the guitar myself, on YouTube. I can't produce but I have ideas in my head that I'm good at verbalising. Give me a year and watch, I'll be performing the guitar on stage, watch me.
What was it like growing up in Lagos?
Growing up in Lagos was fun, I wouldn't have it any other way because I saw the best of both worlds. We lived in a compound with lots of my family, I remember growing up we used to play a lot of video gamers, I take it very seriously, I'm a big gamer.
Who were your musical influences at that time?
One of my first early influences in music was Michael Jackson. Everybody wanted to be Michael Jackson, he was just like, that idol. I remember in primary school everybody pretended to be Jackson and stuff, so he influenced me during my early years. In Nigeria, we listened to 'Plantashun Boiz', '2 Baba', and then Wizkid and the new generation came along.
How did you get into making music?
I just stumbled into everything because the first time I recorded music was with my close friend, he told me he was going studio, so I said I'd go with him. Funnily enough, I was just singing along to the song he was recording, and the sound engineer told me why don't you give him some back up? It sounded good so he suggested I try do a four bar, looking back now I'm sure it was whack but at that point everyone was telling me I sound good. Then, one of my older brother's friends asked me why I didn't record my own music. I wasn't interested so I just told him I couldn't afford it, so he said he'd pay for my sessions, after that I had no excuse not to.
You started off in your early career recording covers?
Yeah, I started off recording covers of popular songs. There was one particular cover that I did – Shape of You by Ed Sheeran. It was actually my friend that recommended the song to me because at that point I was only listening to trap and rap music. Usually, I only get like 10 llikes on my pictures and videos, but this one went viral, and I suddenly had 1000 likes, people were tagging people out of nowhere and it went crazy!
That video then changed your life…
One of my friends sent the video to a couple of artists, they thought the vibe shouldn't just die down. I didn't really care because I used to send my videos to artists and nobody would respond, I didn't even think she would do it. Next thing I know she calls me and tells me to check my Instagram comments. There was a comment and message from Mr Eazi…Believe it or not a couple days before that I even posted a picture of him saying he was my favourite artist at the time.
What was it like for you after that moment?
At that point, I was like, okay, this is getting real now. I was still studying at University; I think I was in my third year. He posted the video on his page, so the cover became more viral. I started talking to like people in industry, learning the ropes, meeting already established artists and just hanging with them.
Is it true Mr Eazi gave you the choice between $5000 or a song with him?
He offered to pay me $5k or shoot a video for my first single. At that point I didn't have any money in my bank account, that was the largest amount of money I had ever been offered in my entire existence. I asked my friends, and they said I should take the money, artists are very busy, and he can forget about me tomorrow. I told them I was willing to take that risk and they looked at me like I was stupid. In the end I went with my gut and told him I didn't want the money, but I asked for a verse from him for my next single and help with the shooting and promotion of the video.
Talk to me about 'Sip', did you know that one would be the one?
I knew. It wasn't even the song that was meant to come out. 2 weeks before I changed my mind, I told my DSP guy this is the single I want to release. Some people weren't sure, I remember the day before someone told me it wasn't a club banger, but then it became a club banger. It blew up immediately.
How difficult is it to block out the opinions or advice and do what you think is right?
You need to think about yourself, and I'd say it takes a constant effort, it's important to keep evolving. Making the wrong decision, as long as it's what you wanted to do initially, you're better off making the mistake yourself because that is the best way to learn.
Your first-time travelling was through music, how was that experience?
Yeah, the first time I left Nigeria was to go to Ghana, I love it there. I don't think we as humans should just stay in one place. Going to different countries broadens your mind, it gives you a different experience. It broadens your heart and the way you make music, I enjoy experiencing other cultures, so for me, it was exciting.
Talk to me about your tour, what impact has that had on you and your music?
Even though Baby was a hit song in Uganda, in East Africa, before it blew up in Nigeria, I was nervous if they would know and like my music when I was touring. The reception I got from the crowds in different countries made me realise music is boundless, globally. So now when I'm making music, I don't just think about one area or country, I'm not making music for Africa, I'm making music for the world.
Have you had time to process the emotions and experiences from your travels?
I think before I was too focused on the next thing. I failed to enjoy the moments, so this time I was just like, let me chill and soak everything in and reflect on these experiences before I make new music.
What is the immediate future looking like for you?
I've just dropped my latest single, 'Contour', I filmed the video in Ghana, it was a movie! I'm hoping to drop another single in October and then my second album is going to come out in November.
What can we expect from the upcoming album?
People are going to see a huge difference, but in a good way. A different side of Joeboy, I don't even want to tell you the name of the project because I can't give too much away, I'm super excited!