JOYCE WRICE: SHOOTING FOR THE STARS
PHOTOGRAPHY BY JULIAN BURGEUÑO / STYLING BY DAMARIS FLORES / SET DESIGN BY ALEXANDRA 'BOO' PHILLIPS / INTERVIEW BY CALEB KUMIKO / WORDS BY BUEZ HADGU
If there's one thing that can be said for certain about San Diego's very-own Joyce Wrice, she will never accept settling for less. 2022 was no different for the multi-talented R&B artist, with her EP 'Motive' reminding anyone who needed it why she has such high aspirations for herself.
"I feel like this is what I really want to do, It's what I have to do. It's my purpose and my mission in this lifetime." She shares, "I think before I was a little hesitant, unsure, or shy about it, but now I'm certain it's for me. It's been a really great revelation."
For someone so vocal about wanting to achieve remarkable things, such as platinum records and Grammy Awards, Joyce has made following up on her words look effortless, without a hint of pressure.
"I'm really proud of myself and my team because I'm independent. I've been doing this for a long time and I'm only just getting started, you know, I'm only just like, finding my rhythm."
Having supported Lucky Daye across his North American Tour, before headlining her own show in London, Joyce - a true performer to the fullest extent - gave her fans across the world a reason to be excited, a small taste of what a global tour could consist of.
"Those dates with Lucky Daye this year, and doing so many festivals, I realised, I only want to keep doing more choreography." She explains, "And if that's the case, the music has to reflect my interest." A hint at what's to come from Joyce in 2023 maybe? But where there is no room for doubt, she will continue to make waves across California and beyond, as she flawlessly builds on each goal she seems to reach.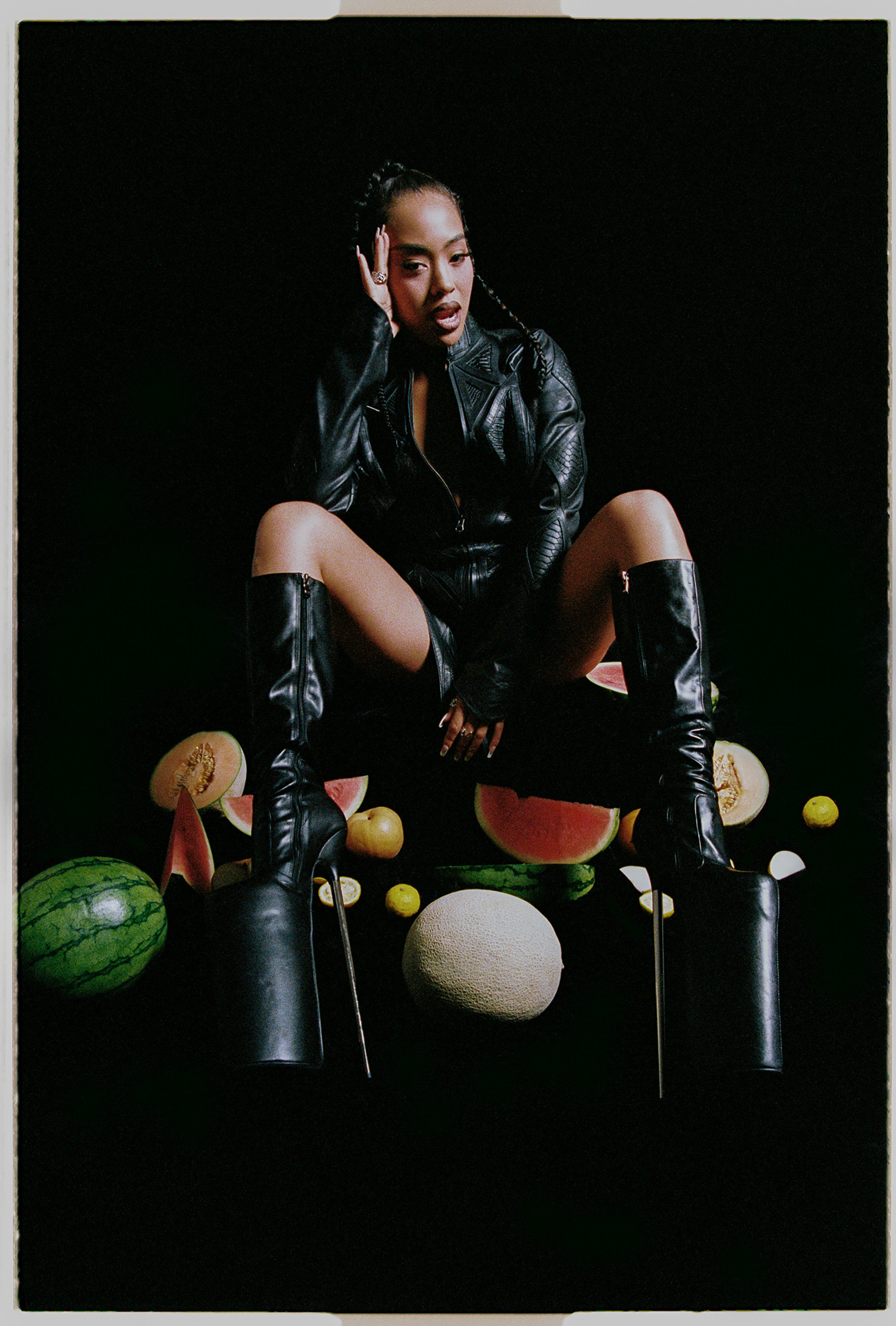 You just got back from Japan not too long ago, how was it?
It was an amazing experience, I did my first solo shows there! I got to meet my dancers, my band, my choreographer, and it was my first time doing two 70 minute shows in one night - a huge challenge that I was very nervous about, but it was a lot of fun. I really want to be one of the greatest entertainers of all time, so it's important for me to level up, and this was that. I just feel so much more confident, so much more capable. Everyone in Japan was super loving, so welcoming. I was really surprised by how much support I had there.
Talk to me about your relationship with skydiving?
Honestly, I am terrified of heights, but I'm also a thrill seeker. I'm the type of person that loves a challenge - I think that's why I love what I do so much too - for me, skydiving is that outlet where I can overcome my fear, like really trust and just let go. I've done it twice, the first time I did it was when I finished a 60 plus page paper at college as an undergraduate, it was such a challenging experience that I wanted to celebrate with something just as intense. Skydiving was the most therapeutic experience ever. Don't get me wrong, it was terrifying, but once you're floating in the sky where it's absolutely quiet, it just puts you in a whole other state. I want to do it every couple of years to clear my mind, remind myself how brave and courageous I am if I ever forget, and allow that to be my reset.
Have you taken the time to look back at your journey so far, and appreciate your achievements?
What really sparked my reflection was my show in Japan, because I brought my mum with me. I have been going to Japan once a year since I was very little, it was just a routine and tradition that we always made time for. Having my family, people that raised me, and supported me, all from a young age come to the shows was surreal. It was just wild to think that I could do that there, someplace that I used to just visit and spend time with my family, but now people know who I am and are excited to see me. I looked back at me as a little girl visiting Japan, who would have never thought that I'd be headlining a reputable jazz venue.
You've got a really strong bond with Mndsgn, has he influenced your musical direction greatly?
I owe my life to Mndsgn, I really do, because he was one of the first producers I ever worked with, where I was like, damn, this is the sound I want to explore. Before that, I was searching and unsure. Once his girlfriend at the time shared his music with me, I was like, wow, this is it. It was perfect because that was when I had just moved to LA and was pursuing this dream. Once I was given a batch of beats by him, the ideas just started flowing naturally and wrote themselves. Through doing music with him, I was able to do the EP, I was able to tour in New Zealand and Australia, I did my first London show. I think his music also introduced me to the Japanese community too, because he has huge support out there. I did my first Japan show with him. He really helped me start my career so I always express my gratitude to him, we actually have some unreleased music that I really need to find a home for.
"It's all about being your enlightened self, which is your highest self. When it comes to being an artist, and when it comes to creativity, you can't judge the process, you can't be so overly critical, you have to just have fun."
You're able to sing, song-write and choreograph, tell me how all these different talents come together for you.
For me, singing was the first thing I did. I didn't really grow up knowing how to express myself. I didn't journal, I didn't have a diary or anything. I just loved singing and listening to music, that's what was really healing for me. But I experienced, like my first heartbreak in college, and I started journaling, purging all these feelings and emotions onto a page. That's what made me want to write my own songs. Performing sort of came to the forefront when I started doing overgrown, I explored choreography a little bit, but once I worked on overgrown, I was like I need to level up, I can do choreography. Now, I would say it's a mixture of singing and songwriting at the forefront and then choreography is my thing. I noticed a lot of people didn't know that I really dance so it's been cool for everyone to see the true Joyce.
How much involvement do you have in the creative process of your videos?
Well, I have a really great creative director, Ashley, and I have a great management team, we all really put our heads together. It's always everyone sharing a brief idea about what could be cool, so it's really a collective. At the end of the day, everyone knows who I am and what I embody, so then I usually decide, this works or I don't like this, but I'm really trying to be more open minded. It's just really great to have a team that knows you, what you like and what you want overall.
TOP: MANISH ARORA / SKIRT: I AM GIA / BOOTS: DIOR / EARRINGS & RINGS: S3NDING YOU LOVE / BRACELET: NINNA YORK
What was the process of collaborating with someone of Kaytranada's quality like?
Really, really fun. It was another transitional stage for me. We were DMing right before my album came out, I think in February of last year, and he was so down to work together when we were chatting, but I was already pretty much done with the album, so that's why we have the interlude. We agreed to get in the studio a few months later when he was coming back to LA and our first session was creating 'Iced Tea', which was super cool. That was a pretty smooth session because he had played me the beat, I was writing the song with Matt Keane, and we were just like, this is the one.
Incorporating your Japanese roots and culture within R&B is a notable theme across your music, how important is this for you?
I have a song with Japanese lyrics, I think the language is so beautiful. Even though I'm not the most fluent speaker, their way of expressing things is really beautiful and super poetic. Some of it you can't translate into English, which I think is so profound. One of the things I really want to do is have more Japanese songs, because I grew up enjoying the music, and like you mentioned, I love to showcase my culture, and show people more of who I am. I know, there's people who might be Asian and MC's that want to feel seen and represented, so I'm just making sure I play my part and try to inspire.
What sort of impact has your faith had on your creative processes?
With Buddhism, there's so many things, you want to have faith like water, you want things to flow. It's all about being your enlightened self, which is your highest self. When it comes to being an artist, and when it comes to creativity, you can't judge the process, you can't be so overly critical, you have to just have fun. Even if you don't like what you're creating, you know what I mean? Like, you really have to be Zen with it. Luckily, my Buddhist practice is all about that. So, even though I'm the most impatient person, and I'm my worst critic, Buddishm is what's helped me get this far, it's all about making the impossible possible.
How have you learnt to manage your time?
That's what I'm working on right now, to be honest, because I'm a really hard worker, I love to prepare. My motto is to stay ready, so you ain't gotta get ready. I really want to embody that. To be able to do that you have to train, you have to rehearse and you need to be practising. So for me, it's kind of hard to have my own time, but I have a really great spiritual practice. My Buddhist practice really helps me have my me time. I go visit my parents in San Diego, which is way more chilled and quiet compared to LA and I'm really trying to travel more because that's definitely something that is a good reset for me. I'm figuring it out, you know?
What's it like turning struggles and difficult moments into positives through music?
There was a period where I'd say I was mildly depressed, and it's only because I love music so much that I was able to transform it into something of value. It's pretty cool to know that anyone could do that with anything you know, it's really about deciding to persevere and make something great out of a tough situation.
How does it feel going from performing in Delicious Pizza to having your very own Tiny Desk concert?
Surreal. Because at that time, I would have never thought that I would be doing a platform like Tiny Desk, so it's just amazing. To have this respected platform give you that opportunity, validate you, what you do, and then to also do it with the people that helped create the music that you're performing, like to just all be there together, it's so fucking cool! I just hope we keep elevating with each other.
You walked the runway at New York Fashion Week, will the industry be lucky enough to see more of you?
100%, it would be so much fun because I love style, it's really fun to dress up. Growing up, I loved Aaliyah, Missy Elliott, Mariah, Janet and Toni Braxton. I was never really good at knowing fashion brands, but I always loved style. I loved people who could just be confident in what they were wearing. So going to New York Fashion Week - which was my first fashion week ever - I got another glimpse of like, damn, fly ass people. I was thinking to myself, 'I need to step it up. I want to do more.' I did the show with TOMBOGO which was the perfect introduction for me to walk my first runway because it was more chill. I didn't wear heels, I was with a friendly group, a lot of my peers were there watching, so it was really cool. I want to go to Paris, Copenhagen, Milan, all these places.
Do you ever feel pressure to create music that fits in with trends and viral moments in this era of social media?
The way I see it, the world is always going to change. Inevitably, new social media apps or trends are always going to come about, either you go with it, or you don't, the important thing is to figure out what kind of relationship you want to have with them, and I think that can help lessen the pressure. I also try to be positive, have fun, and not force anything by figuring out ways to stay true to who I am and just letting that be my thing. I'm not going to do something that doesn't resonate well with me. But I also think it's cool that, you know, there's family members that are excited to go home for Christmas to like, do a trend together, it's great that you see it brings people together.
You talk a lot about happiness and finding it, coming off the back of your successful album, where are you now on that journey?
I mean, I'm the happiest I've ever been. Just allowing myself to let go, take risks, fail, succeed, and be comfortable with that journey. Accepting the unknown has really liberated me, I think what was holding me back, making me feel stuck, or not genuinely happy. Now I realise I'm human, all I can do is my best. I'm at a place where I'm just determined to keep growing, keep blooming, and be accepting of surprises that may not be the best news. I'm willing to create value no matter what, that has really brought me into a much lighter and enlightened headspace.