KING COMBS: THE HEIR TO THE THRONE
PHOTOGRAPHY BY FILMAWI / STYLING BY CARA HAYWARD / INTERVIEW BY AMBA MENDY / WORDS BY BUEZ HADGU
Nurtured in a household where music wasn't just a background score but a way of life, it's no surprise King Combs inherited a passion for rhythm and rhyme. Yet, while many would have crumbled under the weight of such an illustrious lineage, Combs emerged not as an echo of his father but as a vibrant, distinct voice in the ever-evolving landscape of hip-hop.
As the heir to the throne of one of hip-hop's most iconic figures, Sean "Diddy" Combs, King Combs is crafting his legacy with resounding success. In the early stages of his music career, Combs unveiled his remarkable talents, demonstrating lyrical prowess and an innate ability to captivate audiences with his verses. Showcasing his desire to not only carry on the legacy of his father but to etch his name in the musical tapestry.
30 years on from the formation of Bad Boy Entertainment, home to a catalogue of talented artists, there's a new face at the forefront leading the new generation. While King Combs has big boots to fill, there's no doubt he is relishing the prospect of extending the Bad Boy era, putting his own spin on it, and taking it to new heights.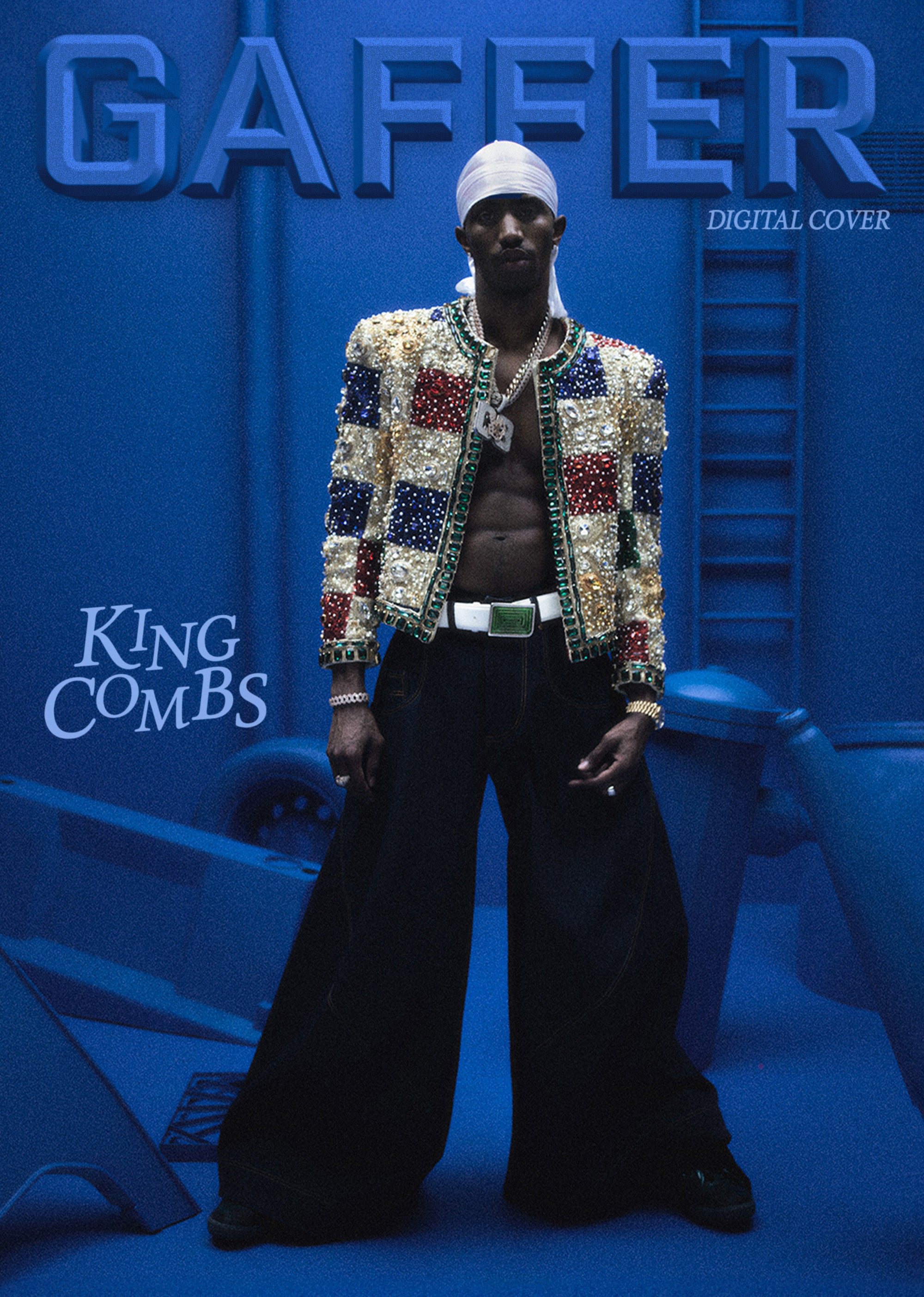 JACKET: CASABLANCA / JEANS: LEO PROTHMANN / WHITE BELT: ELLIOT RHODES / SHOES: LANVIN / RINGS, BRACELET AND EXTRA CHAIN: ICEJEWLZ
However, King Combs is not a one-dimensional artist. His talent and charisma extend beyond the world of music. He has ventured into acting with a confidence and finesse that make it evident he was born for the stage.
Fashion, too, is a realm where Combs has made his mark. With an impeccable sense of style, he has cemented his place within the industry. His work with Dolce & Gabbana, his appearances at prestigious fashion events, and his commanding presence in the world of streetwear attest to his ability to transcend genres and make his presence felt in every facet of the entertainment industry.
King Combs has already proved himself on the runway, walking for Rihanna's Fenty in 2020, posing as the face of several brand advertising campaigns. Having now turned his attention to the hip-hop scene, he is quickly climbing its ranks, having collaborated with the likes of Kodak Black and Chris Brown, and he's showing no signs of slowing down...
RIGHT - FULL SET: SEAN SUEN / HAT: NEW ERA / SCARF: SHAKU / SHOES: Isak Douah / Chain, Bracelet, Ring: icejewlz / Star Ring: Lulu Kachoo
Obviously, you're from New York… What do you think are the greatest similarities between London and New York?
I think as a city, it has all the bright lights and the buses and stuff, I'm just saying it looks exactly the same… My girl came here and she said she couldn't notice the difference between London and New York. I think for sure the scenery. I feel super comfortable, I love it out here.
Going from throwing tantrums because you weren't allowed on stage aged three to now having your own shows must feel like a full circle moment…
Yeah, definitely. I feel like it's always been something I wanted to do. My dad always says, when I was younger and he would go on stage, I would definitely have a fit and be crying if I couldn't go on stage, because it was just so much fun. And then now, I'm just blessed to be doing it alongside him.
As far as the creative process goes, what do you think is your favourite part? Is it being in the studio recording? Is it performing?
My favourite part? I think it's for sure the performing, or the music videos… If I had to choose one? Then the live shows, for sure. There's no feeling like being up there, like at the VMA's, for a second, I just forgot where I was at and had to snap back into it. Being able to do it with my dad is fire.
top - trousers & gilet: A-Cold-Wall / Shoes: Lanvin / Balaclava: Sulk / Bracelet: Icejewlz / Butterfly Necklace, Star Ring: Lulu Kachoo / Other rings: IceJewlz / bottom - full set: Maxime / Shoes: Timberland / Jacket: A-Cold-Wall / Belts: Elliot Rhodes / Rings: Lulu Kachoo / Bracelet & Extra Chain: IceJewlz
You released your first track in 2017. How do you feel like you've progressed and how has your music and artistry transitioned since then?
I feel like I've definitely grown as an artist, and I have more of my own sound now. I've got better as an artist, and now I'm gonna just keep getting better and keep putting out more.
You've played a massive part in the rebirth of Bad Boy. How do you feel about the legacy that you're now continuing in your journey?
It feels great. I always wanted to do that, even when I was a baby, I just always loved Bad Boy too. So, it's kinda cool how we can really bring it back… It's like a dream come true.
When you're not working, as far as music, films, and fashion brands that you enjoy, what are your favourites?
Well, I've just started watching Top Boy. My favourite phrase is probably "innit", that one's funny. But yeah, I also love going to the movies and going out to eat at Benihana's. I might have to go try one in London.
"...I've definitely grown as an artist, and I have more of my own sound now. I've got better as an artist, and now I'm gonna just keep getting better and keep putting out more."
Do you feel a certain pressure coming into the music industry being the son of a legend?
Not really, honestly… You have to do good, and you have to perform, but I feel like I would feel that pressure regardless of my pops or anything. For myself, just going out there and having my friends watch me is enough pressure.
Which UK artists would you like to work with?
I think Central Cee would be dope, yeah that's my guy, he's hard. Something could be coming in real soon. I talked to him yesterday so maybe we're gonna get in the studio soon.
Is a tour on the cards soon?
Yeah, I definitely plan on going on tour. I don't have the exact dates, but yeah soon, for sure!
How do you plan to put your spin on bringing fashion back into hip-hop and then elevating it with Bad Boy?
I think just by being the flyest in the city. You know, we're gonna do that by just getting dressed every day and expressing ourselves. Expression is in music and fashion, so I feel like they go hand in hand. I just feel like I'm definitely gonna show the bridge between being a model and an artist, it's possible to do both.
Who are some of your favourite designers, or some that you would like to work with?
Firstly, rest in Peace, Virgil. I like the guys from Casablanca, their stuff is dope. I also like Murder Bravado and Bloody Osiris.
I'm sure we'll see you again at the next Fashion Week, can't wait.
Yep, I'll see you soon, it's lit. I love London!