LUIS DÍAZ: HOMETOWN HERO
PHOTOGRAPHY BY SILVANA TREVALE / STYLING BY CARA HAYWARD / SET BY JULIANA CAVIEDES TELLO / WORDS BY BUEZ HADGU
Becoming a professional footballer, playing in Champions League finals, representing your country on the biggest stages, and inspiring a nation are experiences millions across the globe can only dream of. Luis Díaz really lives it.
Consisting of countless days and endless hours of practice, the road to success is one that requires great sacrifice and unwavering commitment, and still for so many it isn't meant to be.
Hailing from Barrancas, a small town in La Guajira, Díaz has come from humble beginnings, beating all the odds to become a hometown hero to his people back home.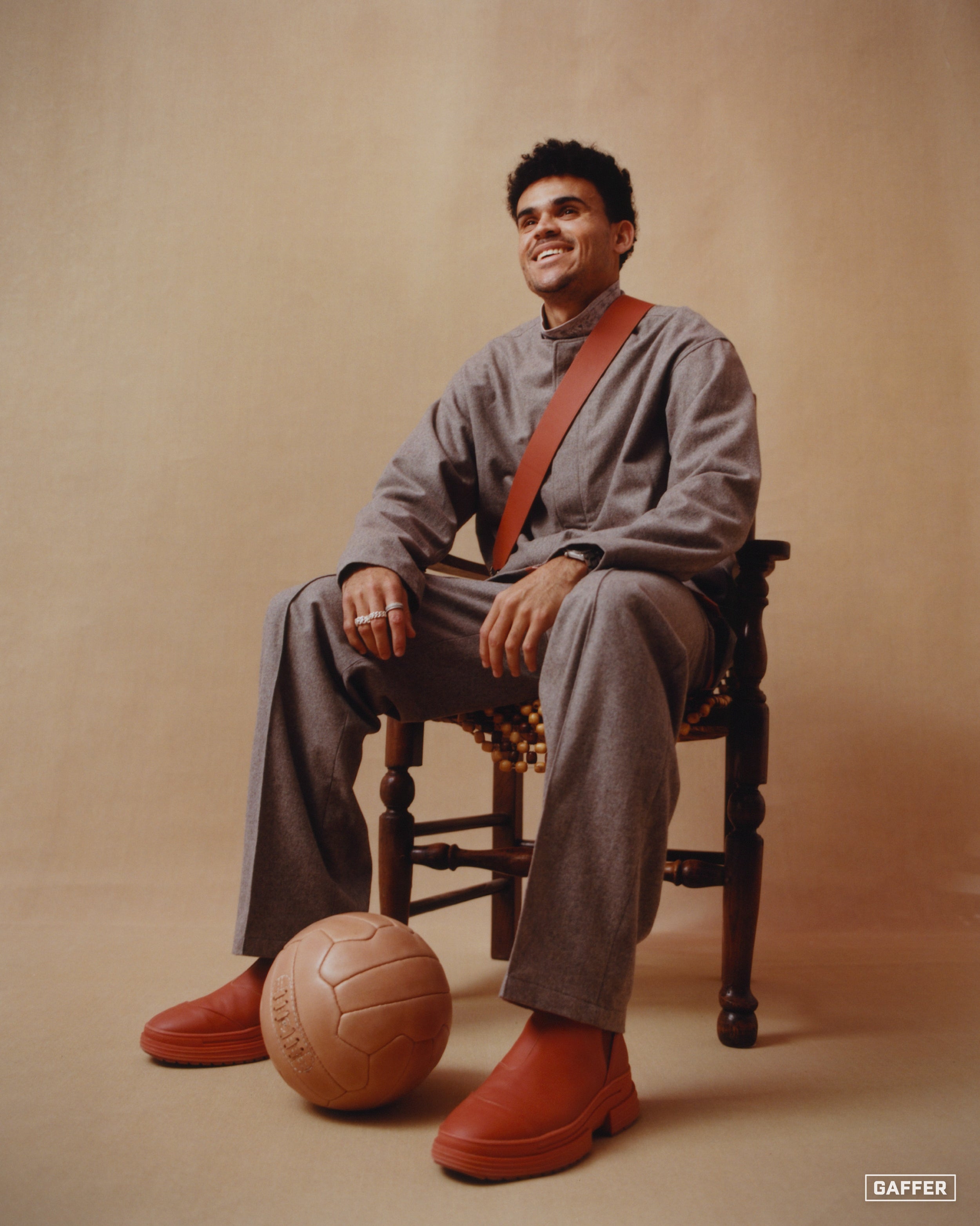 Full Look: Maxime / Bracelet: Rebel In Luxury / Rings: Feather Pendants / Watch: His Own
Díaz is a proud representative of the Wayuu people - the largest indigenous ethnic group in Colombia. They are a community of about 150,000 people whose identity is tightly tied to La Guajira. Their history is one of struggle, from a fierce uprising against Spanish control to current, fractious conflict with local mining firms.
They have a strong sense of community, customs, and a nomadic way of life, all of which are fundamental to their rich cultural history. Typically, their livelihoods are centred around activities such as agriculture, livestock herding, and handicrafts.
Growing up amidst the Wayuu people, Díaz faced unique challenges and had to navigate between his cultural heritage and the pursuit of his footballing dreams.
Full Look: Labrum / T-Shirt: Anciela / Shoes: Adidas / Rings: Feather Pendants / Necklaces: A Sinner in Pearls / Bracelets: Frost London
However, he defied all expectations and shattered barriers, becoming a shining example of what can be achieved through talent, determination, and resolute belief in oneself.
It's this confidence that translates into his ability on the pitch, with such a direct playstyle and quick feet, he instantly became a handful for fullbacks throughout the Premier League.
Díaz couldn't be clearer when asked where his self-belief comes from; "La Guajira. It comes from my roots. I always played football in my town, in my homeland." He shares. "They are my characteristics, they have instilled in me several things that I have today and now I have grown much more. That's my game."
"I grew up in a humble community in Colombia, but I come from a close and supportive family who encouraged me to realise my dream of playing professional football."
Growing up, Luis Manuel, Díaz's father sold friche, a traditional Wayuu dish, to help fund Díaz's journeys to trials, and ran a small football academy, coaching many miners' children.
It is no secret that in South America the love for football runs deep within the veins of the people. It is not merely a sport but a way of life, ingrained in the culture and woven into the fabric of society.
From the bustling cities to the remote villages, the passion for the beautiful game is palpable. What is truly remarkable is how the sport thrives despite economic challenges.
In the midst of poverty, countless young talents - like Díaz once was - take to the streets, the fields, and any available space to play football with boundless enthusiasm. The lack of resources doesn't deter them; instead, it fuels their hunger to prove their skills.
"Hope and opportunity are so important in life." He continues, "I grew up in a humble community in Colombia, but I come from a close and supportive family who encouraged me to realise my dream of playing professional football."
In 2022, prior to the Champions League Final showdown against Real Madrid, Díaz's father revealed his son suffered from a childhood illness that caused him to become severely malnourished.
His journey through the ranks of Colombian football is one to be revered, a story that serves as a source of inspiration to all the young aspiring athletes across the nation.
Despite being a late bloomer, only able to attend regional scouting tournaments at the age of 18, Díaz immediately caught the attention of scouts, with his lightning speed, impeccable technique, and innate ability to change the course of a game.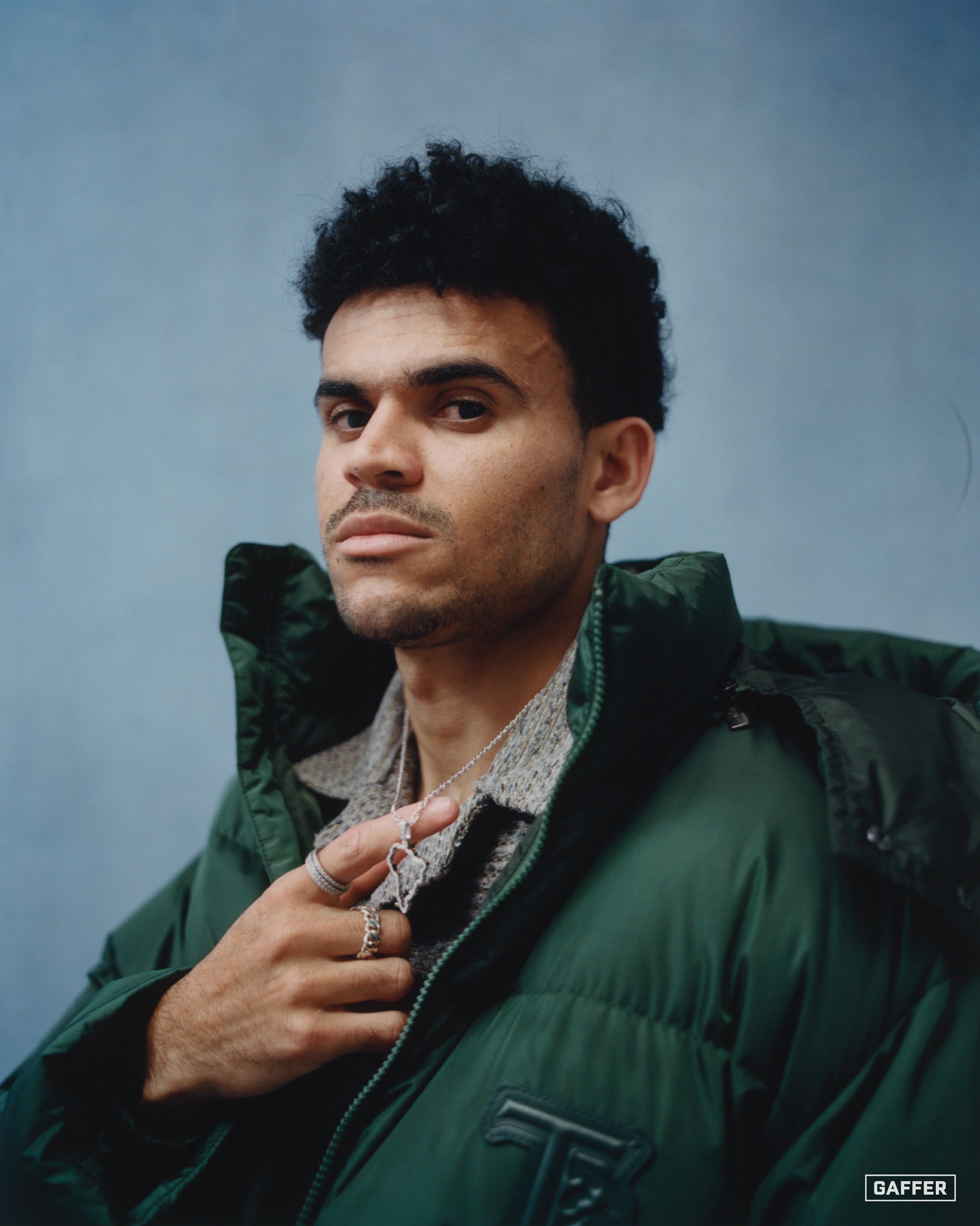 Jacket: Tod's / Trousers: Tod's / Shoes: Tod's
It was from here that his career began to take shape, his performances for local clubs drew the attention of national team scouts, who recognised his immense potential and called him up to represent Colombia at various youth levels.
Díaz's dazzling displays in national team colours further solidified his reputation as a rising star. His breakout moment on the international stage came during the 2019 Copa America, where his electrifying performances caught the eye of football enthusiasts worldwide.
His remarkable journey took another leap forward when he caught the attention of FC Porto, one of Portugal's most prestigious clubs. The Portuguese giants recognized his immense potential and made a move to secure his services.
Trousers: None Of My Business / Shirt: None Of My Business / Av Vattev / Tactical Vest: 1017 Alyx 9sm / Puffer Vest: Helmut Lang / Shoes: Adidas / Ring: Feather Pendants / Bracelet: Rebel in Luxury / Watch: His Own
"I hope my role as Ambassador will help raise awareness for both charities and give people in the UK the same hope and opportunity I was so lucky to receive as a young boy growing up."
In 2019, Diaz completed his move to Porto, marking a significant milestone in his career. The transition to European football presented new challenges, but Díaz's adaptability and determination enabled him to make an immediate impact.
Widespread praise for his achievements in domestic matches and on the European stage further solidified his position as one of Colombia's most promising footballers.
His performances on the European stage also caught the attention of top clubs beyond Portugal's borders. His move to Liverpool represented a landmark moment, joining a side with an illustrious history, becoming the first ever Colombian to play for the club.
The people of Barrancas have found optimism in their local hero and closely watch his games now that his status as a footballing star has been cemented. Díaz regularly returns to his roots and in the face of all his success and stardom he remains the same humble boy who grew up with less.
"I'm living a dream, I've always longed for it, and I've always wanted it." He reflects, "I can't believe it. I'm enjoying the moment and taking advantage of every day to keep growing on a personal and sporting level."
He has become a pillar of support within his community, not only using his story to become a beacon of hope to those back home, he also provides numerous opportunities to those less fortunate - with the help of his family still in the region - through his Luis Díaz Foundation.
Recently, Díaz was announced as an ambassador for The Passage and Centrepoint, pledging his support towards initiatives serving the homeless and tackling poverty here in the UK.
"I hope my role as Ambassador will help raise awareness for both charities and give people in the UK the same hope and opportunity I was so lucky to receive as a young boy growing up." He continues, "I am also excited to learn from these great charities and use the experience to help set up similar work in Colombia and beyond."
A testament to his upbringing and character, Díaz has remained down to earth and grounded despite a meteoric rise to footballing stardom. He exemplifies the values of hard work, perseverance, and humility, serving as an inspiration not only to aspiring athletes but to all individuals striving to overcome challenges and achieve their dreams.
With each goal he scores, every dazzling display of skill, Luis Díaz continues to etch his name into history books for both club and country, leaving an indelible mark as a true hometown hero and a symbol of hope for generations to come.