MEMPHIS DEPAY: TIME SPENT ALONE
In Partnership With
PHOTOGRAPHY: CALVIN PAUSANIA
Exploring the unguarded and unfiltered emotions that arise in the time spent alone; the soaring moments of imagination where you begin to think that you can be the one to change it all. It's in these usually inconsequential seconds of reflection, solitude and tranquility that inspiration arises for the most multi-faceted footballer of a generation.

We take an intimate and exclusive look inside the mind of the footballer, philanthropist, artist and enigma. Unwrapping the music, memories and ambitions that mark the honest and open becoming of Memphis Depay.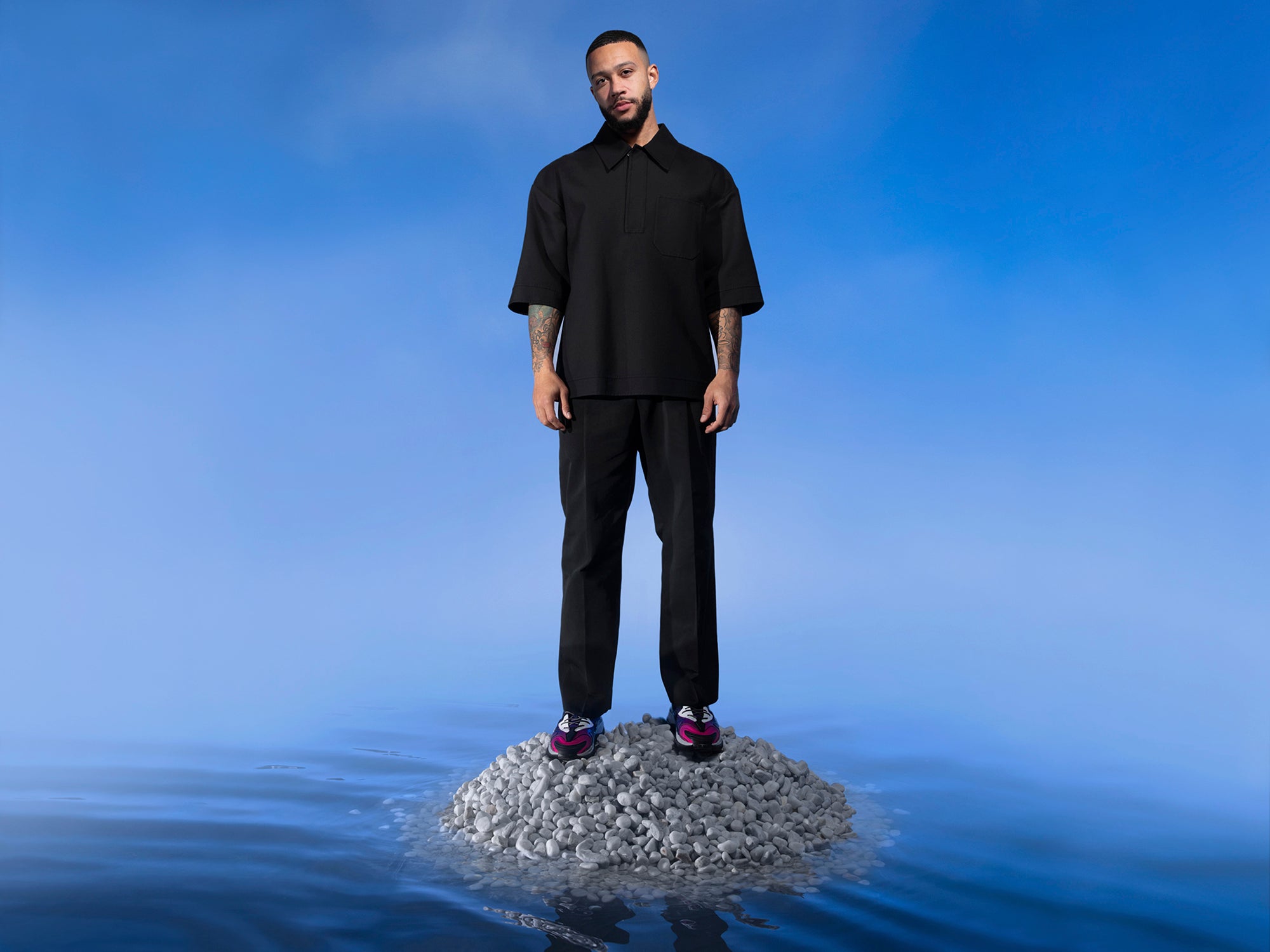 I now have the freedom to be myself everywhere," Memphis begins. "In the past, when I was younger, I used to think maybe people are not going to accept me if I am not really what they like or if I am too loud. Now, I'm just coming here as me. This is just me," he muses. There's no waiver of self-doubt or no echo of laughter to take the edge off his words. "You either rock with it or not," he adds. "Now, everyday, I'm making sure that I am just going to be me in every room I walk into."
In the past, and even in the present, people have failed to understand the real Memphis. His talent, his passion, his music, the way it reflects and refracts in fans around the world, the way it picks up the right people and provokes the wrong ones, the way he has become a genuine creative spark in art and authenticity is everything we love about football. In a way, Memphis has become central to the story and evolution of GAFFER – what he stands for on-pitch, in fan culture, in modern life. His life, his creative spark stretches beyond just being a footballer and down to the clothes he wears, the tracks he writes and the multiple ways that he can nutmeg someone.
You can look at some other sports stars, some other footballers, and there's some that are more successful than Memphis, some with by far better stats. But, what does it really mean? All the numbers, all the comparisons? To what end or what influence do they have on a player or a person that looks up to them? With Memphis it all feels different. Because, the growing number of people that he influences, the wider his audience, the wider his impact, the more he has come to understand about himself.
He acknowledges, wholeheartedly, the evolution of his own mindset, his own performance and, subsequently, the impact on the world around him, has become easier with experience. As the journey unravels, you feel that his purpose, whether he is fully aware of it or not, is to utilise his voice and his many different interests to encourage change and push fans, players, people and the game in a direction that it perhaps wouldn't have gone in if he wasn't there.
"What has the world still got to learn from me?" he repeats. Not to buy himself time but to allow the question to sit comfortably in the air for the second. "Everyone should learn from each other. That is my way of thinking and living. Because you are never too old or too young to learn something from somebody. Like I say; walk by faith and not by sight. Whatever you want you should pray for it and act and live like it is already happening. Don't react to certain stuff but actually do it. Be in the present. Rather than thinking when something is coming your way that you're going to believe it. You have to prepare yourself in the mind that the thing you want is already happening so you can work towards it. That way you will always meet your goals."
You feel in the last few years, in gaining age and experience, something has changed in Memphis: he's realised that the expectation to be constantly omniscient is not a healthy way to live. That the pathway of progress for a young footballer trying to show and prove their worth to the world is the curse experienced by anyone with a social media account.
"It is important to step away sometimes from social media and from the world where everyone is perfect and, you know, everyone is living their best life," he begins to explain. 'It is important for yourself to have that discipline. To be able to pull yourself away from it. That's what I do so I can focus on my games or just focus on improving myself as a human being; as a character. It enables me to stay true to myself. Because I know a lot of youngsters struggle with reading stuff online that affects the way they look at themselves or think. Honestly, and sadly, that is the truth. Social media is a very good outlet for creative people but it is also very dangerous if you're not in balance with yourself or you haven't found yourself yet. It's important to pull away."
You can tell he's also managed to relinquish a bit of control from the freedom of being 'true to himself.' You feel that he's accepted that he's not just a footballer, not just an artist, or not just tied to the highs and lows on the pitch. You feel that he's learned to love himself a little bit more and more people have grown to love him because of it. "It has to do with my age,"he interjects. "I'm 26 now, you know. At 21 you're not the same person as the one who turns 23 or 24. You just become more mature. I feel like I was mature at 21 and then two years later I'm like 'Oh I wouldn't quite do what I was doing back I was 21."
Age and experience has enabled him to become more internal and investigate the deeper side of himself. So, how would Memphis describe the man sitting in front of us today?
"A person who is at balance with himself, conscious about his own character but also what is going on around him and in the outside world. A grateful person who is still hungry for the goals that I want to achieve. Yeah, I have definitely had to grow up fast but now I am a little bit older, wiser and experienced. You learn from things, you know. I'm a calm, collected young king."
WALK BY FAITH AND NOT BY SIGHT. AGAIN, IT'S NOT JUST A SONG FOR ME, THAT'S REALLY HOW YOU HAVE TO LIVE.
Memphis Depay was born on a day astrologists call the Cusp of Sensitivity – the moment when Aquarius and Pisces merge. People born on this cusp are impulsive and charming. Recognisable for being a rebel at heart and always incredibly keen on maintaining their freedom. It makes sense; you never know what to expect from Memphis, but you know it will be original, unforgettable, unforgiving and slightly enigmatic.
His signature celebration is an ode to the fact that he does not listen to criticism. One of his biggest singles to date titled: 2 Corinthians 5:7 takes its power from the aforementioned sentiment that 'we live by believing and not by seeing.' In fact, everything Memphis sees, acts, believes and says comes from within; from the innate and natural formations of an Aquarian. Free-spirited and eccentric, identified by a non conformist attitude, and equipped with a 'live and let live' mentality, he allows his intelligence, creativity and freedom to make decisions easily. He's always lived that way.
Previously he's stated that he 'wants to feel good in his skin,' so he is 'doing whatever makes him happy.' It's the fearlessness that has made him one of the most ambidextrous players around. It's the freedom that has inspired his move into making music. Decent music at that. The launch of his most recent EP Heavy Stepper and a growing number of 200k+ Spotify monthly listeners illustrates the organic growth of Memphis' life away from the pitch. "I've been in love with music from the jump, since I was a young kid, " he explains. "When I was 14 I started going to the studio properly, on a serious level.
"Everything just comes from within me. When I make music it's just a release of like pure emotion; it could be pain, it could be happiness, it could be something completely different. When I'm in the studio and I put my pain and anger into music, you know, it's a blessing that I receive. It truly makes me happy. It gives me an important balance of being focussed on my job as a footballer all the time."
I NOW HAVE THE FREEDOM TO BE MYSELF EVERYWHERE.
"There is still a lot I have left to do," he begins to chime. "I participate in so many different things that I love to do so there is a lot. Football-wise I want to win more trophies than I have done, there are a lot of things on the list. You know, we have the Euros coming up with the national team, then we have a World Cup coming up. Those are things you want to win. Then, you know, music-wise, I just want to show the world that I can put out a beautiful piece of art, a project that people can enjoy listening to. There is no end, basically."
The truth is, Memphis just enjoys life. He isn't trying to present himself as anything other than he is. It's genuinely uplifting to see someone so unapologetically in awe of his life, luck and hard work. Which illustrates just how far his self-belief has taken him.
Until Memphis' book – Heart of a Lion – appeared in 2019 only very people knew his childhood story. He was three when his father left his mother in the small Dutch town of Moordrecht. The trauma of his youth came when he was nine, after his mother moved them in with a neighbour she had fallen in love with. Under that roof Memphis suffered regular beatings. He became detached and distrustful; he refused to talk about his pain and clashed with teachers and football coaches. In the book he even recalls a phase at school when he would sit crying under his desk, terrified at the prospect of having to go home. He talks about drinking, being expelled from multiple schools, dealing soft drugs and hanging out with wrong characters across the neighbourhood. Throughout this time, who did he look up to?
I AM DEFINITELY GRATEFUL BUT THERE ARE A LOT OF THINGS THAT STILL HAVE TO BE DONE.
"I don't know if I had a hero growing up but I had a favourite movie; Lion King," he recalls. "You know, Simba was obviously my favourite character in the movie and it's a beautiful story where he comes back, you know, and reclaims the throne again. I think that had a lot of impact on me because it takes character. It's why I also love lions. That was the first time I fell in love with lions and the movies. I could say that was my hero growing up. I would say often people don't pick animals as heroes but I didn't have any super man or super hero in my life, no."
It comes back to seeing Memphis for Memphis. By focussing on his life through the narrow lens of football, you become blind to his influence and his incentives. The numbers on the pitch, the goals, the transfer rumours to Barcelona. What do they actually mean? What do they actually represent?

It's a thought we find ourselves constantly exploring in our time with Memphis and, although he does not vocalise it himself, you feel he has deeply explored the same topics too. As his life is unravelling, as he becomes more 'mature and experienced,' as the journey unravels itself, his purpose on the pitch and off of it is to help encourage change. Change in how a footballer thinks, walks and looks like. What a footballer should do, what they should stand for, what they should believe in and what they should follow. His goal, really, is to shift life, creativity and experience for people on all levels. To win trophies on the pitch, create tracks that stop and make you think. To give back to the world.
"We as human beings we always want more and more. But, if I look back on my life, to where I was back then to where I am right now, then I am very grateful. Do I think that I have accomplished it all or do I think that my potential stops right here? Obviously not. I am praying for more things to happen and I am working hard every day of my life to achieve more. I am definitely grateful but there are a lot of things that still have to be done."