OMARI HUTCHINSON ON HIS RISE THROUGH THE RANKS
In Partnership With
PHOTOGRAPHY: ROSS COOKE / STYLING: CARLOTTA CONSTANT /
INTERVIEW & WORDS: BUEZ HADGU
Forgetting Omari Hutchinson is just 18 years of age is an easy mistake to make, considering it was back in 2016 when a fresh-faced Hutchinson went viral showcasing his skills in a video with The F2 Freestylers.

Dressed in his Arsenal U12 training kit, the youngster took centre stage, sharing an array of tricks he perfected in his early years.

Six years on, Omari has matured but is still unmistakably Omari. With the same familiar grin from all those years ago, he juggles a football on set, evidently his love for football is ever-present.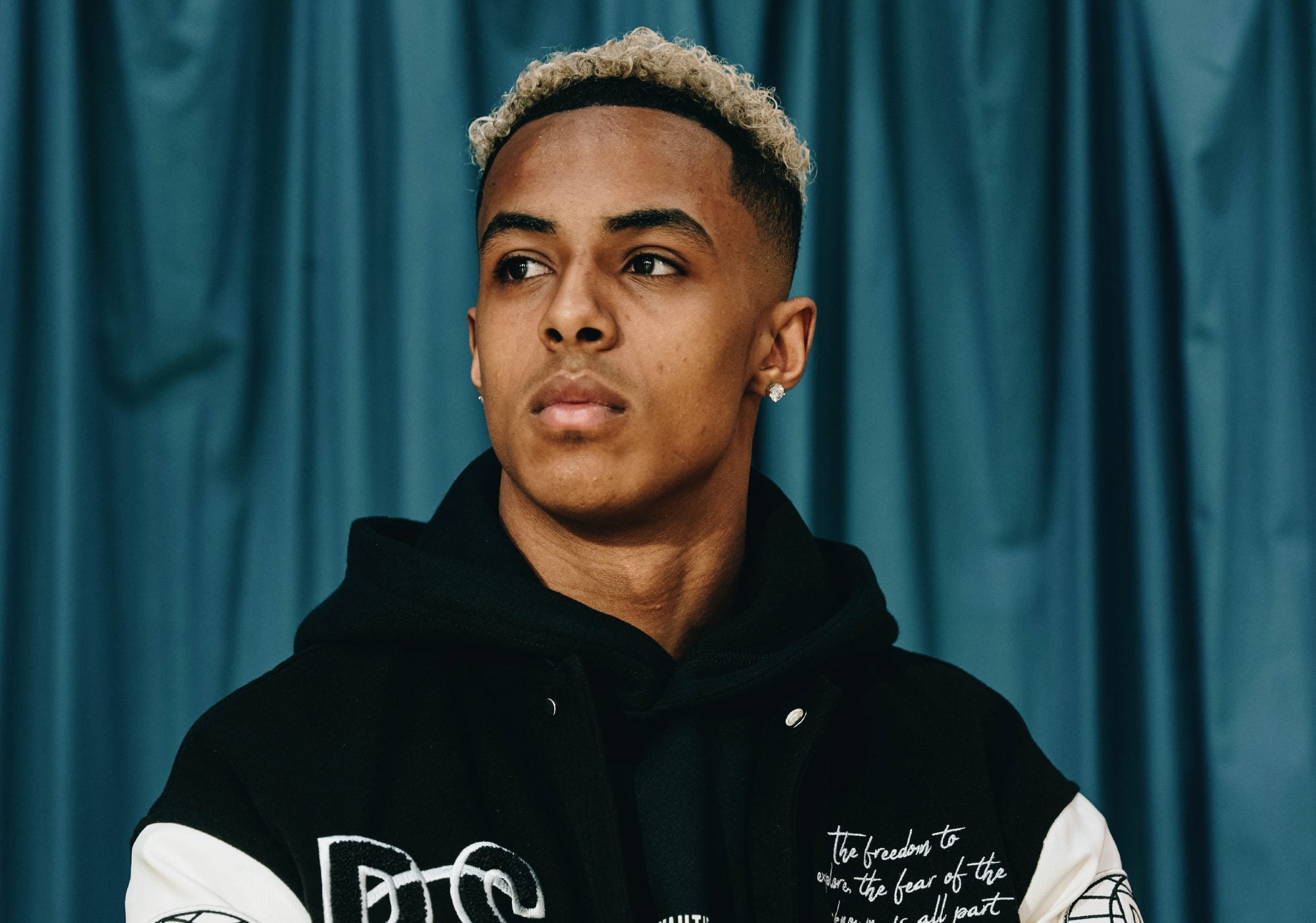 "The greatest lesson I've learned from childhood is that my dad told me to always have a smile on my face, whether I'm playing football, with my friends, or with my family."
It's a lesson he has remained true to, as he progressed through the youth teams, putting in performances way beyond his years. He enjoyed a successful campaign with the Arsenal U23s last season – scoring a screamer in front of a crowd at The Emirates – and made steps closer to his first-team debut, appearing on the bench a handful of times.
"The best thing I've learned in the last year is from being in and around the first team, getting advice from the senior pros has helped me improve as a player and mature for the future," he reflects.
Rio Ferdinand had joined Arsenal fans in recognising the youngster's potential, amongst the latest talents coming out of the Hale End crop. Despite his relatively small stature, the versatile winger oozes confidence and his playstyle reflects that swagger. His quick feet and balance have been staple to his footballing identity – allowing him to flourish in tight spaces, operate on both flanks, and play in the '10' position.
The recent Hale End success stories of Bukayo Saka and Emile Smith-Rowe had left many Arsenal fans optimistic regarding their latest talent, but it is now supporters of their rivals Chelsea who will get to enjoy Omari's talent. Deciding to swap Hale End for 'La Cobham' is a bold move for such a young star in the making, however, Hutchinson certainly has the necessary skill set to go on and make his mark for the Blues.
To take a look at Hutchinson's eventful journey so far, we sat down with Omari to reflect on his upbringing, experiences, life away from football, and how they have all contributed to making him the person he is today.
Who were your footballing heroes growing up?
My hero growing up, I would say, was Pele. I used to watch a lot of Santi Cazorla, Neymar, and obviously Messi as well. Everything they did in games, I was just doing in training sessions with my dad. When I was playing academy football, I tried to do it in games as well.
At what point did you actually realise your talent and potential?
I couldn't really tell you because I was so young, but I always knew that I enjoyed football and I've been playing at a good level for as long as I can remember.
You mentioned your older brother played football, did that influence you to also play?
My older brother playing football had a massive impact on my career because every day I used to go with my dad to take him to train. Watching him train, play, and score goals, just made me fall in love with football even more.
How do you think that helped you progress?
Obviously, I also used to play and train with him, we did one-to-one sessions a lot. I even trained with his friends, we were always having a kickabout. Playing with the older boys made me a lot better as well because they're big and physical. They used to push me around quite a bit so I had to move a lot sharper and think quicker.
After leaving Charlton you took a year out to play futsal, what was that experience like?
I really enjoyed playing futsal. As I wasn't at an academy I didn't go training, so after school I wasn't tired, I had a lot more energy. I went to futsal like three times a week? It had always put a smile on my face and I was with my friends there as well, so I really loved it. Being on the indoor pitch really helped me improve my technique and skills.
While at Arsenal, you've had to play a range of different positions, how has that been for your development?
Initially, when I joined I was playing left-back, and to be honest I wasn't really happy at the time, because I enjoyed scoring goals, and playing further forward. But looking back at it now, it taught me how to be disciplined and helped me work on other areas of my game that probably needed to improve.
What has been the biggest change between the academy and the first-team?
The mentality is a lot more demanding, you have to think quicker, you have to act responsibly, and do the right thing at the right time. To be fair, it has really helped me mature as a player. I think even in training sessions when I lose the ball, my reaction, I don't moan. You just have to get on with it and focus on perfecting the next pass.
You are quite into your fashion, what are some of your favourite brands?
I do like fashion, there are quite a few brands that I really like, but I'd have to say my favourite is between Amiri or Dior, probably Dior.
What are your biggest interests away from football?
Growing up I was a bit of a gamer, but I don't really play as much anymore. I might get one of those built-in console suitcases. I enjoyed playing FIFA – obviously pro clubs – Fortnite, and Call of Duty. I'd say I'm probably one of the better ones out of my friends at the shooting games.
Last season, you made the bench for the first team, what have you learned from being in and amongst them?
The biggest thing I learned from being around the first team, I would say, is that you always have to give 110%. You always have to be focused from the moment you step into the building until you leave the building.
How do you typically spend your time off?
We don't really have as much time off as people think, because obviously if you're not playing matches or training, you're probably working in the gym or doing afters. I'm quite low maintenance so usually, I just relax and chill out at home.
Which artists have you been taking in this season?
I've listened to a lot of artists so that one's a bit difficult to answer. If you were to ask me what tune I've played the most, I'd probably have to say 'Lil Baby – Freestyle'. Ooo…or Meek Mill, actually nah, I'd have to say Lil Baby – Freestyle. That song is undefeated.
Any plans for this summer?
Potentially a little holiday, I'm thinking maybe Greece or Spain? Somewhere like that.
What will your goals be when you return for the pre-season?
My biggest ambitions for next season would just be trying to play as much as I can. I need to focus on getting bigger, getting stronger, developing my game, doing my exercises after training sessions, and trying to get as many minutes as I can – whether that's on loan or with the first team. We don't know yet, but yeah, just constantly improving.