RAFAEL LEÃO: AN ARTIST AT WORK
PHOTOGRAPHY BY ELLIOT HENSFORD / STYLING BY CARA HAYWARD / INTERVIEW BY GERSSIS DAVID / WORDS BY BUEZ HADGU
In the world of football, where athleticism and strategy intertwine, there exists a rare breed of player who transcends the boundaries of the game, elevating it to an art form. The latest talent who looks born to entertain on the biggest stages of them all is none other than Milan star Rafael Leão.
With each stroke of inspiration, whether it be on the canvas of a football pitch, in the world of fashion, or through his craft in the studio, the multifaceted Leão leaves an unquestionable impression that resonates with his admirers worldwide.
Such players generally go on to be remembered as special for their unmistakable abilities, often acclaimed as natural talents who were destined for nothing less than greatness with a ball at their feet.
Leão is no exception, it is difficult to describe his captivating performances as anything other than artistry in motion. At just 23 years of age, the superstar in the making has his sights firmly set on creating history, and one thing that can be said with certainty is that he doesn't lack the hunger or ambition required.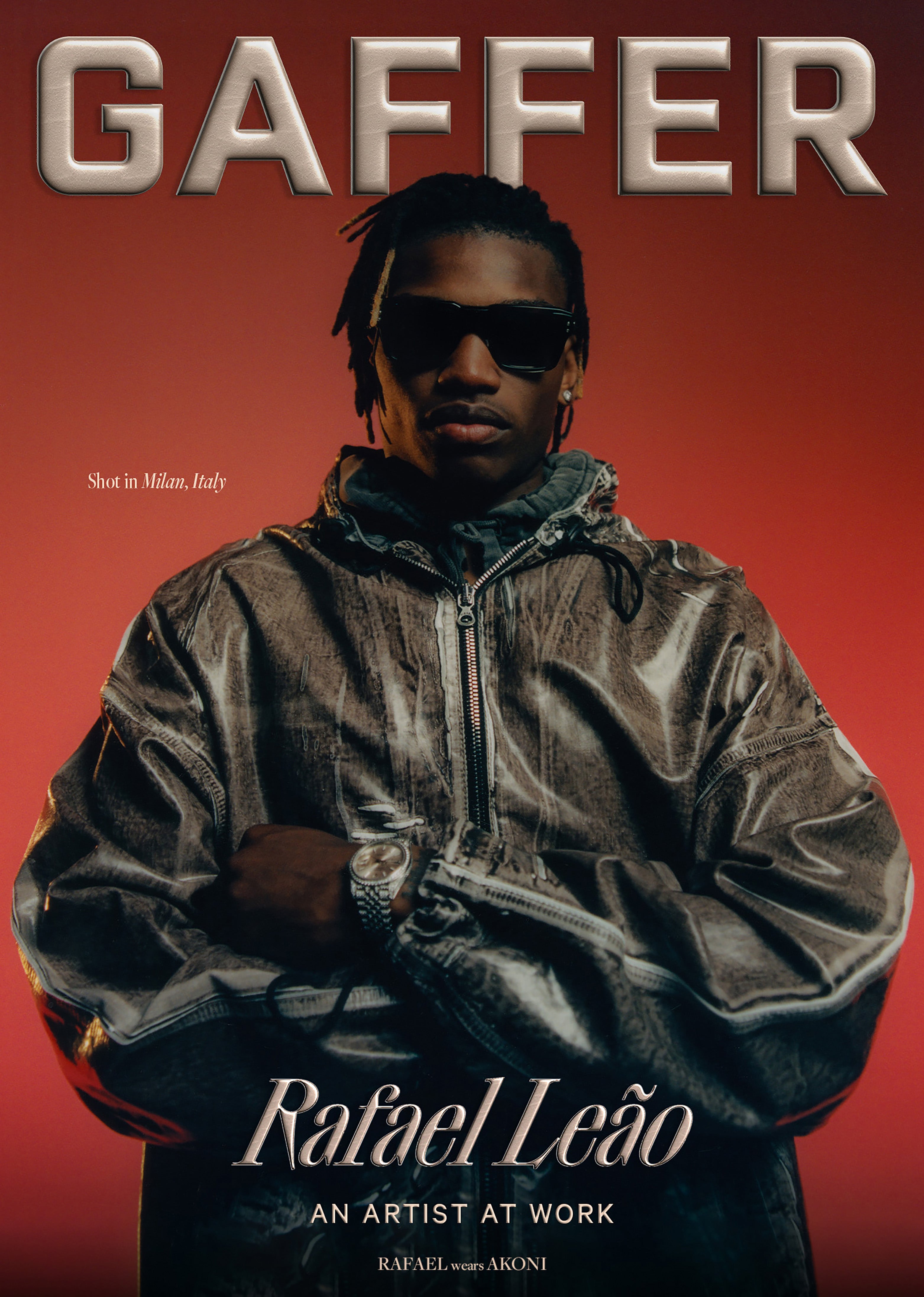 jacket: diesel / hoodie: etudes
2022 proved to be a successful year for the Portuguese international, announcing himself to the global stage as the driving force behind AC Milan's long-awaited capture of the Scudetto. Recognised for his efforts with the Serie A Player of the Year award, he rounded off the year in style with his World Cup debut, scoring two goals at the tournament.
As his name is starting to become synonymous with creativity and grace on the biggest stages, Leão showcases his artistic prowess beyond the pitch, whether that be in the world of fashion or through his musical exploits as 'Way 45'.
Despite only being a hobby, Leão credits music with allowing him to express himself and tell his story in a way that is his own. Leading a new wave of players who aren't afraid to show personality, unapologetically proud to be themselves, he exudes a level of confidence that projects into his performances on the field.
How was it growing up in Amora, what were your experiences like in your early years?
Amora is a noble city, growing up there was a great experience. I come from a neighbourhood called Bairro da Jamaica, which is close to Seixal. Amora is a city that means a lot to me, it gave me many opportunities to grow football-wise. It was there that I took my first steps so I'm grateful for my city and I'll always bring it with me wherever I go.
Talk to me about your time at Sporting, how does it feel to follow in the footsteps of greats such as Luis Figo and Cristiano Ronaldo?
Sporting is one of the best academies in the world, if not the best, since it's trained two Ballon d'Or winners. It's an honour that fills me with great pride to have come through the ranks there, they opened the doors for me to the footballing world and I'm very grateful for them. It's definitely a club that I will remember and take with me forever.
Growing up did you always want to become a professional footballer? Which players did you idolise and try to replicate within your game?
100%, Ronaldinho and Cristiano Ronaldo. They're players that I followed and tried to copy when I was growing up. I learned how to do the things I do today, dribbling...by watching Youtube videos of them. They're both big idols of mine and I'd love to have a career similar to theirs.
You spent a year in France before coming to Milan, what was that period like for your development?
It wasn't easy in the beginning because it was a sudden change and I wasn't expecting to move to another country so soon, but this was extremely important for my growth and it helped me mature as a player. I grew as a person too because I learned a new language and how to deal with new people in a different environment.
Outside of football you're a big music fan, you release as a hobby but you also started your own record label, tell me more about that?
Yes, music is my hobby. It's my way of expressing myself. I'm not a player that does a lot of interviews and not a lot of people know much about my personal life so music is where I can find myself. It allows me to feel comfortable talking about certain things that I don't tend to express at a football level. And regarding starting my own label... that was a way for me to help new artists make their dreams come true and take their talent to new heights.
When did you start actually making music? As a footballer did you ever worry about the reception you would receive for doing something else alongside your career?
It was during Quarantine. We trained at home and had a lot of downtime, music was something that I had wanted to do for a while so I took advantage of the time I had to try it out and I was very happy with the result. Before releasing it, I showed it to people that are close to me who are also in the music scene and the feedback was positive so I wasn't afraid of the public's reaction.
"...music is where I can find myself. It allows me to feel comfortable talking about certain things that I don't tend to express at a football level."
You go by the stage name Way45, can you tell us a bit about the meaning behind that and how you chose it?
Way means "caminho" which also translates to path in English and 45 is part of my neighbourhood's postcode which is 2845. So by putting them together I wanted to show that you should never forget where you come from and that wherever you go, you must always take your origins with you.
The San Siro is a special stadium, what did it feel like walking out in the Milan colours for the first time?
I felt an immense amount of pride and also a great sense of responsibility. I also felt nervous because the Milan jersey weighs a lot. It's a club with a lot of history that has won several titles, seven Champions Leagues! So when I had the opportunity to come here I didn't think twice. The first few days and months were exciting times because I never thought I'd get to wear this jersey. It's an honour to be representing it to this day.
How did it feel winning the Scudetto and playing such an integral part of the campaign?
Very happy. It was something that our team had been looking forward to for a while. It was the result of a lot of effort and work, It was historic! It was a very special moment for me personally because it was the first championship that I won with Milan and it's a memory that I will cherish for the rest of my career and life.
You've now played and scored at a World Cup, a lifelong dream for so many, what was it like playing on the World's biggest stage at Qatar?
I can only describe it as an incredible experience. Representing my country is always something special, especially in a competition like the World Cup. It was an amazing experience that I enjoyed to the fullest. I was very proud to be able to represent my country in that competition and hope that I can help us achieve something special in the future.
Fashion is clearly one of your biggest interests, do you remember when you first really started to pay attention to style and what got you into it?
My dad made me quite 'vain' so to speak, because when I was younger he wouldn't let me leave the house poorly dressed. I used to get dressed and look in the mirror to ensure that everything was perfect. My good taste was also thanks to him because he dresses really well. As he is such an important figure in my life, it was definitely through him that I fell in love with fashion and always enjoyed dressing well. So yes, I can tell you that my dad was my inspiration and I hope to one day be a reference in the fashion world as well.
We saw the Off-White x AC Milan collab, if you could choose any brand to release an exclusive drop with, who would it be and what sorts of things would you design?
Louis Vuitton... But I don't know what I'd design. That's a good question. As long as I could collaborate with them, it would be great.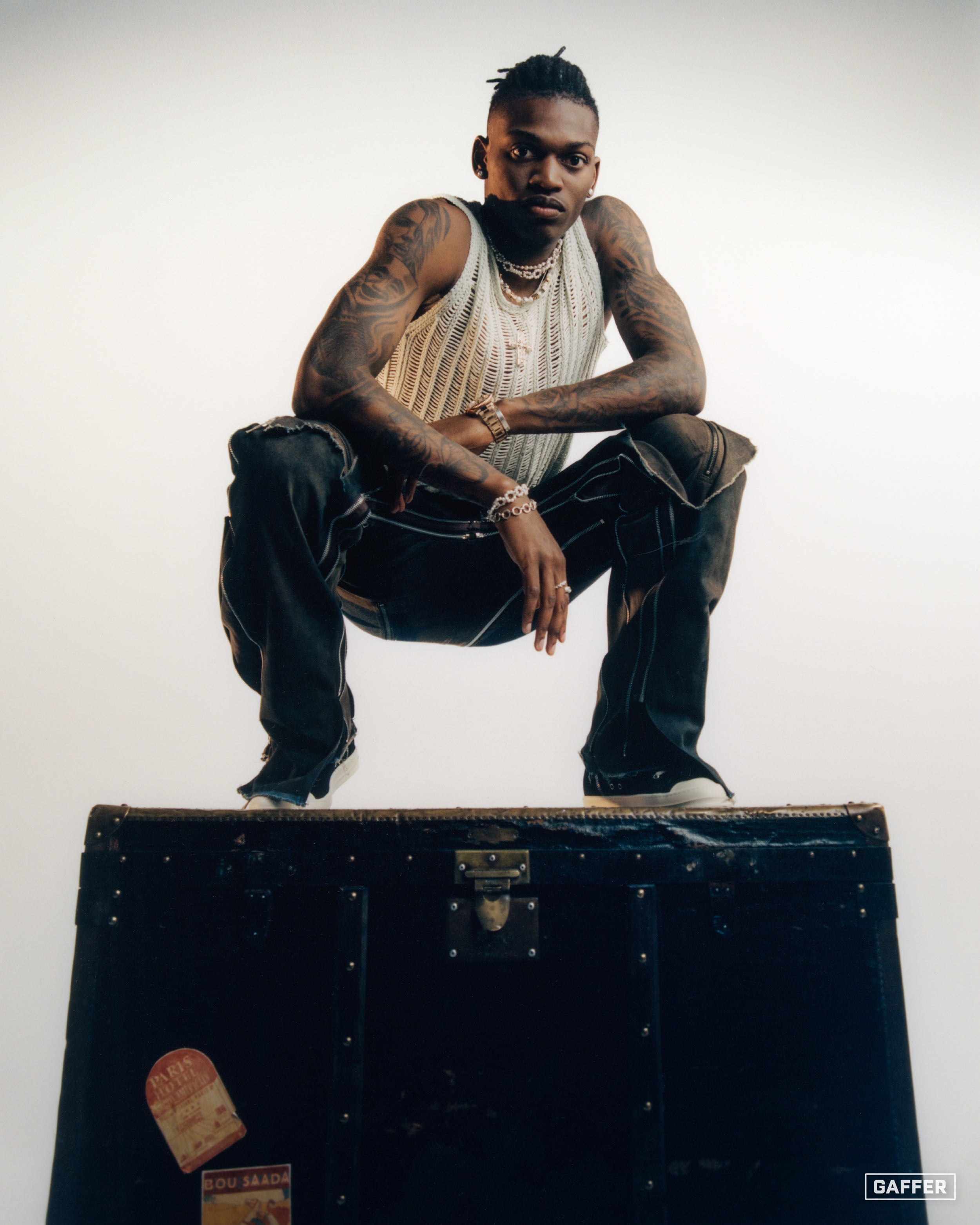 Having already played in three top Leagues at such a young age, do you see yourself exploring more of Europe throughout your career? Is there anywhere you would like to play at some point?
Premier League. I think every player wants to play in the Premier League because it's a very competitive league. It has engaging football, great teams and a worldwide audience. Serie A is currently very well positioned in the football world but I would definitely have to say the Premier League in the future.
What does the future look like for both Rafael Leao and Way45, what can we expect to see in the future both on and off the pitch?
Football-wise, my goal is to win the Champions League and a Ballon d'Or. As an artist, I personally don't think about it too much, I go with the flow. As an individual, I think about making my label one of the biggest household names in the music world.