SAM KERR & KRISTIE MEWIS: THE POWER COUPLE TAKING OVER FOOTBALL
PHOTOGRAPHY BY DANIEL ADHAMI / STYLING BY CARA HAYWARD / INTERVIEW & WORDS BY FLORENCE LLOYD-HUGHES
Never ones to shy away from the spotlight, Sam Kerr and Kristie Mewis have redefined what it means to be a power couple in sport with their unfiltered and unapologetic approach to life on and off the pitch.
The pair are superstars in their own right but together they form one of the most recognisable duos in women's football. Sam and Kristie discuss their goals for 2023 and share why they're committed to spreading queer joy on the timeline.
You don't need to be particularly plugged in to women's football to know the names Sam Kerr and Kristie Mewis. Both are successful athletes in their own right: Sam is a striker for Australia's Matildas and Chelsea, where she's won every domestic trophy and two Women's Super League golden boots, while Kristie is a forward for Gotham FC in the National Women's Soccer League and the US Women's National Team. Together, they've become more than just footballers. Sam and Kristie are high performance athletes with the most relatable vibes.
If you didn't know much about football and passed these two in the street or sat next to them in a pub, you wouldn't think they're some of the most well known names in the game. The chemistry they have surrounds them like an aura and the genuine love for each other oozes out in their body language.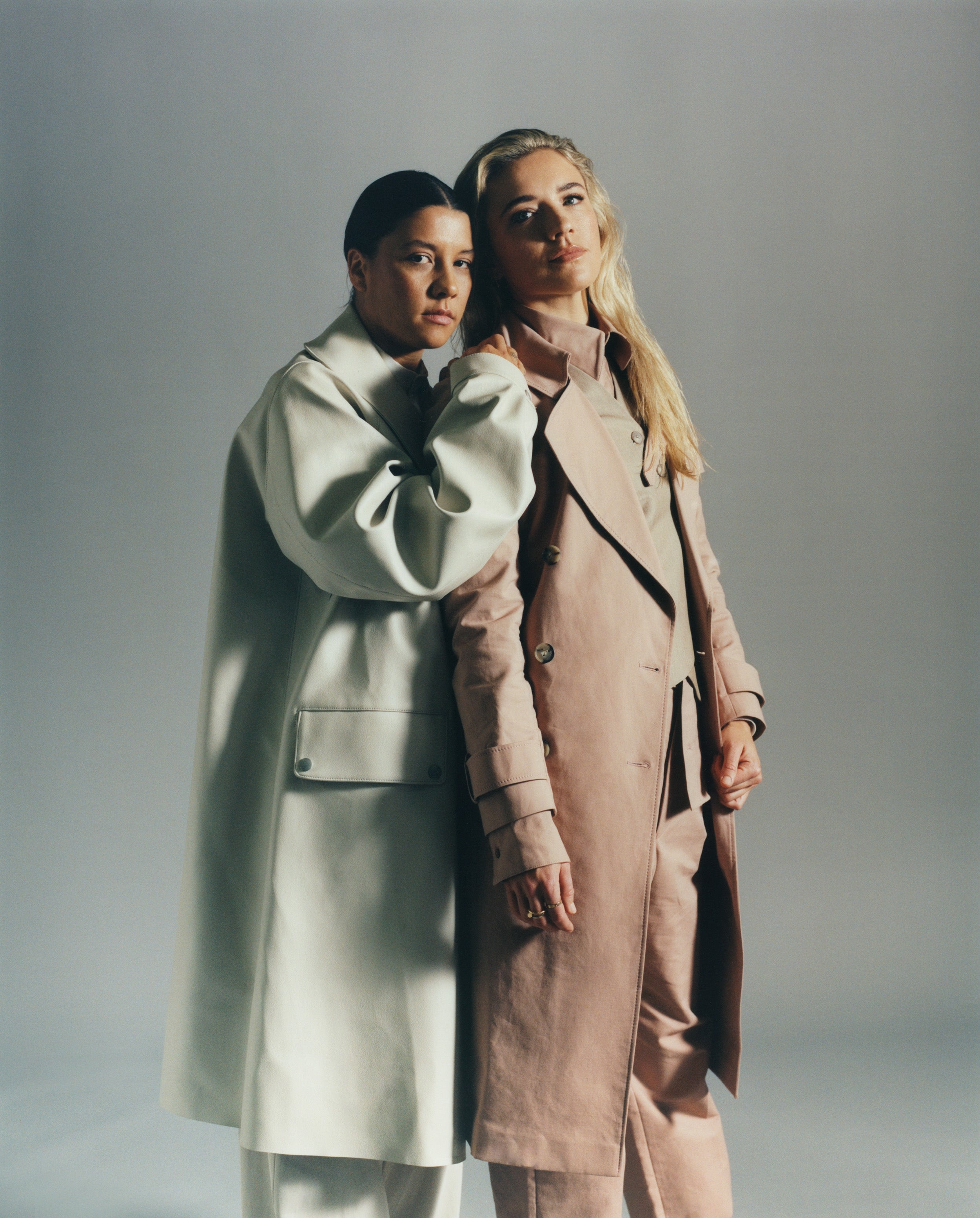 SAM - SHIRT: AV VATTEV / JACKET: MAISON MIHARA YASUHIRO / TROUSERS - MAISON MIHARA YASUHIRO / SHOES: NIKE // KRISTIE - EARRINGS: MARIA TASH / RINGS: CARTIER / FULL LOOK: TOD'S / WAIST COAT: THE FRANKIE SHOP / TRAINERS: NIKE
The last year has been gruelling for both of them, for differing reasons, but it's next summer's Women World Cup in Australia and New Zealand which is a huge target for both of them. Sam has been a household name in her native Australia since making her national team debut at just 15 and next year's World Cup feels like the ultimate homecoming. Kristie has consistently been one of the bigger names in the NWSL but is yet to win a major title for club or national team. For both of them, the next few months are all about preparing for the biggest trophy in women's football.
"We're just raging for the next six months to the World Cup", says Sam, "doing whatever we can. We both feel like we've been gunning for this World Cup for so long now that it's kind of going to be like we're just giving everything for the next six months and then it's gonna be like a breath of fresh air.'
"It's so stressful when you have a tournament coming up, one injury, staying fit, getting picked on the team, the pressure of a home World Cup, the pressure of being in form, all those things that go into a World Cup. It's just been building for two years now. So I think we're both excited and just want to be there and want to do everything we can to perform there. So I think it's just like rage for the next six months. Then you can take a deep breath."
"It's kind of finally hitting too", adds Kristie. "I think we were talking about it yesterday, because it's like, 'oh my god', 2022 is ending, and then it's January, and then that's the year of the World Cup. It's just crazy that it's coming so fast but it's exciting."
Before they can breathe, Sam needs to finish the 2022-23 season with Chelsea and Kristie needs to begin a new campaign for Gotham FC.
SAM - RINGS: ATELIER ROMY / SHIRT: THE FRANKIE SHOP / TROUSERS: THE FRANKIE SHOP / DRESS: SYMETRIA / SHOES: DR MARTENS // KRISTIE - EARRINGS: LAG WORLD / SUIT: DANIEL CAMPBELL / SHOES: DR MARTENS
How has the last year been for you both?
Kristie: It's been good and bad I think. It was difficult being in last place with my club team but I was with the national team all year which has been a goal of mine so that was amazing. We won our World Cup qualifying (CONCACAF Women's Championship), which was huge. Overall I think it's been really good. It's been a learning year but I feel like ending the year here with Sam in London is just the best thing ever so personally and career wise I think it's been really good and I feel like this next year is so important.
I feel like being in New York is really good because I can kind of just pop over if I get two days off. So that's been really good. I feel like we just make it work like it obviously sucks doing distance but we make it work. We always said it would be easier if we played in the same league because we would have the same winter break, we'd have the same summer break. But I think that when it is the opposite, she can come and see me after her season ends and I can come here for eight weeks in the winter. So it does end up working out. But it is difficult of course just being away from each other but we have FaceTime.
Sam: I think all in all it's been pretty good but I think it feels like it's been forever. I think because of the way the seasons are this year, it feels like it's been the longest year ever. We had the Asian Cup (with Australia) and then came back and it was crazy, so many games. Obviously the disappointment of the Champions League. It's been a roller coaster ride but I think when I look back on it like we won three trophies.
I think the season last year ended really well and then on a personal level it was amazing for me to finally get a break. I haven't got a break since I can't even remember when, maybe since before I signed for Chelsea. So it was amazing to get a break and then to be able to go home, I hadn't been home in two and a half years because of Covid. So yeah, I think it's been a great year.
Long distance relationships are not easy, how do you guys make it work?
Sam: It sounds stupid but we set little milestones. For example, just get to the end of July and then we're one week away. We set little milestones and we make time during the week where we'll watch the same show and FaceTime or have dinner together or something. But it's tough. I think the thing that keeps us going is that we can see an end point. We both just want each other to do so well in our careers. I don't think you could be in a long distance relationship with someone who didn't get the sport. She fully gets it and I get it. So we just support each other. The end point is that we'll eventually live in the same place. It's just after our careers are dust.
Is it nice having someone on the end of the phone who knows exactly the ups and downs of being a footballer?
Sam: Yeah, I think it's nice, but I also think that like, to be honest, after most games, whether it's good or bad, she'll call me, I'll call her and we both don't want to talk about football. It consumes your life, we're always talking about it. So most of the time, when we want to talk about it it's when we're debating something because we both love football but not about our own careers. We're just so what's done is done.
Kristie: I feel like we're each other's breath of fresh air. We get it that we don't want to talk about it. I just feel like it's a comfort zone thing. If I have a bad game or if I lose I always know that I have her. I think that's something that we always say, we always know in the back of our head that if things go bad or things go wrong, we always have each other.
Sam: Yeah, it's weird. We don't talk about football, well we do….
Kristie: But it's not when you think we would. We'll talk about a game that happened two weeks ago at a random time. We never really talk about it right after. It's too fresh and we know that neither of us want to talk about it.
Sam: The other night at dinner we literally debated something for an hour and 15 minutes, people probably thought we were fighting or angry at each other. We were debating about Neymar, she felt so strongly about her opinion and I felt so strongly about mine.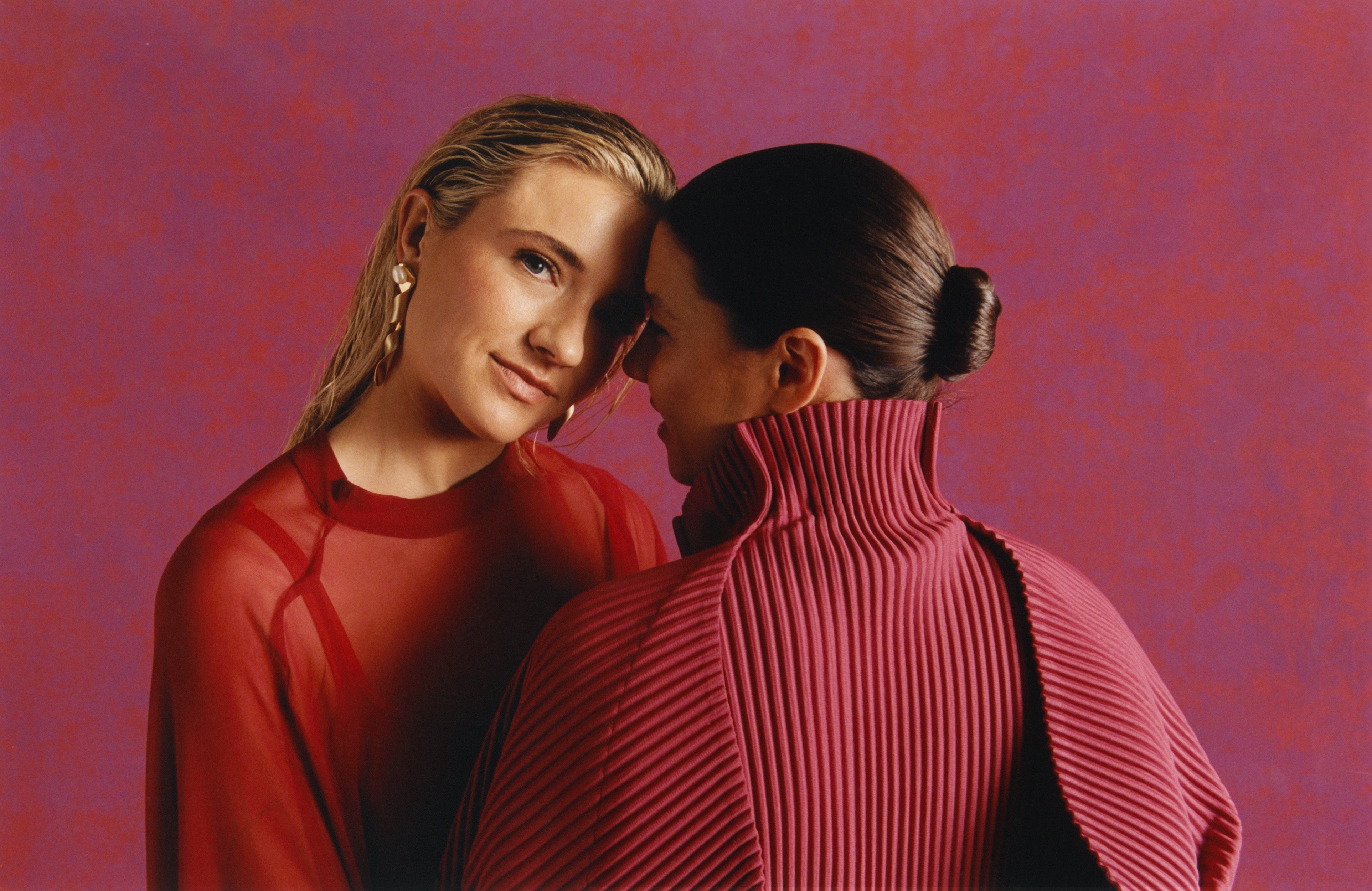 SAM - JACKET: ISSEY MIYAKE / TROUSERS: NORMA KAMALI / SHOES: DR MARTENS // KRISTIE - EARRINGS: MI MANERA / SLIP DRESS: SAMSOE SAMSOE / OVER DRESS: SYMETRIA / SHOES: DR MARTENS
How did you first meet? Did you crossover at all when you both played in the USA?
Sam: We did play a match against each other but I thought her team was crazy. When I play I'm such a shit stirrer and she was getting so angry. We always laugh about it because this one game we were playing terribly and they were playing so good. We won the game 1-0. I was laughing so much because they hit every post, they hit everything. It was funny to me that we were still winning. We always talked about this one time where she tried to get the ball, it was a free kick for her team. She put the ball down and I kicked it away and was like 'really?'. We didn't know we didn't know each other apart from that.
So it was a relationship that was pretty much all forged online?
Sam: Yep. Through Covid.
Kristie: Yeah, we were forced to talk.
Sam: Literally forced to talk. Instagram, just started talking. It was about three or four months until we could hang out in person. The first time we ever met there was quarantine so we had to spend two weeks together the first time we met. I was thinking if I don't like her this is going to be awkward.
Kristie: But we knew, we knew it was going to be good.
Do you guys ever feel pressure as individuals or as a couple given your status in the sport?
Sam: I don't think so. I think if anything we enjoy it. I get more fan mail about me and her than just for myself because I think people find it interesting or really relate to us. I go to games and I have so many amazing things, drawings or stickers that people make of us. It's nice that people support us so much and relate to us so much. The only pressure that I feel which isn't really pressure and I don't know if she feels the same but I think there's this part of us where we're both separate athletes and when we compete against each other there's this worry that people don't think we don't take it seriously because you're playing your girlfriend.
That's what I worry about most out of anything is that our coaches or teammates don't think that we can separate the two. Whereas the fans just support us. I hope people know that when it's training time or play time, it doesn't come into it. I remember one time in Newcastle (Australia) she came on, we were playing against each other, and we went in on each other. We'd kill each other. But I worry that people think that we're not serious about our careers. At the Olympics we were so excited to see each other but I didn't want people to think that we were just at the Olympics to see each other. I know that people don't think that but that's the worry.
Kristie: I think just being out and being two girls in love, I think if we can change one or two people's lives and the way that they feel about each other and how comfortable they feel, then that means a lot to me. I love to share my relationship on social media. So I think if we can change the way one or two people feel about themselves, they can look at us and see that we're happy and we're trying to be as successful as we can and we're an out gay couple. I think that that's so important.
"I think just being out and being two girls in love, I think if we can change one or two people's lives and the way that they feel about each other and how comfortable they feel, then that means a lot.."
Was there ever a point where you didn't want to share it so publicly?
Sam: We didn't share it for ages. Then it just got too hard to hide it. I remember one time we were with some friends and some fans asked for a picture and then we thought we don't really want this coming out from someone else. We want to be the ones to share it. We hid it from everyone because it is a private thing when you don't know if it's going to be serious. Once we told our friends it kind of started getting out there a little bit.
Kristie: I was so proud that she was mine so I wanted to share it. I love her and I was so proud to be her girlfriend.
Sam: We're not private people. I like sharing my story. I like sharing who I am outside of football. Football is 5% of my life.
Kristie: I think it's endearing to share your life with other people because I think if they can relate to you and you can maybe change their lives I think it's important, especially with our platform, to share.
Outside of football, what do you guys like to do together?
Sam: We're footballers right so nine times out of 10 when we are together one of us is competing. We go out for breakfast, coffee. The average things. If we're both off we'll have a date night. We're connoisseurs in coffee and wine.
Kristie: We're couch potatoes. We'll binge a murder mystery. We don't do anything cool.
Sam, you played for three different clubs in the US and now play in England, what have you noticed is the biggest difference between the two countries when it comes to football?
Sam: I think it's just completely different cultures. Here, it's a footballing culture. Everyone is just so invested in the football culture. Whereas in the US girls go to football as their job and then when they leave, they don't talk about football, they don't think about football. Most in America don't even watch football, some do, of course. But I think here it's just everything, it's integrated in the culture and I found that it's much more full on because of that. Expectation here is more because everyone's doing everything around football. Whereas in America, you would go to training and then you could switch off a bit more easily. It was an escape.
The culture in England has so much history that America doesn't have yet. Hopefully in 50 years time when you say I play for Gotham or I play for San Diego or whatever people will say 'oh I saw a game there 15 years ago'. Now when I say I play for Chelsea everyone says 'oh my favourite player was John Terry', or whoever. They don't have that yet. It's going to be sick in 50 years when America has that football and culture that England has already. Hopefully that's where women's sport is going, where there is going to be history of all these teams and players. Obviously there's a history of Chelsea Women's but it's not that long yet, but there's a history of Chelsea.
Kristie: I think America is definitely trying to get there, we're just a little bit behind, not in talent, but I would say just with football culture. Football isn't the main sport in the US. So it is kind of behind but it will get there.
KRISTIE - HAT: WILLIAM CHAMBERS / EARRINGS: MARIA TASH / RINGS: JUVETTI / DRESS: BUERLANGMA / TIGHTS: FALKE / SHOES: SCHUH
Sam you wear a lot of streetwear and oversized clothes and Kristie you definitely prefer more of a fitted look. Your styles are quite different but do you feel like they compliment each other?
Sam: I think our styles are completely different. But it's cool. We don't dress the same or rock up wearing the same outfit. It's very different.
Kristie: I think they compliment each other because they're polar opposites.
Do you ever pick outfits out for each other?
Kristie: Yeah she's good at it. I trust her, I trust her eye. If I put something on and she says it's okay that means she doesn't like it.
Sam: We always have input on each other's outfits. I'm very simple though, I'll change one or two pieces of my look whereas she'll buy a whole new outfit for every night we go out.
What are your favourite brands?
Sam: You're not really a specific brand person.
Kristie: I like to shop on a generic site that has loads of different brands. I go on Revolve and just scroll.
Sam: I can tell when she's on Revolve because she doesn't speak and she's just like 'huh?'. I like all sorts of brands. I like a lot of London brands. At the moment I like Represent Clothing. I started following them when they had about 100,000 followers and now they've got tons. I like brands that not many people are wearing. Independent names. Cole Buxton as well. If it's black and comfortable I'm 70% there.
You've both been involved in the game for a fairly long time now, how do you feel like the women's game has developed in recent years, especially with England's Euros win?
Sam: I think in the past year alone, in England it's just so much more out there. I guess that makes you get recognised more, everyone knows more about the women's game. They know who you play for. In the last year it has just gone crazy. You go out in the street and people know about women's football, they tell you their favourite players and want to interact with you as a footballer rather than not have any idea. I think in the last year it's jumped dramatically. All engagements that all the different teams and footballers are doing with brands as well.
Kristie: There's been a huge difference even from the first year that I met you compared to now. The Euros changed a lot as well.
SAM - FULL LOOK: QASIMI / TRAINERS: LOUIS VUITTON
2023 is going to be a huge year with the Women's World Cup in Australia and New Zealand, have you got a sense of the excitement for the tournament?
Sam: Every time we've been home this year for the national team it's been amazing. Everyone's talking about it. I think this next international window in February is going to be amazing. Every time we've played at home we've broken a record crowd. When the US came, when Sweden came. Recently we played in Melbourne and we had an amazing crowd. Australians love sport and they love the Matilda's. I think the rest of the world is coming out and seeing it as an opportunity to go to Australia as it's so far. Everyone in Australia is absolutely pumped, my family's pumped because they don't have to have their passports out and spend thousands of dollars.
Kristie, have you found that you've become a fan favourite in Australia because you're with Sam?
Sam: Yeah when she came on for the USA in the game in November everyone went crazy. You got the loudest roar.
Kristie: Yeah, my roar was louder than Alex Morgan.
Beyond this summer's huge World Cup, what are your goals and ambitions beyond the football pitch?
Kristie: I love clothes. I love fashion. I am trying to gear more towards something down that lane just because I can't play soccer forever. I am trying to find things that I'm interested in other than soccer. I do love it. I'm trying so we'll see.
Sam: Outside of football I'm dying for more time off. I'm really interested in travelling, we just never have time. Seeing the world and experiencing new cultures, new food, new places. What interests me is the world outside of football. I have no idea what I want to do. So just exploring all different avenues.