THE SUMMER OF SAINTÉ
In Partnership With
PHOTOGRAPHY: ROSS COOKE / INTERVIEW & WORDS: COSMO TEARE
The latest chapter in the GAFFER x Beautiful Struggles story sees us chat to Leicester-born, and now London-based, artist Sainté. After initially dropping music "for fun" while at uni at the start of the pandemic in 2019, Sainté emerged out the other side in 2021 armed with a culture-shifting EP, a single in Champagne Shots that had millions of streams, and a debut album featuring some of the U.K's most exciting talent. Ahead of his first festival season, we sat down with Sainté to find out how he is stepping different to everybody else in the UK music scene.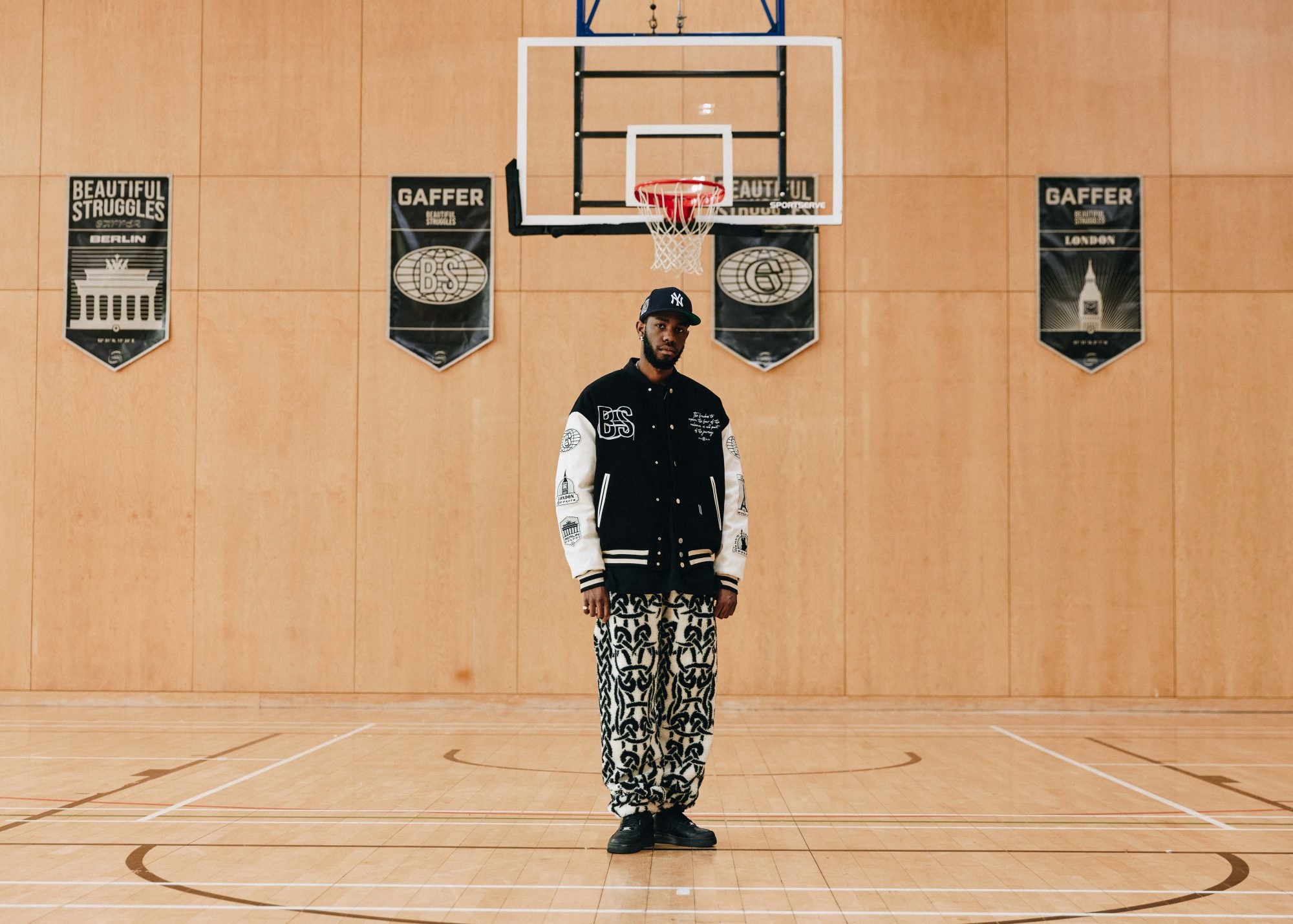 On the face of it, Sainté's rise in the music industry has been meteoric. After initially dropping music "for fun" while at uni at the start of the pandemic in 2019, he emerged out the other side in 2021 armed with a culture-shifting EP, a single in Champagne Shots that had millions of streams, and a debut album featuring some of the U.K's most exciting talent.
But not every route to the top of a chosen craft is a straightforward one. Sainté's own struggle is testament to the idea that when one door closes, another one opens. You just have to be willing and able to grab opportunity when it arises.
Back in 2019 music wasn't on Sainte's cards. Even calling him Sainté back then would have been inaccurate. Instead, Gashirai Gondo was balancing university, working at Nando's and playing basketball on a semi-professional basis – with dreams still intact of one day playing in the NBA.
"When I dropped my first song back in 2019 it was just for fun," Sainté tells me as we sit on an old school PE bench which is, naturally, placed slap bang in the middle of a basketball court. Between outfit changes for his photoshoot he's been fidgeting with a basketball in hand. Hitting jump shots and honing his free-throw. It's easy to see how this was the original goal.
"Back then I didn't really drop much music because it was a thing where I was just doing it for fun. I wanted to be a basketball player so life was mainly basketball for me. Then the response to my music was people saying 'This guy's cool, you're good!' And I'm thinking cool, what, really? I didn't see what people were seeing because I was just doing it for fun."
Having described himself as an "introverted extrovert" earlier in our conversation, this is an answer I soon come to realise is typical of Sainté. Equipped with a warm smile and an infectious sense of optimism, it's easy to see how his rise in the music scene has played out so organically.
His modesty comes across as natural because it's clear he holds a faithful indifference to outcome. Music to Sainté is a blessing, it's something you do solely for the sake of creating. Not for an industry game of rollouts and streams.
His third single, Champagne Shots, another which was dropped on a whim, saw Sainte's life transformed almost overnight from semi-pro basketball player to one of the hottest talents in the U.K.
"When we dropped Champagne Shots I was thinking even 50k streams would be great. Then it got to the point where my friends were like bro you got 100k streams, you got 200k streams and then I was looking at it yesterday and it's about to hit 40 million streams. Lowkey it was creeping me out but in a good way!"
The combination of the song's decadent production and Sainté's smooth flow meant the song was soon everywhere. It sat somewhere in the middle of emerging U.K. talent like Knucks, Finn Foxell and A2 but was unmistakably unique and entirely different in its style and delivery. A breath of fresh air.
Before Sainté knew it his face was staring back at him from billboards in Times Square. Rather than these billboards showing him playing basketball as he once envisioned, they were adverts announcing him as one of the hottest musical talents in the U.K. From the outside looking in, it seemed like a whirlwind rise. Easy, even.
I suggest to him this must have made his decision to quit basketball and focus on music a simple one.
"Music was part of the reason for quitting but it was also part of other commitments. I had my educational stuff going on, (Sainté is still studying for a degree in sports business, albeit currently on an indefinitely long gap year). And if I'm being real it was like ok cool, I can play basketball every day and be great but I'll have no money. So I started working, I wanted to help out my family and what not so I just started slowly cutting down on playing."
He also adds that while he was still young in conventional terms, barely in his second year of university, he felt that the clock was ticking as an athlete.
"I was young but not young at the same time. In an athletic sense I was old. Like at my age I felt like I needed to be in the U.S. so I was like you know what, what can I do that I enjoy? So I was like, 'You know what, let me just make some music and see where it goes."
"So when the music started popping off, and it got to a point where I was in a meeting with a label and they were like 'so if you do this, this is how much we'll pay you' and I was like 'woah', I was like for me? My music? That's when I realised this was a thing."
He's quick to point out that he and his team didn't accept the label's offer – everything Sainté does is independent, that way he can maintain maximum creative control over his vision.
But the meeting did show what was possible in terms of the music scene. Soon, the part-time job at Nando's was shorn and his studies put on hold – at least for the time being, it was time to see just how far this music thing could go.
The insistence on independence and just having fun saw Sainté perform the minor miracle of blowing up during the pandemic. This was a time when major labels were shelving albums by big artists, convinced the appetite for new music just didn't exist.
While labels stagnated, independent artists like Sainté pushed forward. Between releasing his first track back in 2019 and now, his top five songs on Spotify now have a combined 73.4 million streams between them. Not bad for someone making tunes from their uni bedroom. How was it having such a productive lockdown?
"It felt very natural, I was in my room, playing PS4, studying, doing assignments. And then I had one eye on my music. I saw it as an opportunity to be like 'yo, everyone's at home.' If my music is good they're gonna listen to it, if it's not then they won't. If my music sucks then my music sucks.
"But people have time to listen to it if it's good, so I was lucky enough. The pandemic was a blessing and a curse for many people, so I tried to turn it into a blessing."
This carefree attitude towards making music is something that carried into Sainté's debut album. Where many might have been paralysed by sophomore syndrome, fearful to stray too far from the sounds that made them, Sainté made a conscious decision to "switch things up" on `Out The Blue.'
There were certain tracks that shared similarities with his previous work. For example, he once described the track '03 as "Champagne Shots on steroids" but overall he worked on adding new strings to his bow. Exhibiting a darker sound with more emotional vulnerability throughout the album.
"Of course, I never wanna get complacent. I've got a lot to do, a lot I still wanna do, I don't ever wanna limit my growth. I'm not gonna just do one thing cos that's not fun. You can get rich doing one thing but that's boring. So it's like yeah, I kind of wanna keep it interesting."
He adds that forming his own image has always been important to him. "It's part of my identity. I want to have my own identity, I'd rather be a thumb than a normal finger. I enjoy standing out. I feel like standing out is great, why be like anyone else?"
I speculate as to whether some of that desire to stand out has something to do with infiltrating the U.K. rap scene from outside its traditional sphere of influence – London. While there has been an influx of artists from the Midlands, Sainte's hometown of Leicester is hardly renowned for its impact on U.K. rap.
"Yeah, at first it was like an obstacle but then I had to change how I thought about it and how I saw it. It was like 'yo, it will be hard in some ways, but it will be great in others.' There wasn't really a music scene in Leicester, there's great artists there but it was a bit one dimensional.
"So it was hard to find inspiration in what I wanted to do. It was like 'I don't wanna sound like that or dress like that', that's not how I wanna be. So then I was like, why not be the first to switch it up and go left? So yeah, I just went left. It worked in my favour so now when people are looking for what I'm doing it's hard to miss"
True to his name, Sainté refuses to swear in his songs. If this was anyone else, it might quickly become hackneyed or gimmicky. But, such is the nature of Sainté's music, that if you didn't have your ear trained for it, you wouldn't even notice. So, does he feel pressure to live up to an essentially perfect stage name?
"I live up to it but I'm not trying to, I'm just a nice guy!" He laughs.
"It's not very hard for me to be a saint! I grew up in a Christian household, a young church boy and all that. Obviously, I found my passion for music from what I enjoy, so then I was like if I'm gonna drop music I'm gonna need an artist name. My music is just about myself and my lifestyle, so, growing up people would be like 'ah you're an angel, you're a sweet boy, you're an angel'"
"No disrespect to the word or name angel but I was like I can't really be known as angel that's a bit toooo much so I thought, what's in the same world? Ahh, Sainté."
When conversation turns to his family's impact on him it's clear that pursuing a creative avenue took some bravery. Before the interview his management casually mentioned that Sainte's parents were basically academics. I ask whether it was hard to swim against the expectations of exploring a more academic route than music.
"Bro, it took a lot of courage to take that leap. If anything, yeah, I wanted to stand out because I love standing out but I was initially like nah, I need to pull up my socks (and focus on university). My mum's smart, my Dad's smart, my brother's super smart, my younger sister, yeah she's smart. These guys are swimming in degrees.
"But one day I was like, maybe I'm not as academically smart, but I told myself that's okay, it's cool, I did feel bad about it at one point but then I was like nah, why am I stressing, it's a sign for me to push another area. I used to like sketching so I tried that, then I tried painting, I tried doing poetry, then I found music and I was like "yo, let me just do it."
He speaks with pride at how his parents, after some initial scepticism, began to see how successful his new venture was.
"At first my parents were like nah, you've got to do the educational route and I'd be like yeah, yeah, yeah, but deep down I was like nah. If I do that I'm gonna flop, I'm gonna fumble the bag.
"Eventually it got to a point where my dad realised (that I was good) and that I was gonna keep releasing tracks. In fact, my parents like my music but my Dad liked it first and then my mum also realised she was like 'you got a million streams!?' That's crazy."
Finally we address Sainte's music going forward. I mention that it must be a completely different proposition making music now, given that he's now an established artist that has worked with top talent in Knucks, A2 and Miraa May. He's also got a large fanbase that is growing. Does it change things? Is it still hard to make music just for fun?
"Neverrr." He says, flashing a characteristically positive smile.
"It's still gonna be just for fun, I mean yeah, there's gonna be a certain time where I have to treat it like a job but right now I'm like nah, I don't wanna see it like that. I don't want to see it as creating because I have to create. I create because I like to create, which is lucky enough all the time!
"All the crazy streams and the crazy achievements we've got as a team is so mad. But, I'm just happy that I'm doing what I want. Independent as well, so the creative freedom is here. I do have cool friends around me that are helping me do my stuff so yeah, it's still something I'm doing for fun. I'm just glad that I've dropped my part time job and obviously I'm on a gap year at uni."
Having been booked for Wireless this year – his first festival as an artist, it's hardly going to be your average gap year.
"I've never been to a festival before so it's mad. The first time I'm going to one I'm performing. So yeah, there's that and supporting Denzel Curry for his UK tour. After that I'd like to do my own tour."
And as for new music, that's on the way too. Sainté promises that it's going to be a little more like Local MVP this time, having taken a different direction first with 'Out The Blue' and his latest singles Queen/Aim which both took on a slightly darker, more honest and deeper feel.
"I'm ready to unlock some more vibes, bring some more serotonin, I'm a Summer baby, if the sun isn't coming out then I'm gonna bring the summer vibes to the people."
He parts with some final wisdom.
"The big picture is just to be happy. I feel like I'd want that to be the same for everyone else, just be happy. So when it comes to music I'm finding out that if I'm doing this and it's making me happy then let's take it to the next level. So it's like yeah, I'm just doing it because if it makes you feel good then do it. If you can get an unlimited flow of serotonin then get it, in a healthy way of course."
He laughs before adding "No to drugs, do it in a Sainté way!"