TINK: STANDING THE TEST OF TIME
PHOTOGRAPHY BY LEE SWEI LEE / STYLING BY CARA HAYWARD / INTERVIEW BY CHARLOTTE PHIPPS / WORDS BY BUEZ HADGU
In an industry often defined by fleeting moments of stardom, Tink's longevity is a testament to her undeniable talent and unwavering dedication. She first gained widespread recognition in the early 2010s, when her mixtapes and viral YouTube videos caught the attention of music enthusiasts worldwide.
"Early on, my dad saw the vision. It took my mum some time because she's really religious and my music was really secular. So it took her some time to understand, but my father was always cheering me on, keeping her calm, and he understood me."
With a distinctive blend of Rap and R&B, she quickly became a trailblazer, setting herself apart in a genre that was undergoing a renaissance. Her ability to seamlessly bridge the gap between rap and soulful melodies resonated with a diverse audience, solidifying her status as a rising star.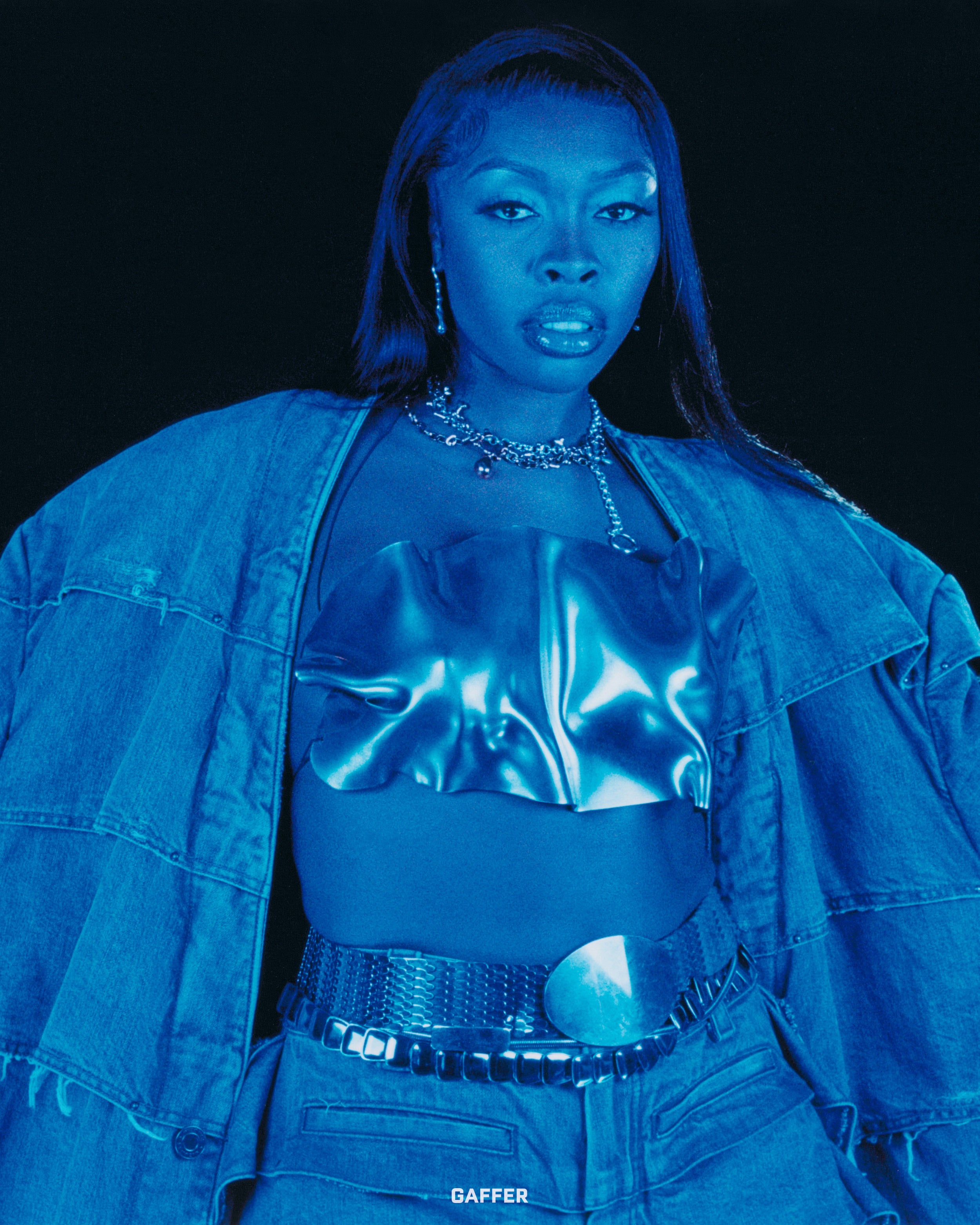 Body Piece: Cameron Hancock / Denim Set: Songzio / Belts: Beyond Retro / Jewellery: Vaan Jewllery
Her lyrics were raw and relatable, giving voice to the experiences of young people everywhere.
"A lot of my songs growing up were deep. My dad never judged me, he never told me to change a lyric, he was my first fan. I was comfortable, he made it comfortable for me."
Fast forward to today, and Tink has not only sustained her relevance but has continued to captivate audiences worldwide. In a world that craves authenticity and substance, she is a musical force to be reckoned with, pushing the boundaries of her craft while staying true to her roots.
Hat: Jane Taylor / Jumpsuit: Ferrari / Shoes: Damlastilla / Sunglasses: Kuboraum / Rings: Mara Paris
What do I have to understand about your earliest years growing up in Chicago to really understand the person in front of me now?
I grew up really just trying to find myself, Chicago is a rough city, so I was really influenced by the streets. Early on I was exposed to a lot of different things, around a lot of violence, a lot of you know, trauma. So for me, music was like the outlet to release some of that aggression. That's a big, big part of my music, a lot of pain. I think the upbringing in Chicago influences that part of it, for sure.
Growing up, your father had a studio in his basement, your mother was a singer, were you always around music? Did you always know that was your calling?
When I was about five or six, I was immediately put in choir, church was a big part of my life, and I had a studio in my basement. So I would go to church and sing, I would go to school and sing in the choir, come home and hear people singing in the basement. I was always watching artists who would come by and record with my dad. So when we were upstairs, in the basement, you would always hear music. My mum also sings gospel, so she would record with my dad too and I'd watch the process of making a song. They were writing in the kitchen as she's cooking dinner, and she would have to multitask. I just watched them create art all day. That kind of inspired me, and my dad actually taught me how to make my own beats using the computer in the basement and that was around about when I was 12. So very early I was picking up how to make music, I owe a lot to my dad. He recorded my biggest record, 'Treat Me Like Somebody' in our basement
Who were your biggest influences musical or otherwise in your early days while still at school?
In the early days, I was listening to what my parents were playing, that was a lot of like, soulful music, gospel music. So that would have been Kirk Franklin, Brandy, Michael Jackson. A lot of groups. My dad would play Zapp & Roger. So that was what influenced me to tap into auto tune. Then as I kind of grew up in my teens, I was playing a lot of Frank Ocean, Lauryn Hill, Drake, R&B - all the girls ; SWV, Beyonce, Destiny's Child, anything with soul I could relate to.
Making the type of music you do, you have to open up, showcasing your scars and vulnerabilities. The reliability of your music is what your fans really connect to…what are the challenges around that?
I wouldn't say it's hard, sometimes it feels like I'm just really exposed and I peeped how people always say they want to check on me and make sure that I'm doing okay because my music is so moody. That's the one of the challenges, you know, trying to not shy away from that, but people are always like, she's always heartbroken. For me, I love my life, but I can really tap into my emotions. I'm a happy person, but when I go to the studio, I'm there to provoke an emotion?
How do you feel your music has evolved from your early songs to your more recent releases?
IIt's evolved a lot. When I was coming up, I was rapping more, around like 2012 or 2013, that's when the drill was really popular. So some of my older records are really, really rough. Now I feel like I've definitely softened up a little more, and for me, R&B is where I want to be. I kind of try to think about the audience more rather than like speaking from ego or a flamboyant place. I'm more about, what do the girls need to hear? You know, early on, my music was very, I was just popping my shit. It was like, I'm that bitch, and now it's more so I want other women to feel good. It's less about me and more about the world.
The music industry comes with numerous challenges, in the past you've been pretty vocal about not really enjoying the period you were signed? What do you love most about being independent despite the fact it comes with its own challenges?
Yes, it's the freedom. For me, I'm a strong thinker, I hate being told what to do. Being independent, I can really express myself with no fear. I'm not trying to prove a point to label executives. I think when you're signed, you have to create music that people in the office love. That for me, it was an issue because you know, my music is different, it's not for everybody, it's for the girls that get it. Now I can be free, I don't have any fear of what to talk about, and it makes me feel stronger, I'm more confident.
"One of the moments I'm very proud of is my first tour. We actually sold out every state in the US. You know, a couple years ago, I didn't think that was ever possible and these are theatres, so I was just very proud every seat was filled."
Looking back at your journey so far, how proud are you of your achievements and is there one that really sticks out?
I'm so proud of myself. I've been through a lot of ups and downs, like you said, there was a period being signed where I thought it was over for me. I wasn't able to really get my music off the ground like I wanted to. So there was a year, 2017, when I had to step away and kind of like, go back, find that inspiration. I almost gave up, I almost wanted to go back to school and find a career job. It took a lot of courage to really keep going when people were doubting and saying, it's over. I caught a lot of flack behind my label situation, so to push through that took a lot. I'm so proud of myself for sure, being consistent even when it was dark. One of the moments I'm very proud of is my first tour. We actually sold out every state in the US. You know, a couple years ago, I didn't think that was ever possible and these are theatres, so I was just very proud every seat was filled.
Your personal journey and identity influence the themes and messages in your music, this has been a constant theme in your craft, does music double up as a kind of therapy for you?
The best kind of therapy. I like to go to the studio alone, my sessions are very personal. That's because I'm speaking from my heart and it's almost like a diary. I release a lot of anger, not even anger, just emotion. I release a lot of feelings in the lab. It's the best way for me to cope, because I can't run to the internet like everybody else with my feelings or I can't tell too much to everybody because sometimes people tell your business, it's hard to trust in the industry. When you're in a position as an artist, you catch a lot of judgement. So for me, if I'm going to be judged, I want to make some money off of it, I'm gonna put it in an album.
What's the most memorable fan interaction you've had, and how do you feel your music impacts your listeners?
My fans are so sentimental they actually write me a lot of notes, and I can't pick one, but overall, when I receive cards with these long paragraph messages, I'll read them all. People were really telling me, you saved my life, I went through a chapter and your music is what got me through. That, to me, just resonates because I was in that same position, I know what it feels like to think there's no hope for me right now. Reading people's notes is even more sentimental, because it's like you took time to write down your personal feelings about my music and me as an artist. That's the biggest thing you know, I'm very big on keepsakes, so I keep them all.
Performing songs that connect so deeply with your supporters live must be a crazy experience, what does it feel like watching people from the stage while they sing back such meaningful lyrics?
It gives me chills, it's the best feeling. As an artist, you're on stage, you want to connect. When people sing your songs it just makes it worth all the extra bullshit, because someone else felt that same way. When I was writing that song, someone else tapped into that emotion.
'Thanks 4 Nothing' had two really big features, what's the recipe for a great collab? Do you just go with who you think is best for the song or is it more about working with people you connect and get on with…
For me, I love to connect in the studio, it's always nice when you can feed off energy with each other. But a lot of times artists are busy, and we have schedules, so sometimes you have to just email things and I love that part too. There was a special collab with Ty Dolla $ign on the album - we have a record where we go back and forth - I thought that was really, really fun to do and we actually emailed that song. I met him later on maybe like a couple months after we dropped it and he's such a great, nice person.
What would be your dream collab, it could be a feature, a producer, or a songwriter?
It's always been Drake, it's always gonna be Drake. I'm manifesting it, it's gonna take time, but I just wholeheartedly get Drake's music. The fact he raps and sings, that's kind of my mission, to stay connected with rap and R&B. He has a classic feel to his songs, so I think a collab with us would be super moving, that's my dream.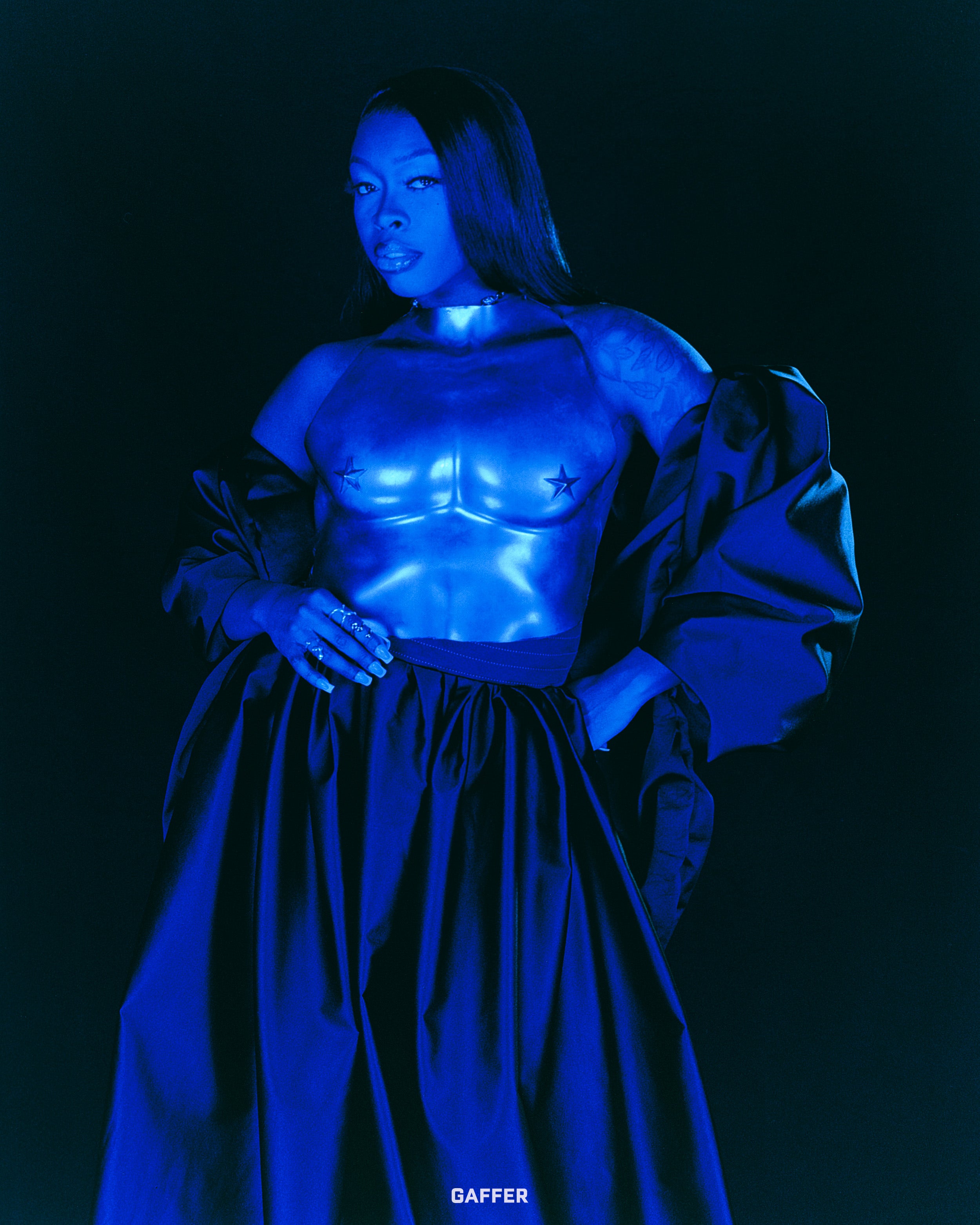 Body piece: Cameron Hancock / Skirt & Jacket: dijágo studios / Necklace: Vaan Jewellery / Rings: Mara Paris
You've actually worked with some legendary producers who you've had long standing relationships with over the years, in your opinion what makes for the best artist/producer partnership?
Being comfortable. I say that because sometimes the studio can be intimidating, it's up to a producer to come and make the space feel like home or make the space feel safe. I make the best music when I'm comfortable, when they understand where I want to go, when I understand where they want to go, we're not forcing a record. That's the most important thing in any space, you want to feel like you're comfortable and know that you're accepted, that makes all the difference.
What are your aspirations and goals for the future, both in your music career and personal life?
Well, I have some new aspirations now. I want to continue making music, but in the future, I want to help other artists make their music. I know there's an empty space of women in the executive role, there's not many female executive producers. Years down the line, this may be five or 10 years later, but I would love to help other artists create their albums, especially women. There's so many men in this industry, it's such a male dominated industry, I feel like we need more women representation. When you think about Missy Elliott, she used to go in the lab with Aaliyah, remember, she was in the studio working with Ciara and we just need more of that.
Who are some upcoming artists we should keep an eye out for?
Ann Marie, she's a great artist from Chicago. There's a girl named Sonta, she's also from Chicago. These are girls from the inner-city, so I understand their story. They have so much talent. Those are two that I really just want to empower.
Are there any exciting projects or releases on the horizon that your fans can look forward to?
Absolutely. I've teased it a little on Instagram, but I'm working on a Winter's Diary, which is my most famous mixtape series. It's been a long time, maybe eight years since I dropped one, so this would be an album. It's very special, that's where 'Treat Me Like Somebody' came from and that's where a lot of people met me. This would be the adult Winter's Diary so to speak. It's gonna take some time, so you know, be patient with me, everybody, I'm working on it!