VINÍCIUS JR: A NEW DAWN
In Partnership With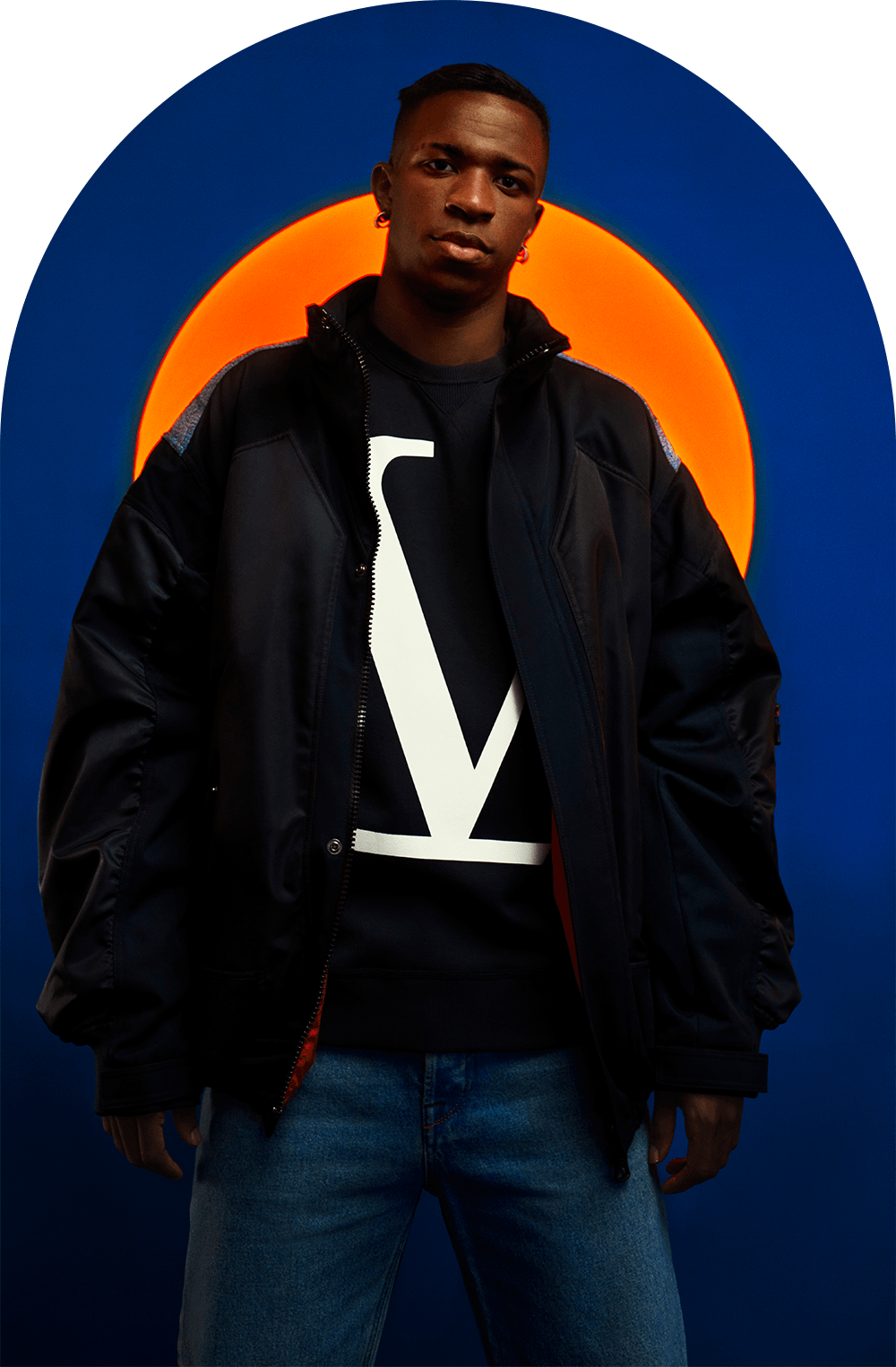 The next level of your life demands a different you.
With hope to differ from expectation, we discover how one of the most followed footballers in the world deals with the pressure, expectancy and spotlight of being the brightest spark for his family, club and country.
A New Dawn explores the memories, emotions and lessons learned during 2020; the most turbulent year in recent history and in the personal and professional development of Vinícius Júnior. As we unravel the secrets to the success, sustainability and enduring smile of the Real Madrid footballer and offer an optimistic and timely reminder to always be yourself. Because that is the only time you can control the odds and deliver on your destiny.
I never, ever give up. I always stay strong in what I am convinced of and what I believe in.
You probably remember the first time you heard the name Vinícius Júnior. In March 2018 - fresh off the back of signing a £40m pre-agreement transfer to Real Madrid having only played 17 minutes for his boyhood club Flamengo - he was handed his Copa Libertadores debut for the Brazilian side and he was introduced as a 68th minute substitute with the team trailing 1-0 to Emelec. Within ten minutes he scored a spectacular solo goal, the type that gets dropped in the group chat three times over and, if you're lucky, with a Titanic theme tune dubbed over the top. A few minutes later, he scored again. Stage set, destiny delivered, first chapter of the story written. He then upped it. Preserving the moment as any 17-year-old would dream of doing by jumping into the crowd, claiming a pair of one-lens sunglasses out of thin air, putting them on and posing for the cameras while being mobbed by the entirety of his team.
"It's the best celebration of all-time," Vinicius exclaims through a wide smile and subtle wink that pays homage to the imagination of that moment. "The best celebrations will always be the ones where you run to the fans but now we get yellow cards so we can't do it anymore," he says as another one of his laughs colour the empty, echoing walls of a downtown studio in Madrid. "I don't even know how that moment happened," he goes on to explain. "I just went to celebrate and someone from the crowd threw the glasses to me, so, naturally I picked them up and put them on. It was all so random but it ended up looking good on the picture [laughs]. So it was perfect."
Beyond the memes, gifs and memories associated with that moment, the celebration has remained so iconic for the precedent it set. It welcomed Vinícius into the world as someone who dares to be different. Not so much for the celebration itself but for the freedom and defiance it displayed; the fact that Vincius had not fallen into the usual trappings and troubles that often strangle young players tagged with a wonderkid status. He actually delivered. You only have a minute to take in a moment and he made the most of it. He learned that from the very first day he ever stepped on to a proper football pitch.
"I remember the first day my father took me to the Flamengo football school, I felt like I was the happiest person in the world to be doing something that I loved the most," he begins to explain. "Back then, I only ever cared about playing football and having fun; surrounding myself with people who always believed in me and pushing me to do more. Today is no different. My worst habit is thinking about football everyday, 24/7. It still remains the same."
Vinícius' entire career path is proof that creativity will always find a way to navigate through trouble. For the past two seasons, regardless of his direct impact on the pitch, he's set forth in a direction all his own. Vinicius' performances all have this simmering energy to them: free-spirited, but never individualistic, boundary-pushing but always with a nod to the workmanship that a Real Madrid player should have. He is edging closer to the sweet spot of a top level winger. A man of the moment, whose work reflects the moment. In a year faced by immense collective challenge - as well as creative individual challenges - his performances for Real have remained steady, true and uplifting.
"I would say my biggest strength is always having a clear head," he chimes. "I never, ever give up. I always stay strong in what I am convinced of. If you look at what 2020 has taught us, then we have to make the most of each day, each moment as tomorrow is not promised. On and off the pitch. When the pandemic, no one could believe it and we still can't. So, we have to enjoy every moment as if it was the last day of our lives."
As a player who teeters on the edge, tightropes on the invisible line between being perceived as the joker or the joke, judgement still hangs over him. Having begun his Real career by becoming the first-ever Madrid senior player to be born in 2000, being awarded the Man of the Match in his first full start and for that goal at the Nou Camp, some questions still remain. The bright start, the consistent sparks and the evident enthusiasm often has people calling for more. More goals, more assists, more impact. More implausible skill. As a winger who thrives on the unpredictable, he does not always have the solutions. Although, he will never change. Because being himself is the only time he can control the odds. "That's just me," he explains. "My daring nature helps the team when we're losing or drawing. I'm not afraid of losing the ball or playing with freedom. I'll always be like that so people believe in me."
You have to enjoy every moment as if it was the last day of our lives.
Vinicus is greater than what you see. He is the hope, the carrier and the latest flower to grow through the cracks of Rio de Janeiro's street football landscape. He also has a vision beyond the game.
Praising the technical brilliance of a footballer is an incredibly easy thing to do. There are seasons and statistics and individual awards and trophies. There are records and head-to-heads and end-of-season reports. The data, the video clips, the testimonials – it's all there to compare across teams, players and competitions. You can make cross-generational arguments, too. In years to come, with numbers on the board, you will be able to make a fair argument as to who is the greatest modern day Brazilian footballer from Ronaldinho, Ronaldo, Neymar and maybe even Vinícius Júnior.
However, we feel a footballers' impact can be defined more expansively and more importantly. What is their influence? What do they represent? It's a difference in approach that we often find ourselves looking to. The former is what has turned sport into a business; you can see which players are the most prolific finishers, the most consistent passes, the fastest and therefore the most expensive or of greatest value. The latter looks at the expansiveness of the role of a modern footballer in their society at a given time and asks; what do they stand for? Who are they compared to? Who are they? What should they be? What did they do for their generation? What power do they have? How do they exert that power and influence? How do they make a difference?
So, when you look at it, there is Vinícius' Jr. the footballer – a generational talent that has years to deliver on his sporting destiny. But, when talking to him, you feel that there is a deeper, genuine, understanding of the way his life is going to go for decades to come that will leave a legacy beyond what he has done on the pitch.
Because of Vinícius' rapid growth at a young age, he's another example of a footballer expanding into new territories and experiencing new things beyond his reality. It goes some way in explaining why he is just as occupied and worried about where he has come from as to where he is going. "The biggest satisfaction is seeing my family, friends happy and proud of what I have been doing," he begins. "My father did everything for me and my family. He was always defending us and doing everything to give us the best life. My ambition is to continue his way, to improve and try to help many different people."
In 2017, during his formative years in Brazil and before the Real Madrid move was made official, Vinícius' rising star status ensured he received a lot of attention. Both from defenders on the pitch and, most tragically, as the subject of racist abuse targeted from certain crowds. The struggles of race, injustice and criticism during this time was typified by the caption on his very first Instagram post; before the move to Madrid and the 10 million followers, when the fire first began to burn its brightest. 'Nobody lived my life. Nobody cried my tears…' he wrote in September 2016. In January 2021, the fight to end all forms of racism continues.
"We must continue the fight by doing what we have been doing," Vinícius empowers. "[Lewis] Hamilton, [Lebron] James and Neymar, people that have a strong voice, always take the opportunity to talk about racism and it is always important for everyone to do so. We will continue to fight for equality, we have to. To be honest, it is crazy that we are still talking about the subject today as I hope the children, the next generation, do not have to go through any of this," he explains. But that doesn't mean the future is for later. The time is very much now.
His fight is precisely what a new dawn represents. It represents the baton that Vinicius is carrying for the generation that follows. Yes, he'll enjoy and enrich every moment of the game he plays in the meantime. But the goal, beyond trying to solidify the comparisons to the players he once tried to emulate, is to make life sit a little easier on the shoulders of the people around him and the people who dream to follow in his footsteps. Because, when he was younger, all he needed was a story to believe in.
We must continue the fight. Lewis Hamilton, Lebron James and Neymar, people that have a strong voice, always take the opportunity to talk about racism and it is always important for everyone to do so.
"My greatest childhood memory is the 2009 Flamengo title win with the Emperor, [Adriano Ribeiro]" he recalls. "To be honest, I didn't like to watch football before then, I'd rather just go play it. But, at that time, when the Emperor came back he changed everything for me. I watched all the games that season and remember all those moments so clearly."
One of the biggest lessons Vinícius took from Adriano - as we've all learned in 2020 - is to look at what lies outside of the single lens of life. Upon recalling the memories of the Emperor, the first time he really felt the human energy of football as a fan and as a dreamer, Vinicius loosens. His charm accelerates. He nudges, acknowledges and continues to laugh at a new speed. Vinicius likes to talk. Not in the way someone who likes the sound of their own voice likes to talk. The opposite. As you see from the videos on his YouTube channel, he always tries to keep his enthusiasm from bubbling over, and so sometimes he has to slow the pace a little. It's one of the things that make him so immediately likeable and familiar. You feel trusted with his thoughts, jokes and affiliations as they fizz out of him beyond his control. It's his charm.
It's also why he has a special ability to turn doubters into believers, fans into followers and followers into consequential action that he hopes will be able to have an impact on the way people live or perceive the world. Of course, in all likelihood, the potential of that ceiling will correlate to his performance on the pitch. The greater the goals, the greater the games, the greater the reach. Which is why a new dawn starts here. The road to an entirely new level.