OUT OF THE BOX: THE RHYMES, REASONS & SHAPE-SHIFTING SECRETS OF YOUNG T & BUGSEY
PHOTOGRAPHY BY ELLIOT WILCOX / STYLING BY CARA HAYWARD /
INTERVIEW & WORDS: COSMO TEARE
We go inside the minds of the greatest UK duo in the game as Young T & Bugsey suit up to help launch the new GAFFER SS22 collection and talk us through their kaleidoscopic and astrological blended world of rap, afro-swing and hip hop that helps build their unique approach to creativity, collaboration and friendship.
From the outside looking in, it's been a remarkable rise to the top of the U.K. music scene for Young T and Bugsey.
Propelled by the viral TikTok success of 2020's Don't Rush the pair soon found themselves sitting at the top table with the best artists in the country, steadily providing hit after hit across a multi-coloured sound of rap, afro-swing and hip hop.
Accolades naturally followed, with the duo scooping up a MOBO award for Best Song as well as nominations at the internationally prestigious BET Awards and BRITs.
That provided a springboard for their debut mixtapes Plead The 5th and Truth Be Told. Each project laden with British talent in the form of Headie One, Aitch, Unknown T and M Huncho as well as international talents in the form of Da Baby and the legendary Chronixx.
While that success all occurred within a head-spinning two years, those that have paid attention will know that the duo have been doing their thing for a lot longer than that.
The pair first gained traction all the way back in 2016 when they were just 19. The success of singles 'Glistenin' and 'No Mickey Mouse Ting' kicked off a determined journey to put their hometown of Nottingham on the map back at a time when the scene was heavily dominated by London-based artists.
That's all changed now with artists like Sainté, M1llionz and MIST all hailing from the Midlands, but no one can say that Young T and Bugsey haven't played their part in changing perceptions around artists that originated outside of the capital.
"For us not being from London was never a thing" Bugsey tells me, as we get into a journey that's taken them from making music aged 14 with their friends in Notts to upcoming headline shows in Europe.
"We were just thinking of making it regardless." Adds Young T. The quieter, but no less assured of the two.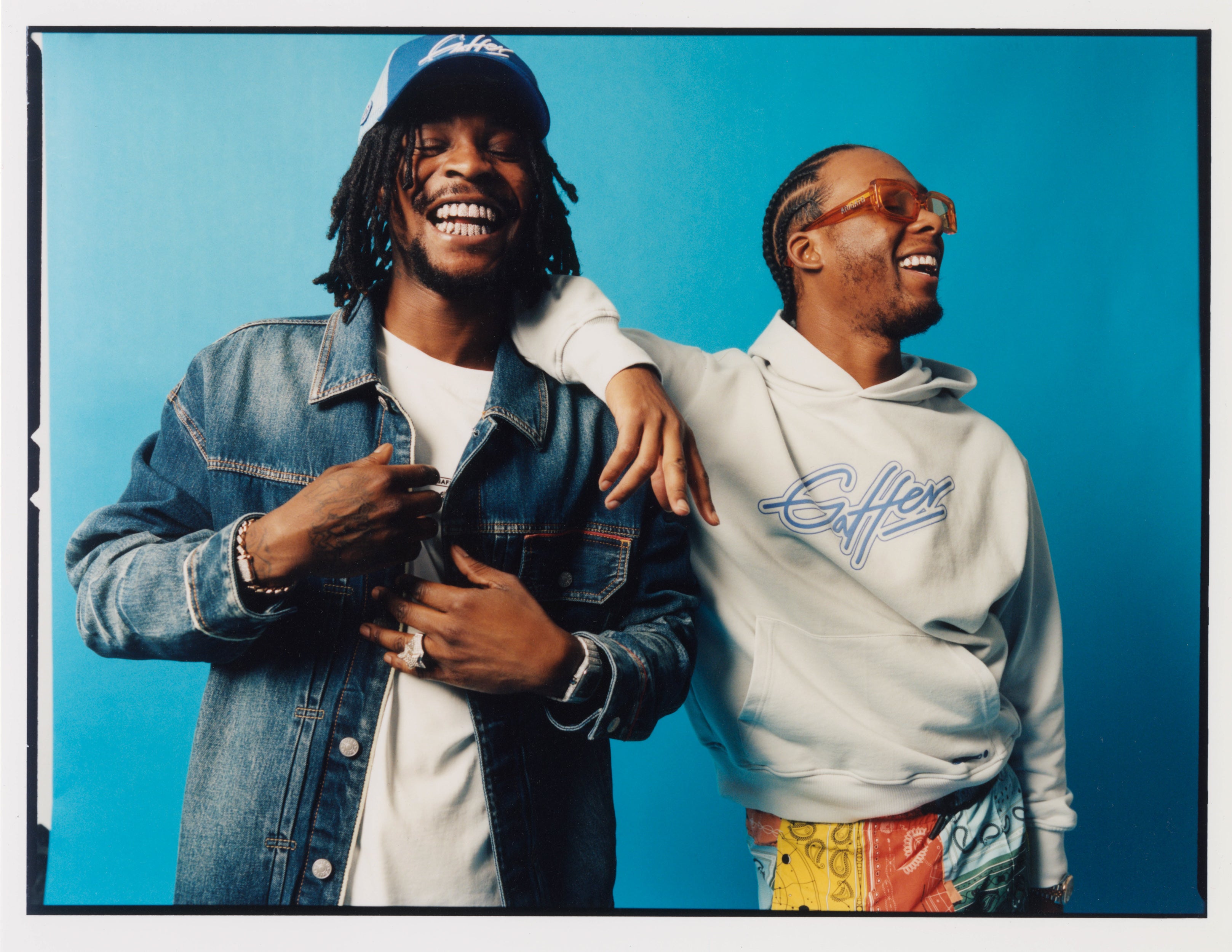 Bugsey - t-shirt & hat: gaffer/ denim: evisu / shoes: dr. Martens / accessories: tateossian. young t - hoodie: gaffer / shoes: axel arigato / trousers: county of milan
A couple of things strike you when you sit down with Young T and Bugsey. The first is the aura of relaxed confidence which the two hold themselves with. There's a feeling that they knew they were destined to get to this point in their careers, and that making it isn't much of a surprise to them.
The second is the steely determination that the two take into their professional process. As the two begin to walk me through the journey to get to this point it's clear that every song, every rollout, every show has been carefully planned. They talk of milestones, checkpoints and goals with the same attitude you might associate with an elite level footballer.
While the main focus of our discussion is on the pair's upcoming mixtape, it's only natural that we talk of the journey that got them to this point. The duo met when they were 14, making music with a large group of friends having both been raised in households that played music all the time.
Gradually, that group of friends dwindled, until they were left with just them and a few others. Did they always know they'd be making music together?
"To be honest I didn't think we knew like that. It's not like we saw the forthcoming future or even thought of it like that but everything was just natural. We were 14/15 when we started hanging around with each other. We had mutual friends, had a lot of mutual friends bit by bit and then we started hanging around together bit by bit.
Young T tells me, in characteristically calm and relaxed fashion, before continuing:
"People started doing their own thing but I think cos me and Bugsey lived so close we lived just 5 minutes away from each other, literally walking distance I think that naturally made us become closer because when we met the rest of our friends we'd have to take the same bus so I think our passion for music brought us closer." "From there it was very natural, every song I did Bugsey was on. Every song he did I was on. Things got going from there really"
young t - hoodie & shorts: bape / shoes: converse / varsity: gaffer. bugsey - hoodie & hat: gaffer / suit:
Much of the music they were making around that time was thanks to a youth club just a stone's throw from their houses in Nottingham. The Community Recording Centre provides a space for young people to learn film, video and music production skills for free. It's clear that the space has had a deep impact on both of them.
"We've got a lot of good memories of that place still" Bugsey says, as he flicks back through his mind's eye to recount what the two got up to there.
"A lot of good memories with the people in that studio, the community members. As a member of my community I think it's very important to shed light on those kind of projects and establishments because that's where future people growing up in that community can find somewhere to gain some knowledge, gain some other skills whether it's people skills, actual skills like learning to play the piano, or actual people skills that are gonna help you in business."
"We never really took notice of it because we were getting ourselves lit and our city lit at the same time but we weren't really bothered about the London tag."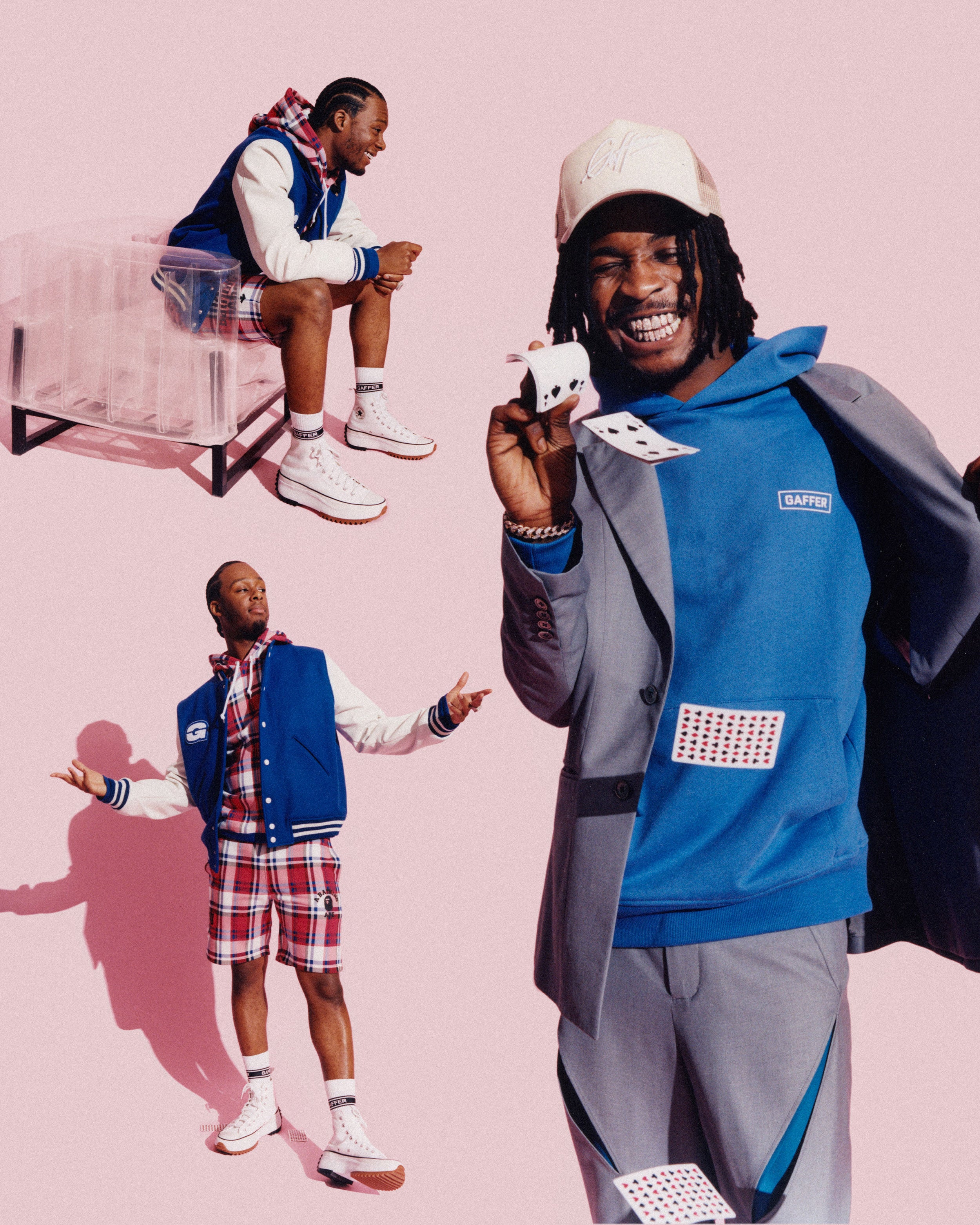 When I ask whether they still take those same lessons into their professional life Bugsey perks up, clearly full of gratitude for the effect the project had on them. A smile and a little laugh appear as he looks back through some of the memories.
"Definitely, definitely, definitely, There's things they told me about the music industry to do with verses. I had this mentor called Nick who said in the industry you could do a verse which you might never hear again until it comes out. So you better make sure with that ting you done you're happy with it because at the end of the day it can be one and done. Man's been in situations where that's happened init, you've done a song, you've done a verse, you think you're gonna go back in and do some more stuff but that's what comes out."
"So it's small, but it's real life stuff. I was taught that when I was 14. I still think about that now and I'm 25." It's a small but important lesson Young T is keen to add to. A byproduct of making a tonne of music from the age of 14 is that slowly but surely, your creativity, skills and hunger will increase. But another effect of that process is that not every verse or beat is perfect. It's just as well the two know how to iron those imperfections out.
"I think one of the keys is that we're very honest with each other." Young T tells me something that instantly brings a laugh from Bugsey. You can't help but think this is a process that's happened a lot. Recently even. Luckily it's all taken in jest.
"A lot of people aren't honest with each other but you have to be. You have to really be honest in this life and I think in business as well it's important to be honest. Obviously we're friends first and business partners second, so there's certain lines that can't be crossed. Being friends first makes things easier."
Bugsey adds, "We are very good at finding that honesty with each other. I think that's how we motivate each other. We don't need to be in each other's ear like yo, we need to do this or that, because we both know what we need to do to find new levels."
When I ask how their friendship has helped them both to stick around in the music scene, and find new levels Bugsey says:
"Because we're friends we can tell if the other one is maybe a bit burnt out, a bit tired or whatnot so we're able to sort of pick up each other very well. I think in terms of motivating each other, because we chase the same goal like we're kind of just on the same thing. It won't be hard for me to convince T something that we should do if we both feel like it will be beneficial and vice versa."
One of the cruel ironies of the pair's newfound success was their inability, at least initially, to enjoy it. Their first full debut mixtape, Plead The 5th was full of tunes that would not have just meant chart success, but have a sure-fire chance of dominating club playlists that year.
That mixtape, however, released just six days before the U.K. went into its first full coronavirus lockdown, meaning the two never really got to showcase themselves at festivals or at clubs as they did a few weeks ago for our Don't Tell The Gaffer party. How does it feel to finally be able to receive that love in person?
"It's nice to see that circuit slowly opening up again, yeah." Says Young T, before Bugsey excitedly chimes in:
"Yeah it's been banging like we had a festival the other day at Bristol, Love Saves The Day, it was wicked. It was nice out there. We've done Bristol a few times. It's always lit out there.
"But it's been nice to just get back doing shows. We did the GAFFER show - Don't Tell The Gaffer, that was lit, we got a few more shows coming up, we got a ting in Magaluf and that, Mallorca, Newcastle. More abroad shows. It's nice to be back on the circuit."
"We can't wait to get abroad again" Adds Young T.
Their follow up to Plead The 5th, Truth Be Told was released on the other side of the lockdowns in January 2022. While it contained the sort of laid back, melodic bangers that saw them dominate the charts in their previous project with tunes such as Nice, it also gave a glimpse into the evolution of the two as artists. Songs such as Outro saw them tap into inspirations they've taken from American rappers growing up.
Bugsey opens the track with "This one feels so much different from the other ones because it is" over a beat that shares more in common with 90s boom bap than the melodies of Plead the 5th. It's testament to their versatility, range of inspiration and willingness to try something new. I ask him if fans can expect even more evolution when the new mixtape eventually drops.
"There's gonna have to be still. There's a growth in the sound, a growth and development. And as well, with the time from the last mixtape to the next mixtape there's been a lot of stuff that's happened in our lives so there's a lot we can talk about and express in our music."
It's interesting to hear the two's hunger for evolution, given that many have tried and ultimately failed to replicate their blueprint that perfectly blends elements of afro-swing with UK rap. Given the number of imitators, do they feel like pioneers?
"We have a formula that has converted to chart success which I feel we've definitely helped bring us to the masses. But in terms of pioneering the genre that's the J Hus's and the Timbos. In terms of consistent chart success though I definitely think we've created a formula that the masses get on board with." Bugsey says, before Young T adds: "A lot of our influences were more on the hip hop side. We had an influence on the UK rap side with making UK rap with good hooks. I think we've been influential in that way."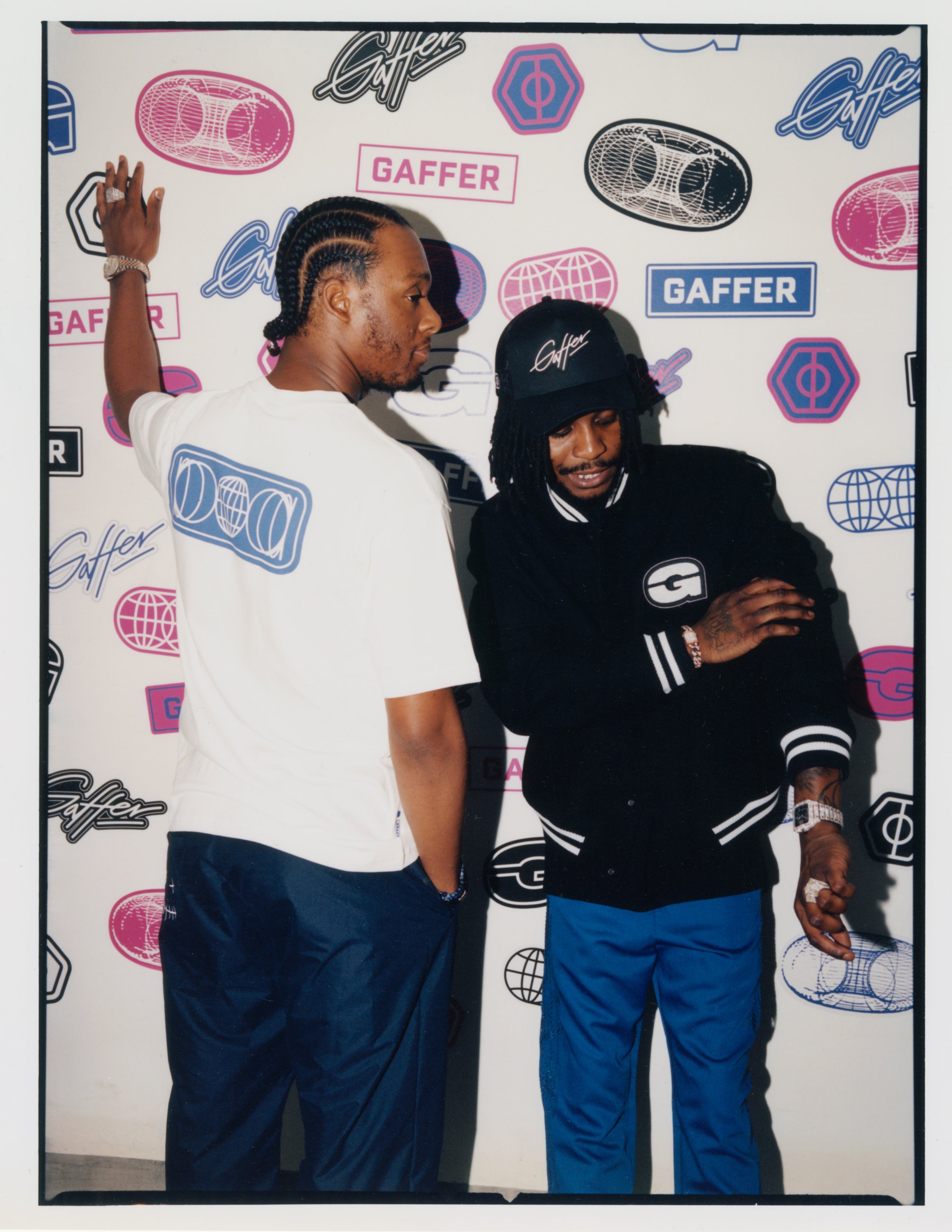 young t & bugsey - t-shirt, hat & varsity: gaffer
A search through old Nottingham cyphers on YouTube shows that the two have always had the means to rap with the best of them. Was the ability to reel off a melodic hook something that came naturally or something they worked on?
"Our early songs were a lot of remixes but once we started making our own songs we've always been good at making stuff that is very hook-oriented. We can always drop a catchy hook and then rap in our verses. Obviously that's always been man's thing" Bugsey says, with a typical nonchalance. As if getting a hook right is something all artists are born with.
As our conversation begins to come to a close, I ask the boys what their future plans are. Given that the previous two years have seen their star rise considerably, what can we expect from the next two?
Bugsey responds with a disarming charm of putting his personal life ahead of any potential career moves:
"I'm looking to be looking after my family, that's my main number one."
And career wise?
"We still have a lot of milestones we want to achieve and targets we want to hit. I think within the three years with how we're working and how we're planning there's a lot of things that we will achieve and we'll hit. Things like making a number one album, we're gonna do a big UK tour because we still haven't been able to do that. Tour Europe, and just make more moves that push the whole genre forward.
As for Young T there's one career focus: "We still haven't dropped our first album so we're gonna be very focused on doing that. Trust me, it's gonna be an exciting few years."
Shop the GAFFER SS22 collection exclusively at GAFFER.World.